Dici pancakes e il pensiero va alla classica colazione americana. Non so voi, ma ogni volta che li vedo mi viene sempre l'acquolina; è una di quelle colazioni che fa subito estate, sarà perchè mi piace accompagnarli a mirtilli e altri frutti di bosco di stagione, o forse perchè adoro gustarli con calma nel week end rilassandomi in terrazza magari con una bella giornata di sole! Chiedo troppo? Ma nooo, dai! Prepararli è facilissimo e possiamo utilizzare un po' quello che abbiamo in casa. Provateli, ad esempio, mescolando all'impasto del cioccolato fondente tagliato grossolanamente, alternando i pancakes ad un'arancia tagliata a fette: succosi, freschi e buonissimi! La ricetta che vi propongo è leggera, senza uova, burro e latticini. Un consiglio: potete utilizzare, in alternativa, una farina integrale o di farro integrale, cercate comunque di scegliere sempre prodotti non raffinati in quanto più ricchi di sostanze nutritive.
Ingredienti
100 gr di farina tipo 2 (semi-integrale)
120 ml di latte d'avena
1 cucchiaio di semi di lino Melandri Gaudenzio – I semi del benessere
3 cucchiai di acqua
1 pizzico di vaniglia Bourbon
1 cucchiaio di olio di girasole
1 cucchiaio di sciroppo d'acero
1 cucchiaino di lievito
mirtilli freschi q.b.
Tritare i semi di lino, versarli in una ciotolina e unire tre cucchiai d'acqua. Lasciar riposare qualche minuto fino a quando si sarà formato un composto gelatinoso. In un'ampia ciotola setacciare la farina, unire la vaniglia, il lievito, il finto uovo con i semi di lino e versare gradualmente i liquidi (olio, sciroppo d'acero e latte) amalgamando bene con una frusta. Aggiungere una manciata di mirtilli freschi e mescolare delicatamente. Scaldare una padella antiaderente e versare con un mestolo un po' di pastella. Quando in superficie si saranno formati dei piccoli buchi, girare i pancakes e cuocere dall'altro lato. Servire con dello sciroppo d'acero e qualche ulteriore mirtillo, o altri frutti di bosco a piacere.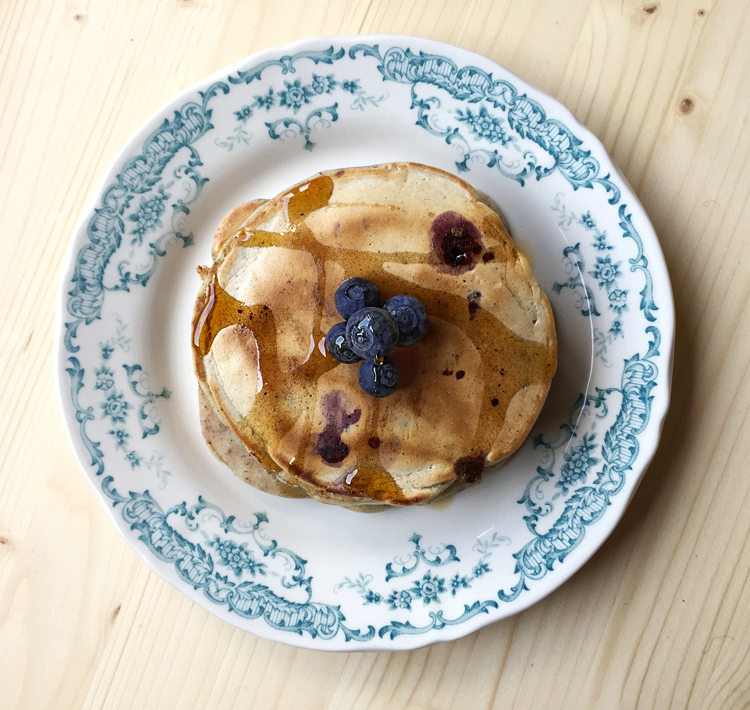 Blueberry pancakes

Blueberry pancakes are a wonderful treat to enjoy anytime of the day. Choose your favorite fruits and create your special breakfast!
Ingredients
100 g flour type 2
120 ml oat milk
1 tablespoon ground flaxseeds
3 tablespoons water
1 pinch Bourbon vanilla
1 tablespoon sunflower oil
1 tablespoon maple syrup
1 teaspoon baking powder
fresh blueberries qs
Combine 1 tablespoon ground flaxseeds with 3 tablespoons of water (to replace one egg). In a large bowl, mix together flour, vanilla, baking powder, flaxseeds. Add the liquid ingredients (oil, maple syrup and milk) and mix well with a whisk. Add a handful of blueberries and gently toss to combine. Heat a non-stick pan and pour a ladle full of batter. The pancakes are ready to flip when small bubbles appear on the surface. Serve immediately with maple syrup and the rest of the blueberries (or any other topping of your choice).