Se non avete tempo e voglia di preparare la classica lasagna, la pasta al forno è sempre una valida alternativa! In questa ricetta ho usato i mezzi paccheri che ho riempito con delle puntarelle, cucinate ispirandomi alle cime di rapa 'nfucate alla salentina. Per dimezzare i tempi di cottura ho utilizzato le pentole Crafond che mantengono al loro interno un elevato grado di umidità: le verdure non si attaccano e cuociono perfettamente nella loro acqua, conservando così tutte le proprietà nutrizionali!
Ingredienti
1 cespo di puntarelle (circa 700 g)
1 spicchio d'aglio
1 peperoncino
olio extra vergine d'oliva
sale, pepe
2-3 cucchiai di pane grattugiato integrale
una manciata di pinoli
2 cucchiaini di lievito alimentare in scaglie (o parmigiano reggiano per una versione vegetariana)
besciamella o panna vegetale q.b.
mozzarisella (o mozzarella per una versione vegetariana)
semi di sesamo q.b.
130 g di mezzi paccheri
Lavare accuratamente le puntarelle, senza eliminare le foglie più esterne, e tagliarle in striscioline sottili. Versare in una pentola capiente un filo d'olio, uno spicchio d'aglio e un peperoncino intero. Prima che la base soffrigga aggiungere le puntarelle e coprire con il coperchio, cuocendo a fuoco lento. Lasciar appassire le verdure per circa 10 minuti, quindi mescolare e aggiungere, se necessario, un po' d'acqua o del vino bianco. Regolare di sale e pepe.
Nota: è importante che le puntarelle non soffriggano ma si cucinino nella loro stessa acqua, mantenendo il caratteristico sapore amarognolo, così come per la cottura delle rape 'nfucate alla salentina.
Tritare grossolanamente le puntarelle e i pinoli, versare tutto in un'ampia ciotola aggiungendo qualche cucchiaio di pangrattato e del lievito alimentare (o parmigiano reggiano).
Cuocere la pasta in acqua bollente salata, scolandola molto al dente. Versare sul fondo della pirofila qualche cucchiaio di besciamella o panna vegetale, disporre i mezzi paccheri in verticale e riempirli con il trito di puntarelle, aiutandosi con un sac à poche. Cospargere in superficie con altra besciamella (o panna vegetale), qualche cubetto di mozzarella (opzionale) e una spolverata di semi di sesamo. Cuocere in forno preriscaldato a 180° per circa 10-15 minuti o fino a quando la superficie si sarà gratinata.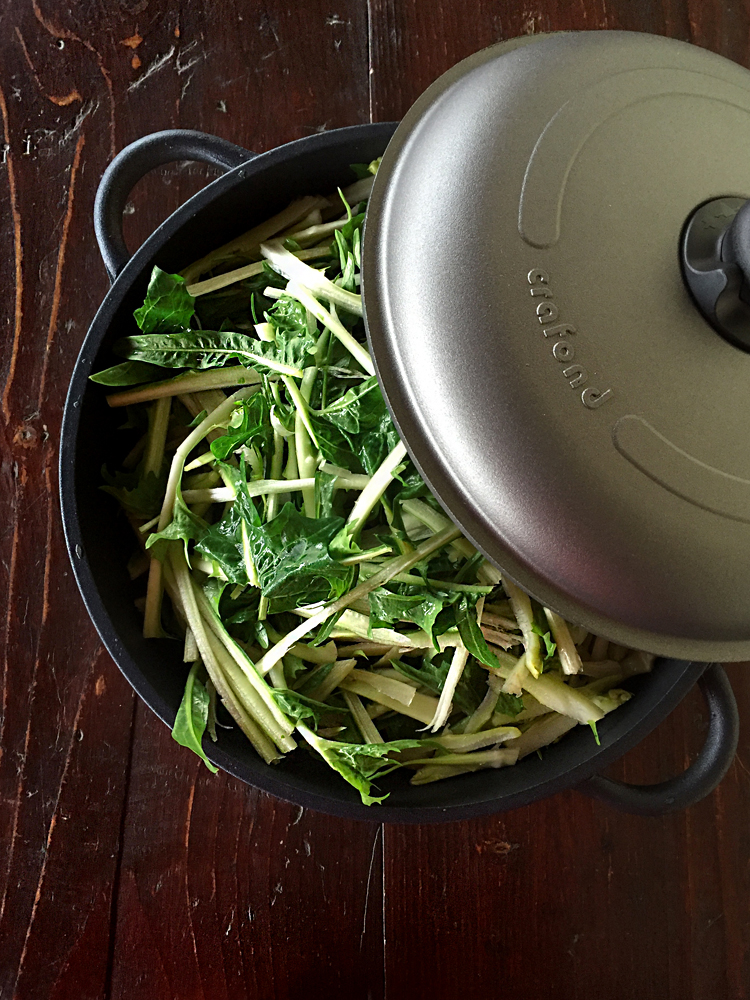 Baked Paccheri pasta with chicory

Plentiful, rich, and very satisfying: a simple baked Paccheri pasta filled with chicory (but feel free to pick and choose your favourite veggies!) and pine nuts.

Ingredients
1

head of

chicory

– puntarelle (∼ 700 g)
1 clove of garlic
1 red pepper
extra virgin olive oil
salt, pepper
2-3 tablespoons whole grain bread crumbs

a handful of

pine nuts

2 teaspoons

nutritional yeast flakes

(or

Parmesan cheese

for

a vegetarian version

)
béchamel sauce or dairy-free cream q.s..
mozzarisella

(

or

mozzarella

for

a vegetarian version

)

sesame seeds

q.s.

130 g paccheri pasta
Carefully wash the chicory without removing the outer leaves and cut them into thin strips. In a large pot heat a little olive oil then add garlic and hot pepper. Add immediately the chicory and cover with lid. Cook over low heat. Lightly fry the vegetables for about 10 minutes, then stir and add water or white wine, if necessary. Season with salt and pepper.
Note: it's important to cook the vegetables in their own water, so they'll maintain their characteristic bitter taste.
Coarsely chop the chicory and pine nuts, pour them into a large bowl with a few tablespoons of bread crumbs and nutritional yeast (or Parmesan cheese). Cook the pasta al dente and drain it. Pour a few tablespoons of béchamel sauce or vegetable cream on the bottom of the pan. Arrange the paccheri vertically and fill them with vegetables. Spread some béchamel sauce on top, add a few cubes of mozzarella cheese (optional) and a sprinkle of sesame seeds. Preheat oven to 180° C. Bake for 10-15 minutes or until golden brown.