Questa millefoglie è un'alternativa alla classica lasagna, semplice e gustosa, dove la pasta lascia il posto alle verdure, adatta quindi anche ai celiaci. Per mantenere la leggerezza ho preferito grigliare le melanzane e le zucchine, ma potete anche friggerle o rosolarle in padella con un po' d'olio. Dopo averle grigliate ho proseguito la cottura in padella con la rostiera Crafond. Prive di nickel, cromo e piombo queste pentole sono ideali per chi vuole una cucina più sana e veloce, ma soprattutto versatile. Infatti, grazie alla rostiera, potete cuocere i vostri piatti direttamente sul fornello e terminare nel forno sotto al grill per conferire una maggiore croccantezza in superficie. Potete gustare questa millefoglie appena sfornata, ma è buonissima anche a temperatura ambiente e ancora di più il giorno seguente: come schiscetta al lavoro, per un picnic, o quando preferite voi. Buon appetito!
Ingredienti
3 patate grandi
melanzane grigliate (circa 500 gr)
2-3 zucchine grigliate
passata di pomodoro
mix di spezie
olio extra vergine di oliva
mozzarisella (mozzarella o scamorza per una versione vegetariana), opzionale
veg Parmigiano (50 g di mandorle, 1 cucchiaio di semi di sesamo leggermente tostati, 1 pizzico di sale rosa, il tutto tritato nel macinacaffè) o Parmigiano Reggiano
Lessare leggermente le patate e tagliarle a fette dello spessore di circa 3 mm. Pulire accuratamente le altre verdure, tagliarle e grigliarle. Regolare di sale e pepe.
Versare un filo d'olio nella teglia e comporre un primo strato con le patate. Aggiungere le spezie, io uso un mix per patate che ho preso in Grecia (a base di curcuma, curry, …). Proseguire con le melanzane grigliate e un po' di salsa di pomodoro. Insaporire con il mix di spezie (io uso quello per la moussaka con cannella, chiodi di garofano, noce moscata, …). Formare un altro strato di zucchine. Ripetere quindi i vari passaggi fino ad esaurimento degli ingredienti. Finire con la passata di pomodoro e una spolverata di Parmigiano (classico o vegan). Cuocere sul fuoco con coperchio a fuoco corona per circa 20-30 minuti, togliere il coperchio e terminare sotto il grill per 5 minuti.
Opzionale: farcite gli strati della millefoglie con della mozzarella (classica o vegana), scamorza o tofu sbriciolato.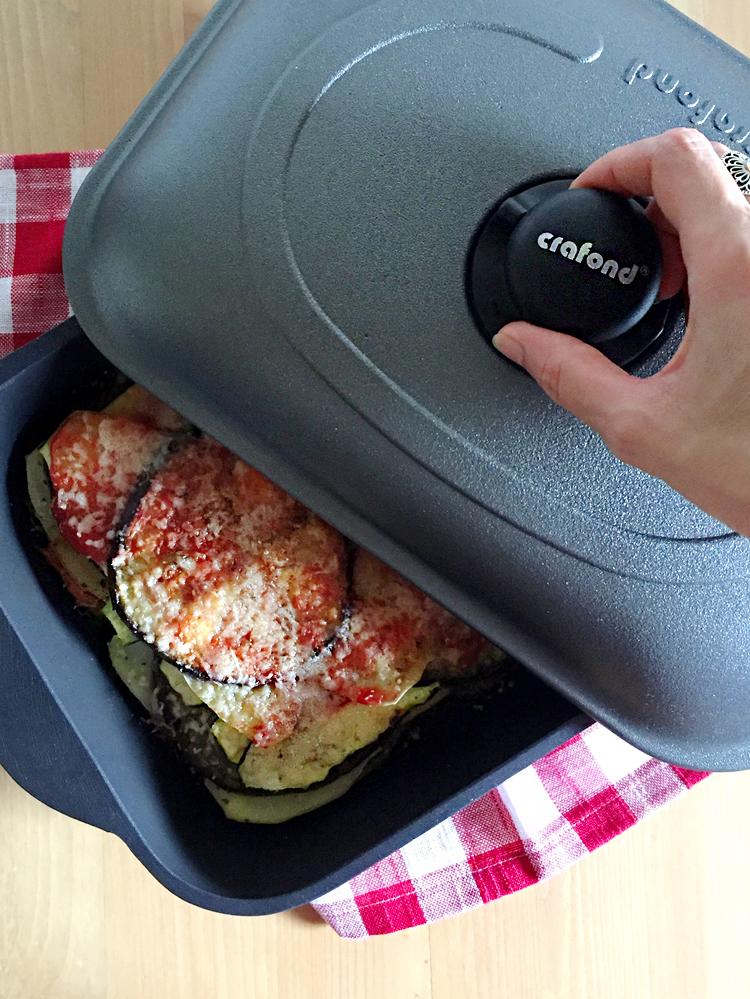 Vegetable mille-feuille
A simple recipe for a great healthy meal made of several vegetable layers!
Ingredients
3 big potatoes

grilled eggplants

(about 500 g)

2-3 grilled zucchini

tomato sauce

spices

extra virgin olive oil

vegan mozzarella cheese (mozzarella or "scamorza" cheese for a vegetarian version), optional

veg Parmesan (grind all ingredients: 50 g almonds, 1 tablespoon lightly toasted sesame seeds, 1 pinch of pink salt) or

Parmesan cheese



Boil the potatoes until tender but still firm and cut them into slices about 3 mm thick. Clean the other vegetables, cut and grill them. Season with salt and pepper. Lightly oil a pan and start with a layer of potatoes. Add spices (I use a greek mix for potatoes with turmeric, curry, …). Continue with grilled eggplants and tomato sauce. Season with other spices (I use moussaka spices with cinnamon, cloves, nutmeg, …). Put another layer of zucchini. Repeat until all ingredients are used. Top with tomato sauce and a sprinkle of grated parmesan. Cover with the lid and cook over a very low heat for 20-30 minutes. Remove the lid and finish cooking under the grill for 5 minutes.

Optional: fill the layers with mozzarella (classic or vegan), scamorza cheese or crumbled tofu.