Mi sono sempre piaciute le zuppe e il nostro ultimo viaggio in Russia non ha fatto che confermarlo! Le zuppe sono le vere protagoniste dei ricettari e delle tradizioni familiari di questo paese: ne esistono decine di varietà, a base di carne, pesce, verdure, cereali, quasi tutte caratterizzate dalla lenta cottura del tradizionale focolare.
Zuppa di patate dolci, a modo mio…
Quella che vi propongo oggi è la rivisitazione di una zuppa di patate – superfluo aggiungere, squisita – che ho avuto la fortuna di gustare a Mosca. Nella sua versione originale c'erano solo patate gialle arricchite con del prosciutto crudo croccante. In questa variante vegetariana, invece, ho sostituito il prosciutto con delle noci e qualche nocciola tostata che si abbinano benissimo alla cremosità e dolcezza delle patate americane.
Più in basso, vi lascio qualche scatto di Mosca e San Pietroburgo, due città completamente diverse ma entrambe caratterizzate da colori sgargianti e palazzi maestosi. È stato un viaggio intenso tra tradizione e modernità, austerità e forti contrasti. Ma di questo ve ne parlerò in un altro post!
Ingredienti
2 patate gialle, medie dimensioni
2 patate dolci americane
1 spicchio d'aglio
olio evo
brodo vegetale q.b.
salvia e rosmarino
200 g ricotta
qualche noce e nocciola tostata
timo
Lavare accuratamente le patate e sbucciarle. Tagliarle a cubetti e saltarle in una pentola profonda con uno spicchio d'aglio e un filo d'olio evo per qualche minuto. Aggiungere una presa di sale e una di salvia e rosmarino tritati finemente. Mescolare bene. Coprire con abbondante brodo vegetale caldo e cuocere a fuoco basso, con il coperchio leggermente sollevato, per circa 40 minuti.
Frullare con un mixer ad immersione fino a ottenere una consistenza liscia e cremosa. Se la desiderate più liquida aggiungete un po' di brodo, se invece vi piace più densa continuate la cottura per qualche minuto senza coperchio, mescolando di tanto in tanto. Assaggiate e regolate eventualmente di sale.
Procediamo quindi con l'impiattamento. Versare un mestolo di zuppa nel piatto, aggiungere una pallina di ricotta fresca, qualche noce e nocciola tritata, un pizzico di timo e un filo d'olio evo.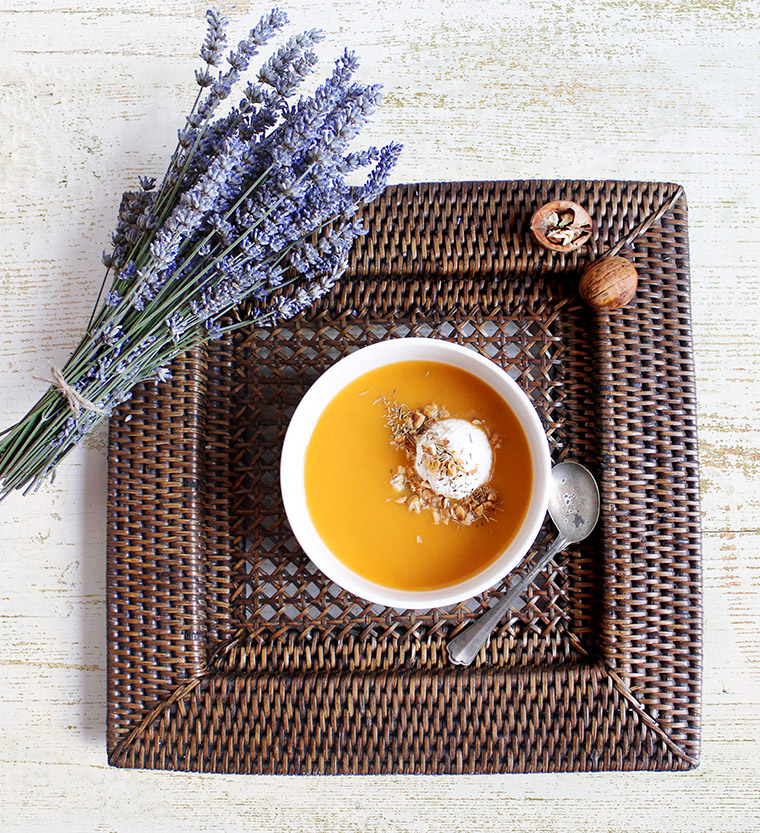 Sweet potatoes soup
Ingredients
2 medium yellow potatoes
2 sweet potatoes
1 clove of garlic
extra virgin olive oil
vegetable broth q.s.
ground sage and rosemary
200 g ricotta cheese
walnuts and roasted hazelnuts, chopped
thyme
Wash potatoes thoroughly and scrub them with a brush to remove any dirt or soil. Peel them and cut into cubes. Pour in a deep pot and sauté with a clove of garlic and a little olive oil for a few minutes. Add a pinch of salt, sage and rosemary. Mix well. Cover with hot vegetable stock and cook over low heat, leaving the lid slightly open, for about 40 minutes.
Use an immersion blender to get a creamy consistency. If it's still too thick, add more liquid, otherwise cook for a few minutes without a lid, stirring occasionally. Adjust seasoning to taste, adding more salt if necessary.
To serve: ladle soup into soup plates, add some fresh ricotta cheese, sprinkle with some walnut and hazelnut, a pinch of thyme and a drizzle of extra virgin olive oil.