Non sono proprio verdure di stagione, ma sono riuscita a trovare ancora del cavolo nero (che adoro) e ne ho approfittato per preparare un ripieno un po' diverso dal solito, che condivido al volo (in alternativa potete utilizzare della cicoria o delle bietole)! E cosa riempiamo? Zucchine ovviamente. Adoro le zucchine, grigliate, saltate in padella, ripiene… basta che non siano lesse perchè mi fa troppo ospedale. Il mio fidanzato non le ama particolarmente, anche se, da quando gliele cucino io (leggermente rosolate) ha imparato ad apprezzarle, anzi, questo piatto l'ha conquistato al punto che, dopo averle assaggiate, ha dato il suo benestare alla pubblicazione della ricetta – come se fossimo in presenza di un critico rinomato! eheh… beh ad ogni modo mi fa piacere abbiano avuto successo e se le provate fatemi sapere se sono piaciute anche a voi!
Ingredienti
3 zucchine
100 gr di cavolo nero (in alternativa potete usare delle bietole o della cicoria)
80 gr di sorgo bianco decorticato bio Biobón – Melandri Gaudenzio
7-8 pomodorini
40 gr di pinoli
porro
olio extra vergine di oliva
4 foglie di basilico
sale, pepe
pane integrale grattugiato (da omettere per una versione glutenfree, in alternativa utilizzare prodotti per celiaci)
Lavare accuratamente il sorgo e lasciarlo in ammollo per circa 2 ore, quindi scolarlo e sciacquarlo nuovamente. Riempire una pentola con abbondante acqua e portare a bollore. Cuocere il sorgo in acqua leggermente salata per 15 minuti (non cuocere completamente o risulterà sfatto!). Scolare e lasciar raffreddare (io ho bloccato la cottura passando il sorgo sotto l'acqua fredda). Lavare le zucchine e tagliarle a metà per il lungo, eliminando le estremità. Svuotarle con un cucchiaino, tenendo da parte la polpa. In una padella soffriggere leggermente il porro con un filo d'olio e aggiungere la polpa tagliata a pezzettini. Unire le foglie di cavolo nero, precedentemente lavate e sminuzzate grossolanamente. Cuocere per qualche minuto regolando di sale e pepe. Trasferire l'impasto in un robot da cucina, aggiungere i pinoli e tritare finemente fino ad ottenere la consistenza di un pesto. Tenere da parte. In una terrina unire il pesto di cavolo nero, il sorgo, i pomodorini tagliati a pezzettini molto piccoli e le foglie di basilico. Amalgamare bene gli ingredienti, regolando di sale e pepe. Grigliare le zucchine, precedentemente scavate, da ambo i lati per circa 7-8 minuti (in alternativa, lessate le zucchine intere per qualche minuto in acqua bollente, quindi lasciatele raffreddare e togliete la polpa). Disporle su una teglia leggermente oliata e riempire con l'impasto di sorgo e cavolo nero. Completare con del pane grattugiato e un filo d'olio. Cuocere in forno già caldo a 180° per circa 15-20 minuti.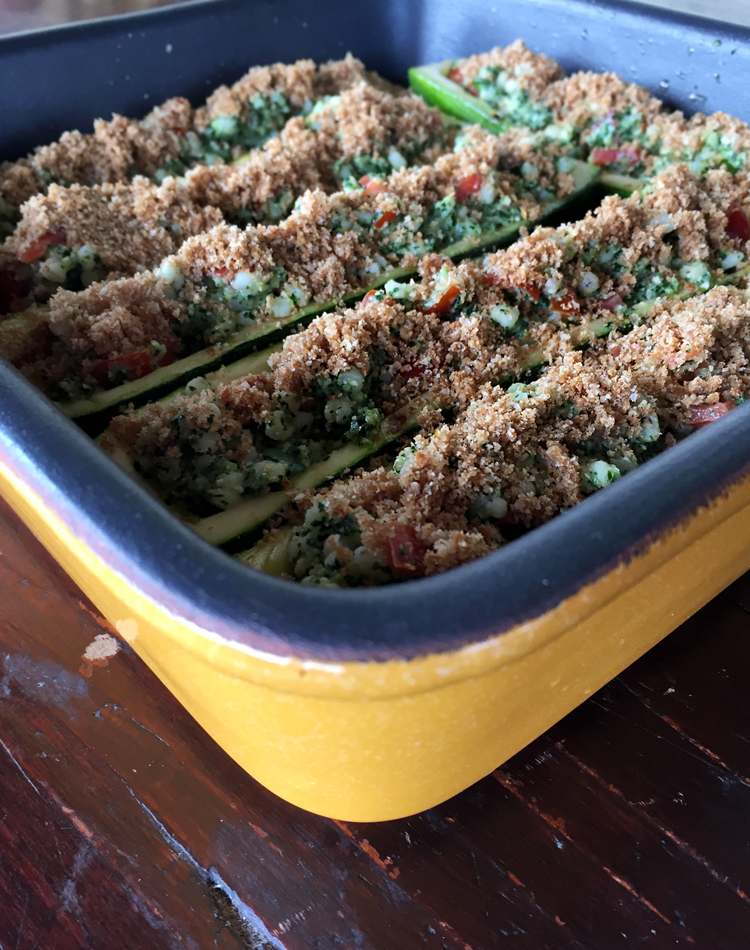 Sorghum stuffed zucchini

Stuffed zucchinis are so versatile and you can fill them with a lot of wonderful things: this time I used black kale, sorghum grain and cherry tomatoes with the fresh touch of some basil leaves. 
Ingredients
3 zucchinis
100 g black kale (or chicory, chard)

80 g white sorghum
7-8 cherry tomatoes
40 g pine nuts
leek
extra virgin olive oil
4 basil leaves
salt, black pepper
gluten-free breadcrumbs
Wash thoroughly the sorghum and soak for 2 hours, then drain and rinse again. Fill a large pot with water and bring to a boil. Lightly salt the water and cook the sorghum grain for 15 minutes (undercook it!), then drain well and set aside. Clean and dry zucchini, cut in half lengthwise. With a spoon scoop out the inner flesh and chop into small pieces. Lightly fry the zucchini flesh with leek and a little olive oil. Combine the kale leaves, washed and coarsely chopped. Cook for a few minutes and then season with salt and pepper. In a food processor add pine nuts, kale and zucchini, and mix for a few minutes to form a pesto. Set aside. In a large bowl combine kale pesto, sorghum, cherry tomatoes cut into very small pieces and basil leaves. Stir well and add salt and pepper to taste. Grill the zucchini slices on both sides for about 7-8 minutes (you can also cook zucchinis in boiling water for a few minutes, allow to cool, cut in half and scoop out the flesh). Place the zucchinis on a lightly oiled baking pan. Fill them with the mixture and sprinkle with breadcrumbs and a little olive oil. Bake in a preheated oven at 180° C for 15-20 minutes.