Il pesto di cavolo nero è un condimento sano e gustoso per i vostri primi piatti. Nella ricetta che vi presento trovate la preparazione base, preferisco infatti aggiungere sale ed altri condimenti solo in un secondo momento, aggiustando il piatto a seconda degli ingredienti utilizzati. Per una versione vegetariana, potete anche aggiungere, mentre frullate, del Parmigiano Reggiano. E per finire due consigli: provate questo pesto con una pasta un po' diversa dal solito come questi maltagliati di farro integrale… fenomenali!! Se poi vi piacciono i gusti forti e decisi unite alla salsa una manciata di pomodorini secchi: il loro sapore un po' acidulo si sposa, a mio avviso, alla perfezione con il cavolo nero.

Ingredienti
350 g di cavolo nero, già curato
60 g di anacardi*
olio extra vergine di oliva q.b.
Pulire il cavolo nero eliminando le estremità più coriaceee. Lessarlo in acqua bollente per circa 5 minuti. Scolare le foglie, senza strizzarle, e tagliarle grossolanamente. Versarle in un robot da cucina insieme agli anacardi e ad un cucchiaio d'olio (a piacere aggiungere anche uno spicchio d'aglio). Frullare fino ad ottenere una crema un po' grossolana. Se la preferite più omogenea continuate a frullare aggiungendo un altro cucchiaio d'olio. Si conserva in frigorifero, in un contenitore ermetico, coperto con uno strato di olio evo.

Per condire una pasta, ammorbidire il pesto con un po' d'acqua di cottura, regolare di sale e completare con una macinata generosa di pepe nero. Completare il piatto con dei pomodorini secchi tagliati a pezzettini.
* In alternativa agli anacardi, potete utilizzare mandorle o pinoli.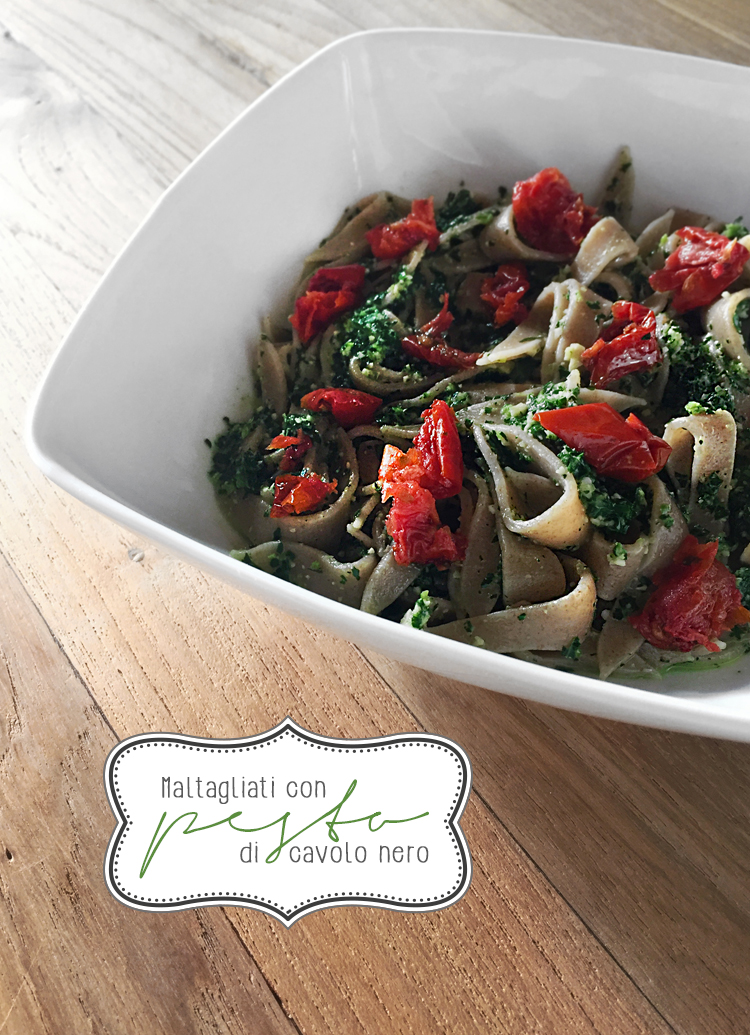 Kale pesto

A nutrient and healthy alternative to basil pesto, this recipe is a delicious way to eat kale… and it's ready in 5 minutes!
Ingredients
350 g kale, già curato
60 g

cashews

*
extra virgin olive oil qs
Wash kale and remove stems. Boil it for 5 minutes to soften it up. Drain and chop coarsely. Place it into a food processor with cashews and a tablespoon of oil (add a clove of garlic to taste). Blend until creamy but with a little bit of texture. If you prefer a smooth texture blend again with one more tablespoon of olive oil. Serve immediately or cover with a layer of oil and store in an airtight jar in the fridge up to 3 days.
To dress the pasta: use the pesto sauce softened with a few tablespoons of cooking water, add salt, sundried tomatoes (cut into small pieces) and a generous sprinkle of ground black pepper.
* Alternatively you can use almonds or pine nuts.