Dopo Fast & Furious va in scena la ricetta Fast & Healthy! Oggi vi propongo un condimento per un primo sano, veloce e saporitissimo: pochi ingredienti, una frullata e il pesto di spinacini è pronto! Se vi piace potete aggiungere l'aglio, in questa ricetta ho preferito ometterlo. Quello che fa veramente la differenza sono i pomodorini, con il loro sapore deciso e un po' pungente: io utilizzo dei pomodori semi secchi, ma vanno benissimo anche quelli secchi. Per l'occasione ho voluto sperimentare anche la pasta Andalini della linea 4 minuti. Sono sempre un po' scettica sulle cotture troppo veloci, in questo caso però mi sono dovuta ricredere: la tenuta è ottimale e al dente, come piace a me. Senza dubbio un'alternativa da tenere in considerazione per chi va di fretta e non vuole rinunciare a un buon piatto di pasta.
Ingredienti (per 2 persone)
100 g spinacini freschi

15-20 g mandorle pelate

1 manciata di pomodorini semi secchi (o secchi)

1 filo di olio extra vergine d'oliva

sale, pepe, peperoncino q.b.

Gemelli rigati, Andalini, 4 minuti
Lavare accuratamente gli spinacini e sbollentarli per 1 minuto in acqua bollente. Recuperarli con un mestolo forato e passarli sotto l'acqua fredda. Strizzare bene, quindi trasferirli in un mixer insieme alle mandorle, un pizzico di sale, un filo d'olio e azionare. In alternativa possiamo frullare gli spinacini anche a crudo. Trasferire il pesto in una padella e unire i pomodorini secchi tagliati a  pezzetti. Cuocere la pasta nell'acqua dove abbiamo sbollentato gli spinaci, aggiungendo una manciata di sale grosso. Versare qualche mestolo di acqua bollente sul pesto per renderlo più cremoso. Scolare la pasta e saltarla in padella con il condimento. Servire aggiungendo un filo d'olio extra vergine a crudo e, a piacere, una macinata di pepe fresco.
Per una versione vegetariana, spolverate con del Parmigiano Reggiano.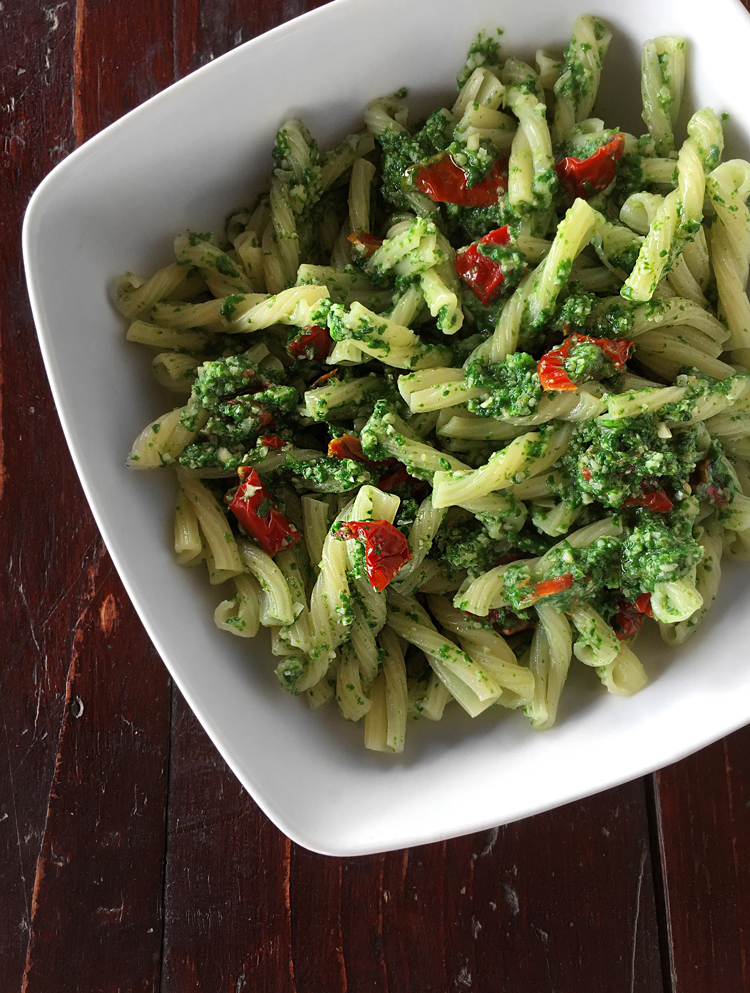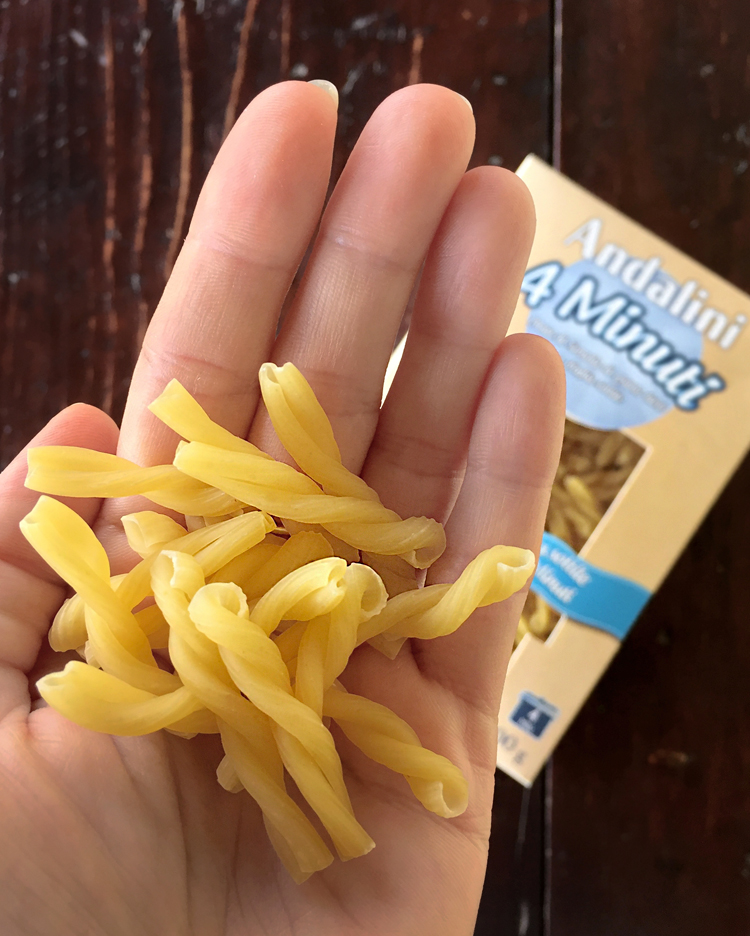 Baby spinach pesto
Homemade spinach pesto is a quick, easy & healthy sauce. Spread it over crusty bread or toss with your favorite pasta for a light meal!
Ingredients
100 g fresh baby spinach

15-20 g blanched almonds

1 handful of sundried tomatoes

extra virgin olive oil

salt, pepper, red chili qs
Wash the spinach leaves and blanch in boiling water for 1 minute. Remove with a slotted spoon, put them under cold water and drain well. Transfer the spinach leaves to a blender, add almonds, a pinch of salt, a little oil and mix (you can also blend them without cooking). Transfer the mixture to the prepared pan together with chopped sundried tomatoes. Cook your pasta in salted boiling water (use the same boiling water you cooked the spinach in!). Pour a ladle of boiling water on your pesto to get a creamy texture. Drain the pasta and toss in pan with sauce. Serve with a little drizzle of extra virgin olive oil and a grind of black pepper.
For a vegetarian version, sprinkle with grated Parmesan cheese.