Cosa c'è di più buono di una brioche per iniziare la giornata? Magari anche calda e ripiena di cioccolato… come resistere!!! E infatti, perchè resistere? Ho provato diverse soluzioni e mix di farine, perchè usando solo quelle integrali risultavano morbidissime appena sfornate ma il giorno dopo cominciavano un po' ad indurirsi. Mi sono quindi arresa e ho tagliato la farina semi-integrale con una tipo 0, ma sempre macinata a pietra. Le brioche sono venute benissimo e soffici anche nei giorni a seguire. Potete, a piacere, passarle qualche minuto in forno e sembreranno come appena fatte… non mi resta che augurarvi una buona colazione!
Ingredienti
150 g farina tipo 0
80 g farina tipo 2 (semi-integrale)
1 cucchiaino raso di lievito secco
45 g zucchero di canna tritato finemente
130 ml latte di soia leggermente tiepido
25 ml olio di semi di vinaccioli
un pizzico di vaniglia Bourbon in polvere
un pizzico di sale
Fiordifrutta mirtilli neri di bosco, Rigoni di Asiago
Setacciare le farine, unire lo zucchero e la vaniglia. Aggiungere l'olio, il latte e il lievito precedentemente sciolto in poco latte tiepido. Mescolare gli ingredienti con una forchetta quindi aggiungere un pizzico di sale. Impastare per circa 10 minuti, se necessario aggiungere 1-2 cucchiai di farina. Deve risultare un impasto molto morbido ma non appiccicoso. Riporlo in una ciotola leggermente infarinata e lasciarlo lievitare coperto con della pellicola o un panno pulito per circa 2 ore. Io solitamente lo lascio in forno con la luce accesa. Al raddoppio del volume, stendere l'impasto con un mattarello su una spianatoia infarinata formando un disco non troppo sottile. Tagliare a spicchi e farcire con un po' di confettura di mirtilli (o quella che preferite). In alternativa potete farcirle una volta sfornate. Chiudere i cornetti arrotolando ogni triangolo su se stesso. Adagiarli delicatamente su una teglia rivestita di carta forno e lasciarli lievitare nuovamente in forno con la luce accesa per altre 2 ore. Spennellare la superficie con un po' di latte e cospargere in superficie con dello zucchero. Infornare a 170° per circa 20 minuti, fino a doratura. Lasciar raffreddare su una gratella.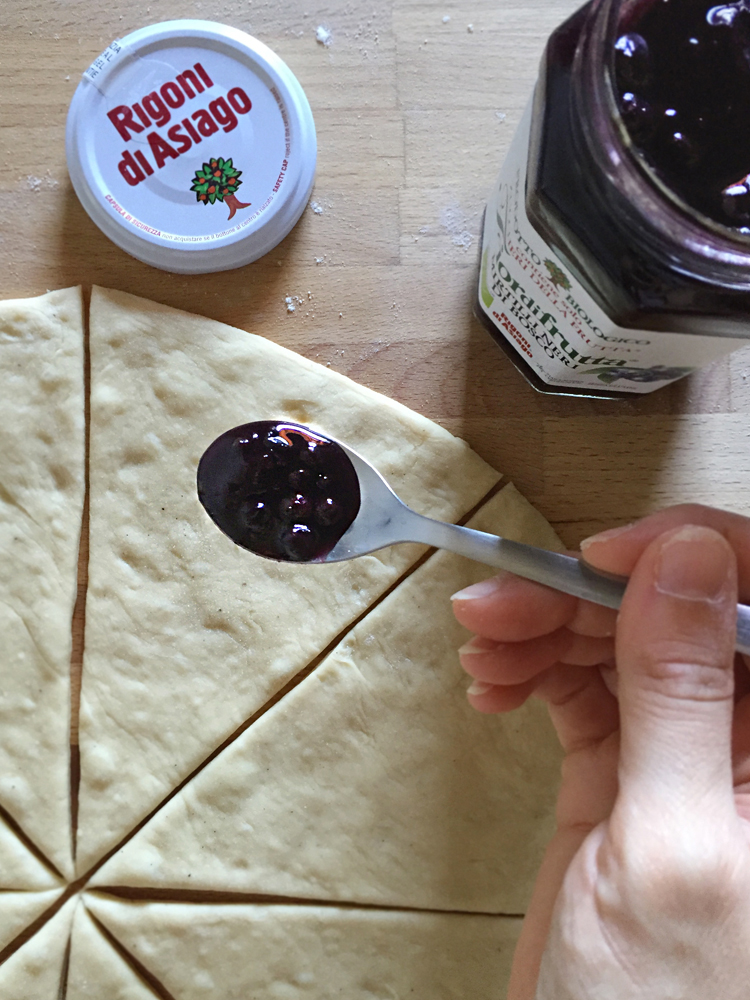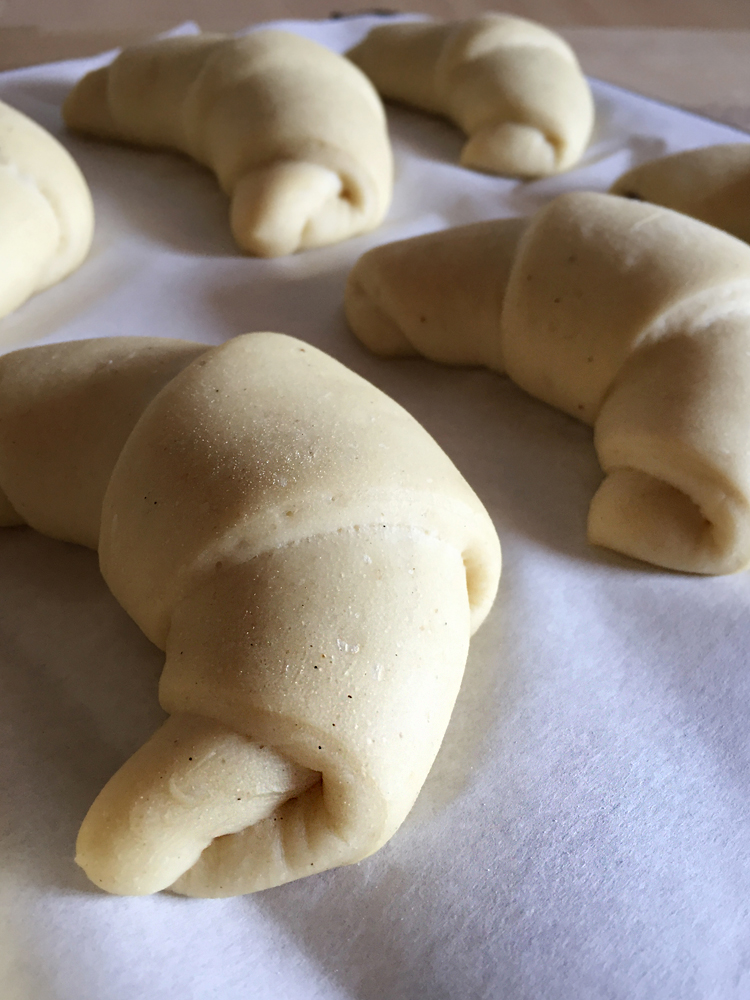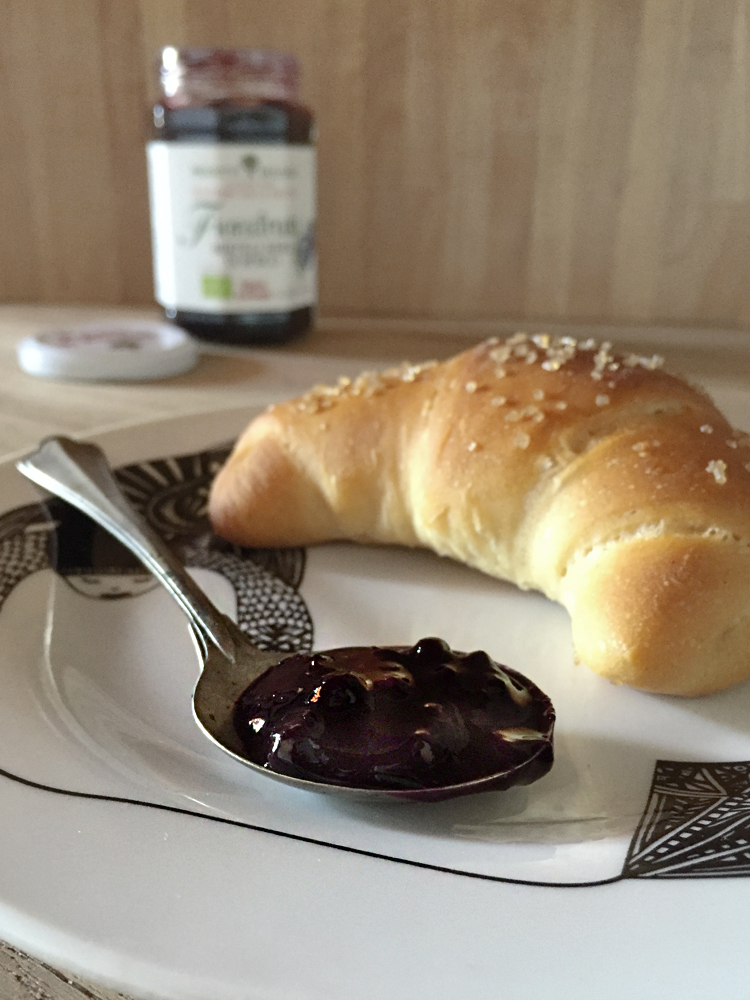 Brioche stuffed with wild blueberry jam

This is my basic brioche recipe: soft, light and vegan. A simple and delicious way to start the day, or just a great treat for any time!
Ingredients
150 g f

lour type 0

80 g

semi

–

wholemeal flour

(type 2)
1

teaspoon dry yeast

(1 g)
45 g raw cane sugar, powdered
130 ml lukewarm soy milk
25 ml grapeseed oil
a pinch of Bourbon vanilla powder
a pinch of salt
Fiordifrutta Organic Fruit Spread Wild Blueberry, Rigoni di Asiago

Sift flour, add sugar and vanilla. Dissolve yeast in a little lukewarm milk. Pour oil, milk and the dissolved yeast. Mix well with a fork, then add a pinch of salt. Knead for about 10 minutes, adding more flour as necessary. The dough should be soft and elastic but not sticky. Cover with plastic wrap (or a clean cloth towel) and let rise at room temperature until the dough doubles in size. I usually put it in the oven with the light on. Once the dough has risen, use a rolling pin to roll it out on a lightly floured work surface and shape into a disk. Slice it into 8, like a pizza, and fill with a jam (you can also bake them and fill later). Roll up each triangle to make a croissant.Transfer to a parchment-lined baking sheet and let rise again in the oven with the light on, for about 2 hours. Brush each brioche with a little milk and sprinkle with sugar. Bake at 170° C for 20 minutes, until golden brown. Cool on a wire rack.