A prima vista potrebbero sembrare delle polpettine di spinaci ripassate nel cacao, decisamente poco appetitose. Fortunatamente quelle "nude" e verdi che vedete in foto sono a puro scopo illustrativo, perchè il bello di questi tartufini sta proprio nello scoprire il loro ripieno colorato, ma senza utilizzare coloranti artificiali. Questa infatti è la seconda ricetta che trovate sul sito e che prevede fra gli ingredienti il matcha classico di Lovely Matcha, ricchissimo di antiossidanti e macinato a pietra, che conferisce quel particolare colore verde. Potete rotolare i tartufini nel cacao o meglio ancora tuffarli nel cioccolato fuso! Buona scorpacciata!
Ingredienti (dosi per 17-18 mini tartufini)

100 g anacardi
2 cucchiaini matcha classico
3 cucchiai sciroppo d'acero*
4 cucchiai di cocco in scaglie
1 cucchiaio olio di cocco
1 pizzico di vaniglia
cacao amaro in polvere q.b.
* assaggiate l'impasto per regolare la dolcezza!
Ammollare gli anacardi per circa 1 ora in acqua tiepida. Versare tutti gli ingredienti, tranne il cacao, in un mixer e frullare fino ad ottenere un impasto uniforme (se vi piace sentire i pezzettini di cocco, frullate solo 2 cucchiai e incorporate gli altri due manualmente). Formare delle piccole palline e passarle nel cacao in polvere. In alternativa potete metterle 10 minuti in freezer e ricoprirle con del cioccolato fuso. Lasciar riposare i tartufini in frigorifero per 1-2 ore… e gustare!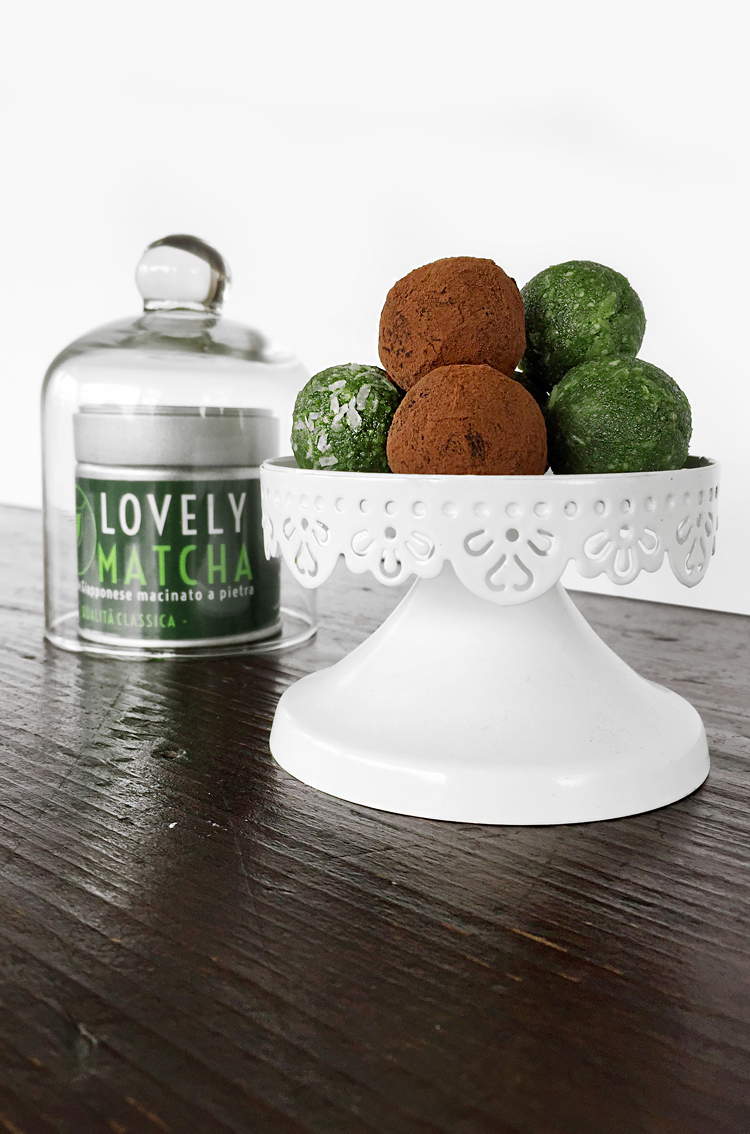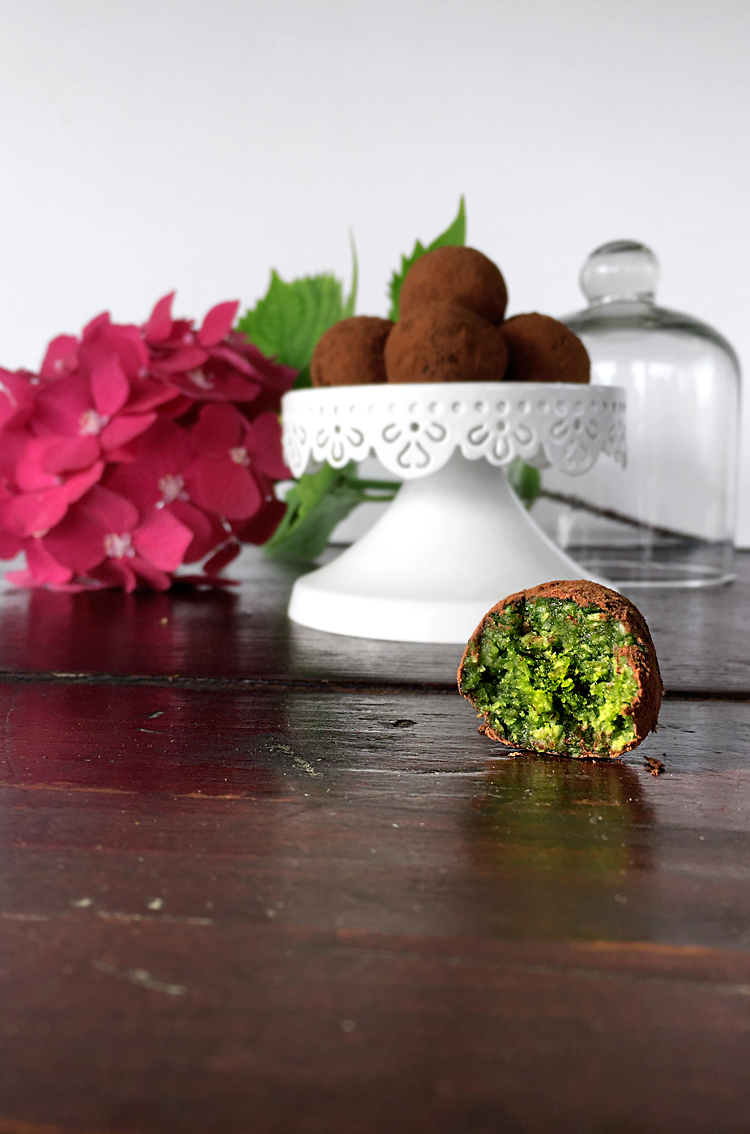 Matcha truffles
These vegan matcha truffles are flavored with matcha green tea: such an easy and elegant healthy treat. Roll them in cocoa powder or melted chocolate!

Ingredients
100 g cashews
2 teaspoons matcha powder
3 tablespoons maple syrup
4 tablespoons shredded coconut
1 tablespoon coconut oil
1 pince of vanilla
unsweetened cocoa powder q.s.
Soak the cashews in lukewarm water for 1 hour. Pour all ingredients (except cocoa poder) in a blender and mix until a smooth dough forms (if you like the coconut texture, blend only 2 tablespoons of coconut!). Shape the mixture into small balls and roll them in cocoa powder (you can also freeze them for 10 minutes and cover with melted chocolate). Chill in the fridge per 1-2 hours or until firm… enjoy!