Lamponi, more, ribes e fragoline di bosco sono tutti frutti che adoro abbinare al cioccolato fondente per quel mix dolce-asprino delizioso e mai stucchevole. Ormai chi mi segue sa che le ricette che propongo non eccedono con gli zuccheri, principalmente per due motivi: in primis, abusiamo troppo di dolcificanti, soprattutto raffinati, e quando non li usiamo direttamente, ce li ritroviamo a sorpresa in molti prodotti, come ad esempio i piselli in scatola (date uno sguardo alle etichette!). Che senso ha aggiungere dello zucchero a degli alimenti che dovrebbero essere già naturalmente dolci se arrivati ad una corretta maturazione? In secondo luogo lo zucchero, a mio avviso, copre troppo i sapori dando una sensazione apparentemente piacevole, ma con un retrogusto pressochè indefinito e molto artificiale. Impariamo allora a dosarlo: ne avrete guadagnato in salute e scoprirete che i dolci saranno più buoni perchè più autentici!
Ingredienti per la base
100 g datteri medjoul (circa 6 datteri)
85 g frutta secca mista (mandorle, noci del brasile e nocciole)
25 g cocco rapè
1 cucchiaio di cacao amaro in polvere
1 pizzico di sale
Ingredienti per la crema
100 g anacardi, ammollati per almeno 6-8 ore
2 cucchiai olio di cocco a temperatura ambiente
60 ml latte di mandorle
2 cucchiai burro di anacardi
1 banana
1 cucchiaio di cacao amaro in polvere
20 g cioccolato fondente sciolto a bagnomaria
1 cucchiaio di sciroppo d'acero
lamponi freschi e cacao in polvere per guarnire
Per la base: ammollare i datteri in acqua calda per 10-15 minuti. Scolarli ed eliminare il nocciolo. Versare la frutta secca in un mixer e tritarla grossolanamente, aggiungere gli altri ingredienti e azionare nuovamente fino ad ottenere una palla appiccicosa. Trasferire il composto in uno stampo foderato con carta forno e premere uniformemente formando uno strato compatto di circa 7 mm. Riporre in frigorifero.
Per la crema: versare nel mixer gli anacardi precedentemente ammollati. Unire la banana tagliata a rondelle e azionare qualche secondo. Aggiungere il resto degli ingredienti e frullare fino a quando si sarà formato un composto liscio ed omogeneo. Estrarre il dolce dal frigorifero e ricoprire la base con la crema ottenuta. Riporre nuovamente in frigo per un paio d'ore e lasciar solidificare.
Guarnire con una spolverata di cacao amaro e dei lamponi freschi.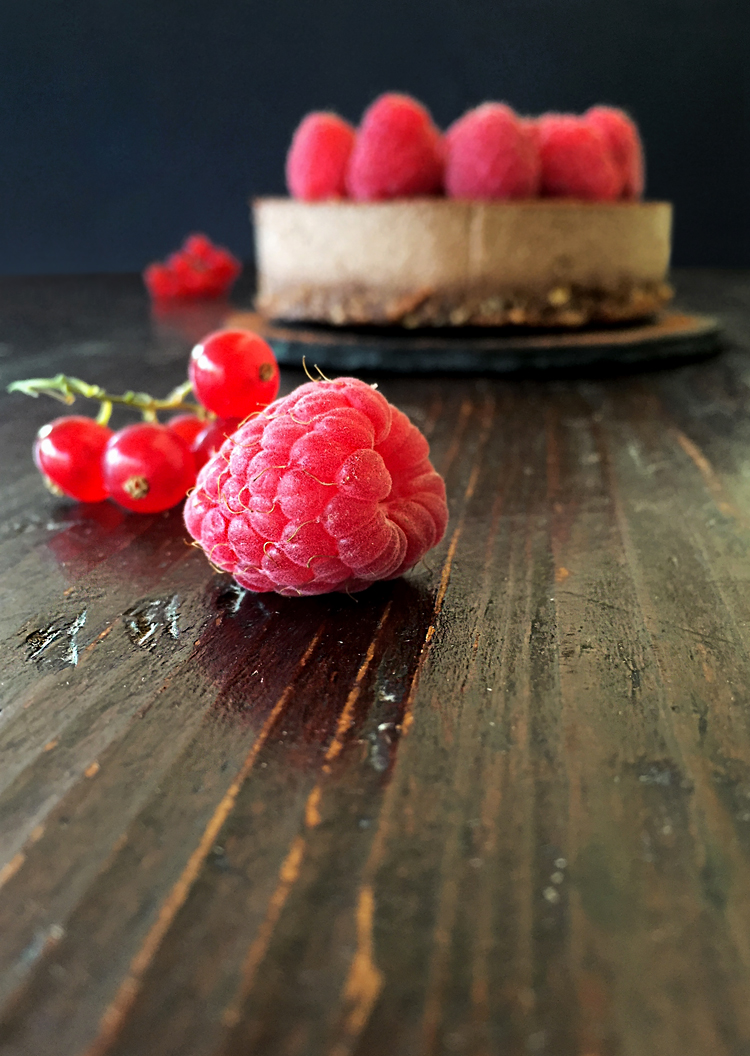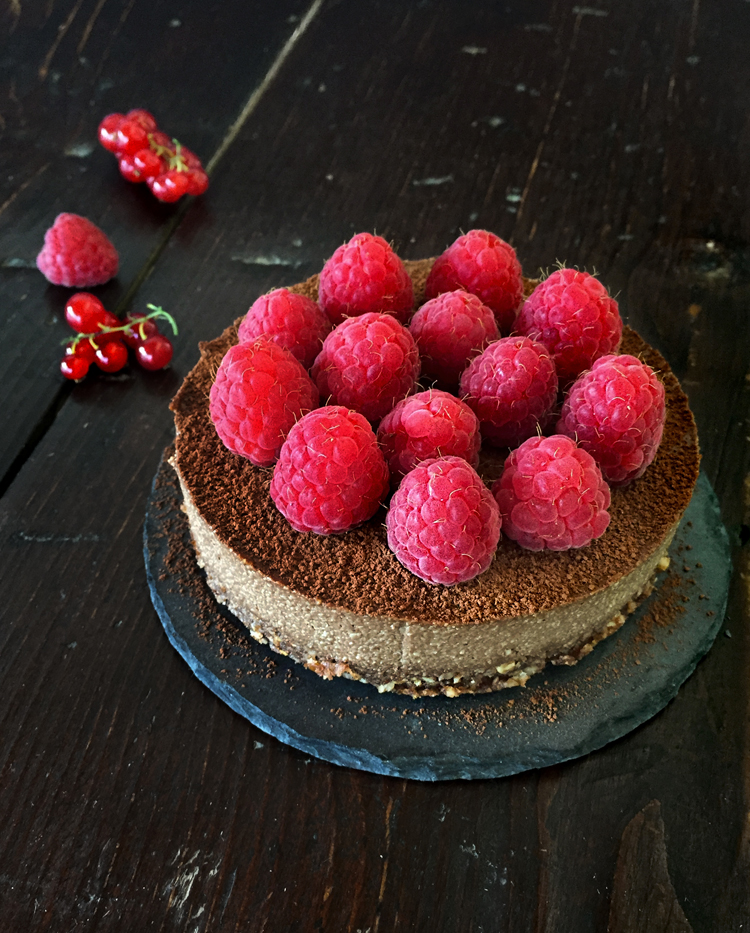 Raw chocolate & raspberry cake

Chocolate and raspberry are perfect together! I love this cake… so creamy and smooth.
Ingredients for the crust

100 g medjoul dates (about 6 dates)
85 g dried nuts (

almonds

, brazil nuts and hazelnuts)
25 g shredded coconut
1 tablespoon unsweetened cocoa powder
1 pinch of salt
Ingredients for the filling
100 g anacardi, soaked overnight
2 tablespoons coconut oil, melted
60 ml almond milk
2 tablespoons cashew butter
1 banana, chopped

1 tablespoon unsweetened cocoa powder
20 g dark chocolated, melted
1 tablespoon maple syrup

fresh raspberries

 and cocoa powder for garnish
For the crust: soak the dates in warm water for 10-15 minutes. Drain and remove pits. Put nuts in a food processor and pulse for a few seconds. Add the other ingredients and pulse again until you have a sticky dough. Press the mixture evenly into a pan lined with parchment paper. Put in the fridge.
For the filling: place the soaked cashews in a high-speed blender. Add banana and mix for a few seconds. Add remaining ingredients, and blend until smooth. Pour the filling over the crust and return to the fridge for 4-5 hours or until filling is set. Before serving, dust with cocoa powder and garnish with fresh raspberries.