Continua la mia passione e sperimentazione per le torte cotte in padella con le pentole Crafond! Ormai è puro amore, e non lo dico tanto per dire, anche il mio compagno le adora: sarà per la consistenza sempre soffice e perfetta anche nei giorni successivi, sarà per quello strato liscio che si forma in superficie (che poi diventerà la base della torta quando la andrete a capovolgere) che mi ricorda tanto la crosticina che si formava sul budino e che adoravo da piccola… sarà… sarà che è semplicemente deliziosa! E poi… a chi non piace la torta al cioccolato? Questa poi ha anche il profumo inconfondibile e intenso delle arance di Sicilia e uno strato croccante di granella di mandorle… potete in alternativa utilizzare anche il cocco in scaglie, a voi la scelta!
Ingredienti
150 g farina semi-integrale (tipo 2)
50 g fecola di patate
20 g cacao amaro
70 g zucchero di canna
1 pizzico di sale
1 cucchiaino di bicarbonato
½ bustina di lievito
scorza grattugiata di 1 arancia
60 ml succo d'arancia (1 arancia)
160 ml latte di soia + 1 cucchiaino di succo di limone
50 ml olio di semi di vinaccioli
cioccolato fondente q.b.
granella di mandorle
Versare un cucchiaino di succo di limone nel latte di soia e lasciarlo riposare per circa 10 minuti. Setacciare le farine con il cacao in polvere, quindi aggiungere un pizzico di sale, lo zucchero, il bicarbonato e il lievito. Unire le zeste d'arancia e mescolare bene. Incorporare gradualmente gli ingredienti liquidi in quelli secchi senza mescolare troppo a lungo, altrimenti la torta risulterà gommosa.
Versare il composto nella padella, chiudere con il coperchio e cuocere a fuoco corona per circa 45-50 minuti, togliendo il coperchio negli ultimi 5 minuti.
Capovolgere la torta su una gratella e lasciarla raffreddare. Sciogliere del cioccolato fondente e ricoprire il dolce. Guarnire con della granella di mandorle.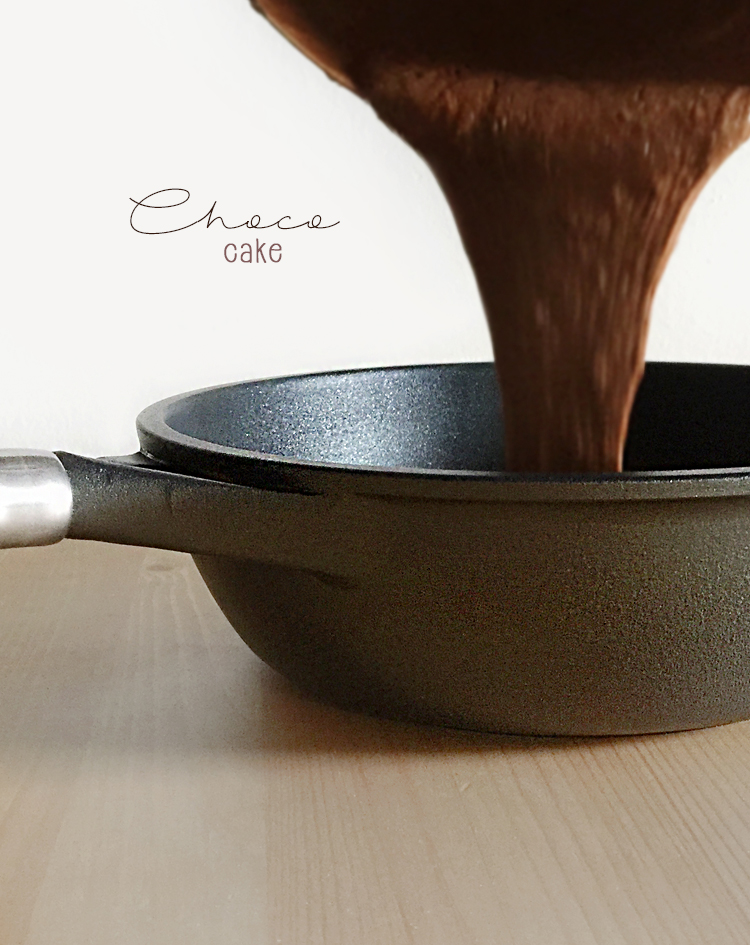 Chocolate orange cake (
without oven

!)


A soft, orange-flavoured cake with a dark chocolate taste: it's definitely one of my favourite cake… hope you'll love it too!


Ingredients
150 g

semi

–

wholemeal flour

(type 2)
50 g

potato starch



20 g unsweetened cocoa powder

70 g raw cane sugar

1 pinch of salt

1 teaspoon baking soda

10 g baking powder

orange zest

60 ml orange fresh juice

160 ml soy milk + 1 teaspoon of lemon juice
50 ml grapeseed oil

dark chocolate q.s.

chopped

almonds
Add a teaspoon of lemon juice to soy milk and let stand for about 10 minutes. In a large bowl, sift together flour, cocoa powder, baking soda and baking powder. Combine sugar, orange zest and a pinch of salt. Stir well. Pour wet ingredients into dry; do not overmix. Transfer the mixture into the pan, cover with the lid and cook over a very low heat for 45-50 minutes removing the lid for the last 5 minutes. Invert the cake onto a wire rack to cool. Pour melted chocolate over cake and garnish with chopped almonds.