Soprannominata dagli Inca "Madre di tutti i semi", la quinoa è un alimento molto versatile in cucina, utilizzato sia in preparazioni dolci che salate: torte, biscotti, polpette, burger, zuppe, come ripieno per le verdure, etc etc… Contiene tutti i 9 aminoacidi essenziali necessari al funzionamento del nostro organismo, proteine, carboidrati e fibre; è priva di glutine e può essere quindi consumata anche da chi soffre di celiachia. Dopo aver sperimentato diverse versioni di bevande vegetali homemade (tutte molto apprezzate!), ho deciso di provare anche il latte di quinoa: il risultato è una bevanda densa e cremosa (il mio consiglio è di aggiungere l'acqua gradualmente in modo da ottenere la consistenza che più vi piace). Provatela come base per dei frullati, con un po' di cacao amaro e qualche dattero frullato!
Ingredienti
70 g di quinoa
600 ml d'acqua
½ cucchiaino di sale marino integrale
dolcificante* a piacere (opzionale)
Sciacquare i grani di quinoa in abbondantemente acqua corrente. Cuocerli in acqua bollente leggermente salata (150 ml di acqua per 70 gr di prodotto) per circa 12-15 minuti (seguite in ogni caso le istruzioni riportate sulla confezione). Versarli nel frullatore insieme a 300 ml di acqua. Filtrare il liquido con una nut milk bag (in alternativa usate un colino foderato con una garza o canovaccio bianco pulito), strizzando bene la polpa. Versare la bevanda vegetale in una caraffa con coperchio, aggiungendo ulteriore acqua a seconda della consistenza che volete ottenere, io ne ho usati altri 300 ml (per un totale di 600 ml). Conservare in frigorifero per 3-4 giorni.

* A piacere potete dolcificare questa bevanda con dei datteri frullati, o aggiungendo dello sciroppo d'acero o di riso. Per una versione più golosa utilizzate del cacao in polvere, o aromatizzatela con della vaniglia o della cannella!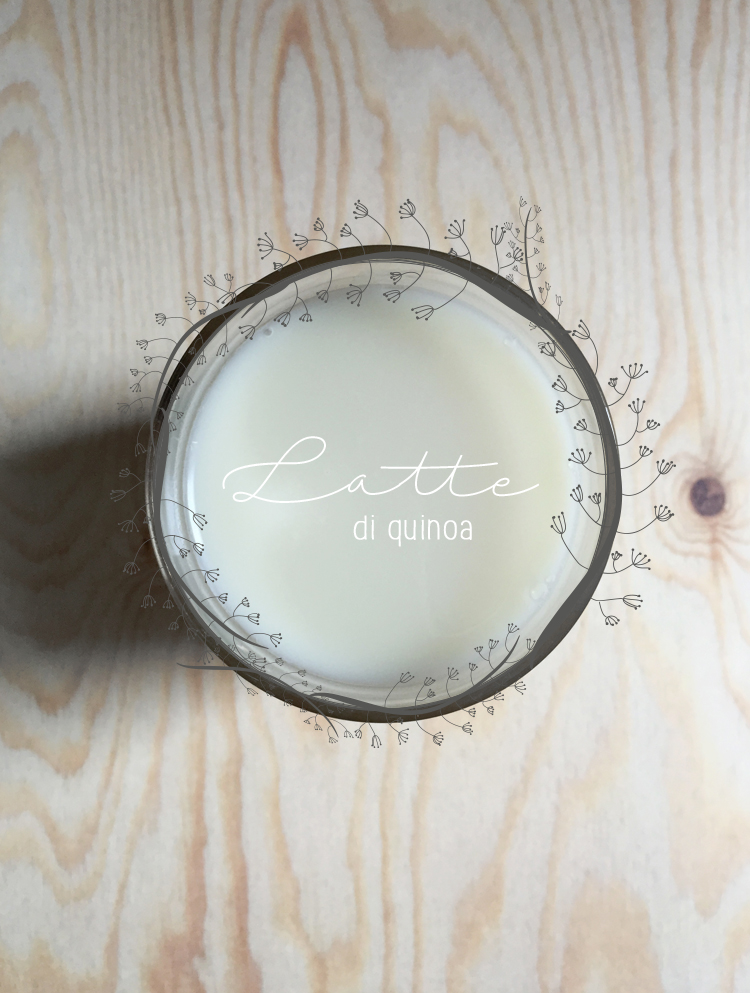 Homemade Quinoa milk
This homemade "milk" is so much cheaper and healthier than store bought versions. Quinoa is an excellent source of protein, it's high in fiber, vitamins, potassium, calcium, iron, zinc, magnesium, phosphorus and above all… it's glutenfree!

Ingredients
70 g uncooked quinoa
600 ml water
½ teaspoon salt
any extra you like*
Rinse quinoa under cold running water and cook according to package instructions. Blend the cooked quinoa with 300 ml of water until smooth. Strain the milk through a nut milk bag. Pour it into a pitcher and add water until it reaches the consistency you like (for me 300 ml of water). Store in the fridge for 3-4 days.

* You can add sweeteners and flavorings such as dates, maple or rice syrup, a pinch of vanilla, cinnamon or cocoa powder!