Iniziare la giornata con una tazza di latte aromatizzato alla zucca non mi allettava un gran che. A dire la verità, anche l'idea di provarla in un altro momento della giornata non mi ispirava molto. E sì che la zucca mi ha accompagnata fin da piccola: prima sotto forma di panini, poi con gli gnocchi di mio papà e ora che vivo a Ferrara con i famigerati cappellacci.
Perchè non provarla allora anche in versione cappuccino? Il risultato: mi unisco al coro di commenti positivi che ho trovato in rete, non posso che approvare questa bevanda dal gusto corposo e speziato, proprio come piace a me! La cannella poi è l'ingrediente fondamentale per bilanciare bene i vari sapori.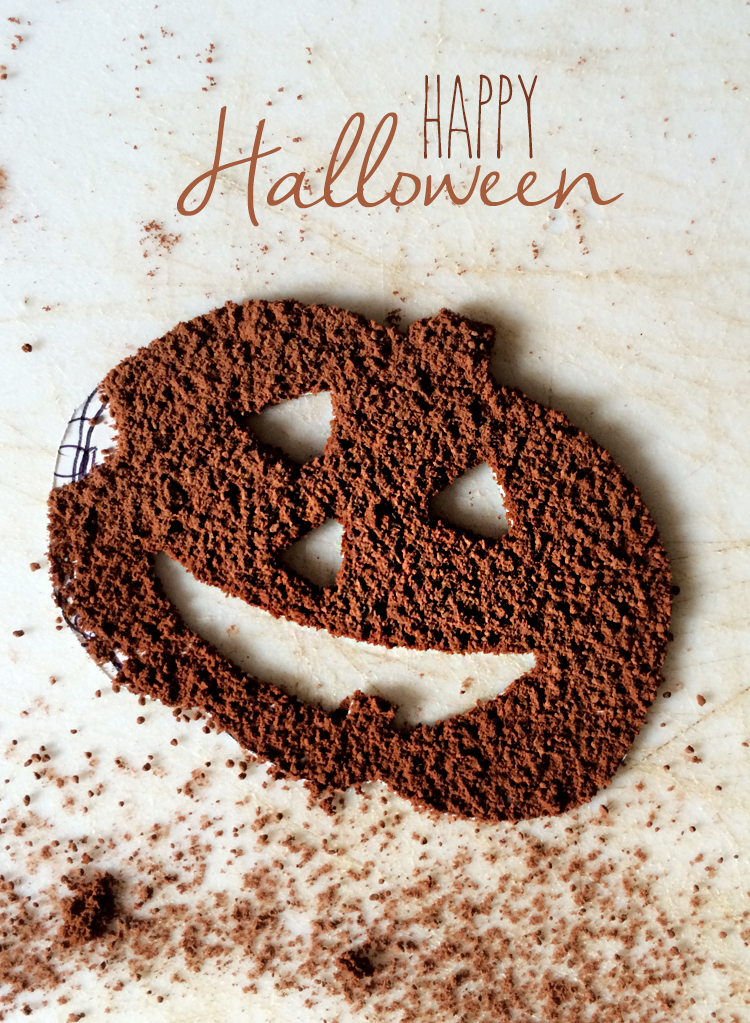 Ingredienti
 150 ml di latte vegetale (io ho usato quello di riso)
1 tazzina di caffè
1 cucchiaio di polpa di zucca già cotta
1 cucchiaio di sciroppo d'acero
cannella q.b.
noce moscata q.b.
cacao amaro in polvere q.b.
Scaldare il latte nel microonde o in un pentolino. Versarlo nel mixer, aggiungere gli altri ingredienti e frullare. Trasferire la bevanda in una tazza. A questo punto, se avete un microonde, vi suggerisco di scaldare tutto nuovamente per circa mezzo minuto, fino a quando non si formerà una sorta di schiuma/cremina in superficie. Servire con una spolverata di cacao, o della panna vegetale montata con un pizzico di cannella.
Potete servire la vostra "pozione zuccosa" ad Halloween! In questo caso per un effetto più sorprende, ritagliate su un cartoncino la sagoma della zucca o di un fantasmino e utilizzatela per ricrearne l'immagine in superficie spolverizzando del cacao con un colino.
Pumpkin spice latte
This vegan pumpkin spice latte is made using real pumpkin puree: it's hot, creamy, spicy and so easy to do! It's Starbucks inspired, but healthier and less expansive too!

Ingredients
150 ml non-dairy milk (I used rice milk)
1 small cup of espresso coffee
1 tablespoon pumpkin puree (unsweetened)
1 tablespoon maple syrup
cinnamon powder qs
nutmeg powder qs
unsweetened cocoa powder qs

Pour the non-dairy milk into a mug. Microwave until very hot (if using stove, use medium-low heat). In a food processor combine hot milk, pumpkin puree, espresso, spices and mayple syrup. Blend until smooth and creamy and pour into the serving mug. Microwave again for a few seconds to create a foam top layer. Sprinkle with cocoa powder or cinnamon or serve with vegan whipped cream.