Se siete alla ricerca di qualche idea per Halloween, in rete troverete tante soluzioni divertenti per creare tutta una serie di mostriciattoli come ragni, fantasmini e in questo caso… pipistrelli! Ho colto così l'occasione per dare nuova veste ad una mia ricetta già collaudata e apprezzata. Potete sempre tralasciare ali, occhi e orecchie e concentrarvi solo sul tartufino, oppure se avete dei bambini, sfruttare l'occasione e coinvolgerli nella preparazione. Potete immergerli completamente nel cioccolato, personalmente ho preferito passarli nel cacao in polvere che dà al corpo anche un aspetto più pelosetto. Seguendo questa linea si può veramente adattare la ricetta base ad ogni occasione e a Natale, ad esempio, basterà utilizzare il cocco rapè per creare dei deliziosi pupazzi di neve! Per questa ricetta ho provato a cuocere direttamente il cioccolato insieme al latte nel casseruolino della linea Crafond. Utilizzando la cottura con fuoco a corona, il latte non si è surriscaldato e il cioccolato ha fuso perfettamente senza attaccare!
Ingredienti
100 g cioccolato fondente
100 ml latte vegetale
1 pizzico di vaniglia Bourbon in polvere
chips di arancia bio essiccate e grattugiate Vitasnack (o scorzette di arancia)
1 cucchiaio di sciroppo d'acero
100 g di biscotti vegan
cacao in polvere q.b.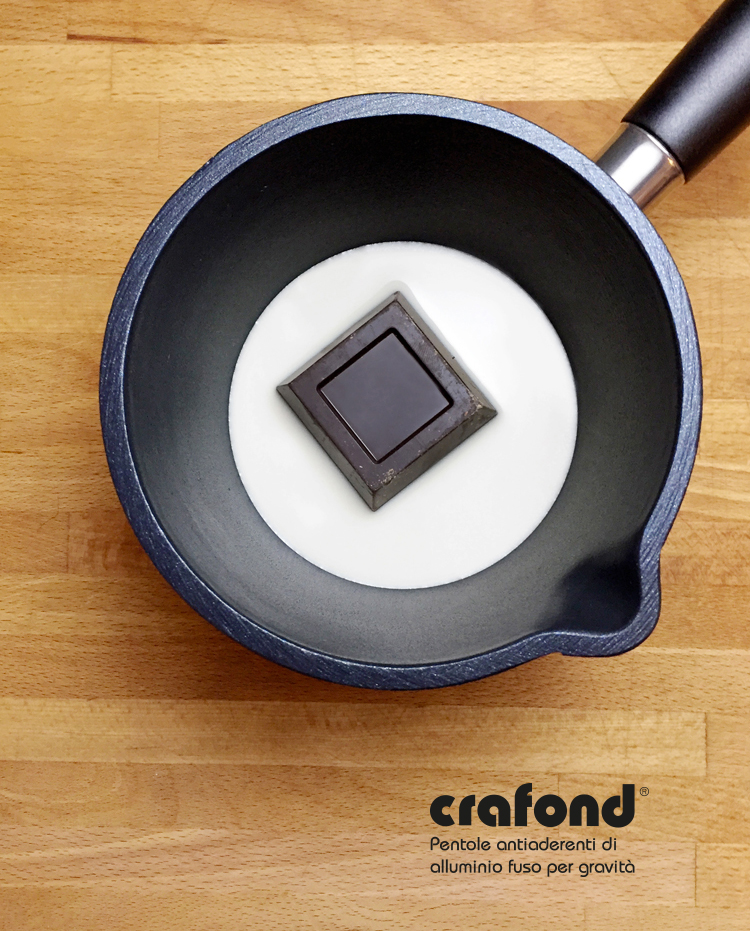 Scaldare in un pentolino il latte con il cioccolato, un pizzico di vaniglia e le scorzette di arancia. Aggiungere lo sciroppo d'acero e mescolare con una spatola fino a quando il cioccolato si sarà sciolto completamente. Versare in una ciotola e lasciar raffreddare. Unire i biscotti tritati finemente e amalgamare il composto. Far riposare in frigorifero per almeno due ore. Prelevare con un cucchiaino delle piccole porzioni di impasto e formare delle palline. Rotolarle nel cacao. Conservare in frigo.
Se state cercando qualche idea per Halloween, potete creare dei piccoli pipistrelli disegnando con del cioccolato fuso la sagoma delle ali su un foglio di carta forno. Per gli occhi potete utilizzare del cioccolato di soia bianco oppure ricavare dei piccoli dischi dai fiocchi di cocco disegnando un puntino al centro con del cioccolato (io ho fatto così). Completate l'animaletto con due gocce di cioccolato per le orecchie. Attaccate occhi e orecchie con del cioccolato fuso. Per le ali, dopo che si saranno solidificate, basterà incidere con un coltello il tartufino e infilarle delicatamente.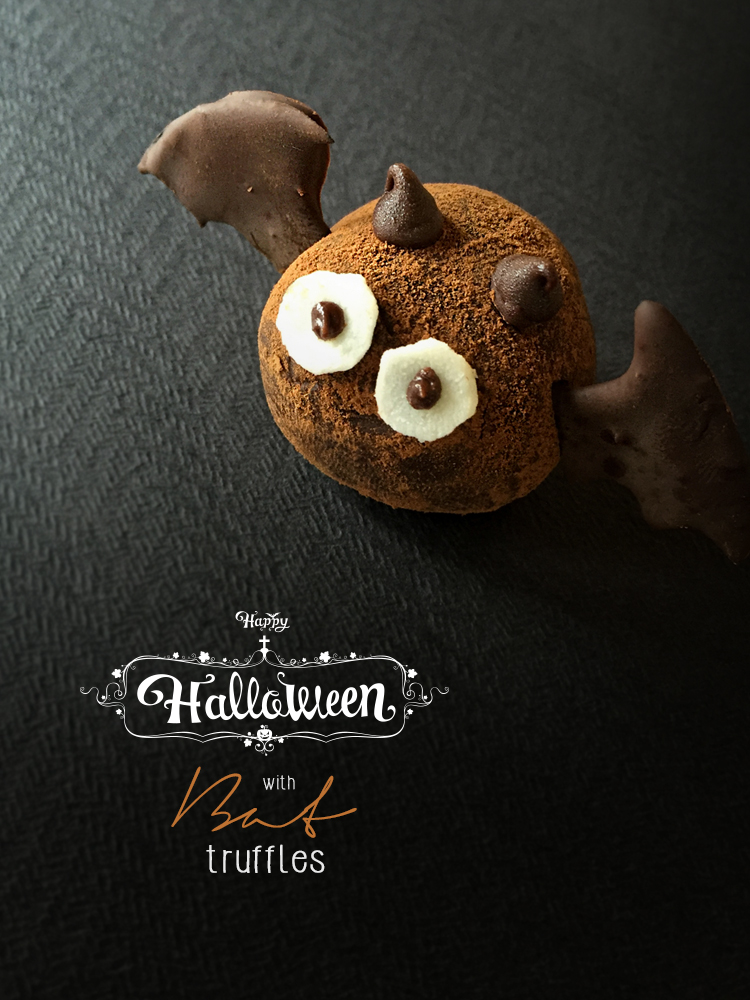 Bat truffles

These bat truffles are easy to make and perfect for your Halloween party! You can use the same recipe to create funny Snowmen coconut truffles for Christmas time.

Ingredients
100 g dark chocolate
100 ml non-dairy milk
1 pinch of Bourbon vanilla
orange zest
1 tablespoon maple syrup
100 g cookies
cocoa powder qs
Heat milk with a pinch of vanilla in a small saucepan over medium heat. Pour it over the chocolate, add maple syrup, orange zest and stir with a rubber spatula to combine well. Allow to cool. Place cookies in a food processor and process until finely crushed. Add them to the chocolate cream and mix until blended. Chill in the fridge for at least 2 hours. Use a small spoon to scoop uniform balls and roll them in your palms. Coat each truffle in the cocoa powder. Place back in the refrigerator until needed.

For your Halloween party: draw some bat-wing shapes with melted chocolate on a wax paper. Once solid, cut slightly the truffle and insert them. Use melted white chocolate or cut small circles from coconut flakes for the eyes (or just use edible eyes, if you find in store). Attach two chocolate chips on the top in position for ears and let dry completely. Your sweet bat is ready!
Bat truffles
ultima modifica:
2015-10-19T12:57:37+02:00
da