Oggi parliamo dei semi di canapa. Era da un po' che giacevano in dispensa e, ad eccezione delle insalate, non li avevo utilizzati per altre preparazioni. Tuttavia, siccome sono sempre alla ricerca di nuove bevande vegetali, ho pensato che fosse giunto il momento di provare anche il latte di canapa e ho quindi deciso di autoprodurlo. Rispetto alle altre bevande, ha un sapore molto particolare, a metà strada tra il sesamo e la nocciola: personalmente l'ho trovato molto buono, soprattutto in aggiunta ai frullati. Ricordate di non gettare l'okara (lo scarto solido) ma di riutilizzarlo per preparare polpette, pane, o quello che più vi piace!
I semi di canapa hanno una combinazione unica rispetto agli altri alimenti vegetali: contengono infatti tutti gli aminoacidi essenziali per la sintesi delle proteine, necessarie per un buon funzionamento dell'organismo. Sono ricchi di vitamine, sali minerali (ferro, calcio, magnesio, potassio, fosforo) e acidi grassi, omega 3 e omega 6. Il latte di canapa è particolarmente apprezzato per le sue proprietà antinfiammatorie, antiossidanti e nutrienti. Rinforza il sistema nervoso e previene diverse malattie (respiratorie, della pelle come eczemi, acne, cardiovascolari, colesterolo, artrosi e arteriosclerosi). Se tuttavia, parlando di canapa, avete pensato ad un alimento stupefacente, occorre subito fare una distinzione: i semi di canapa sativa non contengono THC (Tetraidrocannabinolo, delta-9-Tetraidrocannabinolo, delta-9-THC). Solo alcuni semi svilupperanno piante piene di THC, gli altri sono destinati alla trasformazione alimentare in farina e olio o alla produzione di piante per detersivi, tessuti, carta, etc.

La ricetta che trovate qui di seguito è semplicissima e conta solo due ingredienti, questo perchè nel preparare in casa le bevande vegetali preferisco partire da una base neutra che andrò a dolcificare a piacere a seconda dell'utilizzo.
Ingredienti
Ammollare i semi di canapa per circa 1 ora; se non utilizzate quelli decorticati lasciateli a bagno almeno 12 ore. Versare i semi, insieme all'acqua di ammollo, nel frullatore. A piacere, aggiungere un pizzico di sale e un dolcificante. Personalmente consiglio di lasciarlo neutro in modo da poterlo utilizzare sia per preparazioni dolci che salate, potete sempre zuccherarlo in un secondo momento. Iniziare a frullare aggiungendo l'acqua rimanente. Filtrare il liquido con l'aiuto di un colino, io ho utilizzato un sacchetto in microfibra, il c.d. nut milk bag che ho comprato su Amazon. Strizzare bene la polpa per far uscire tutto il latte. Versare la bevanda in una caraffa con coperchio e riporre in frigorifero per 3-4 giorni.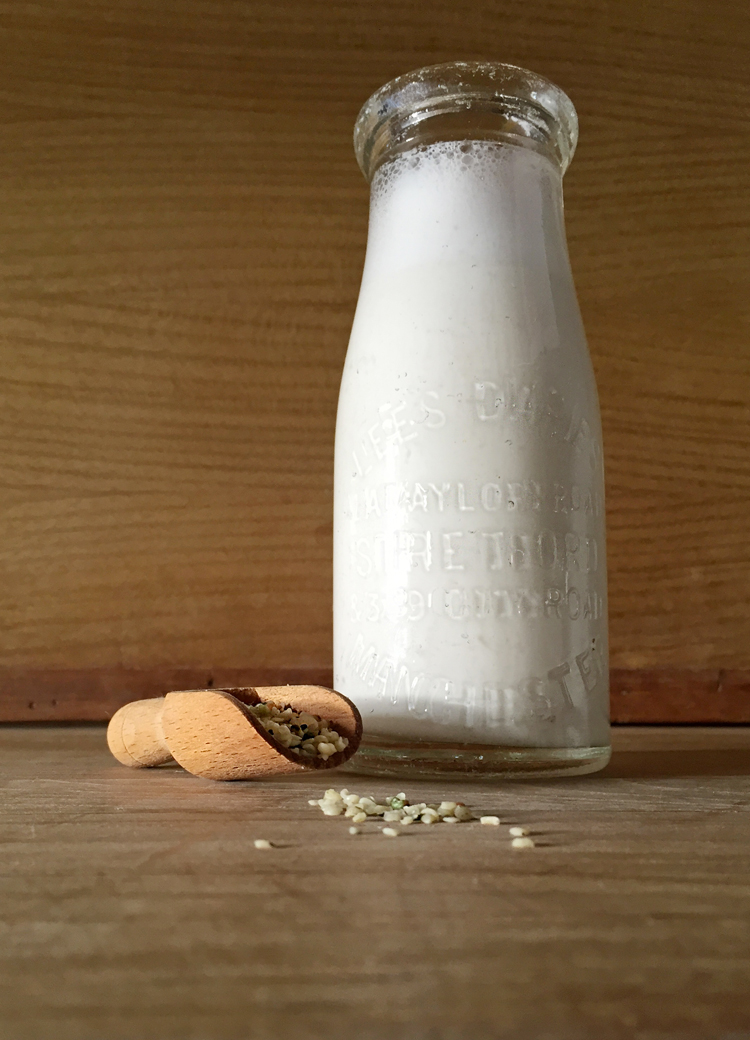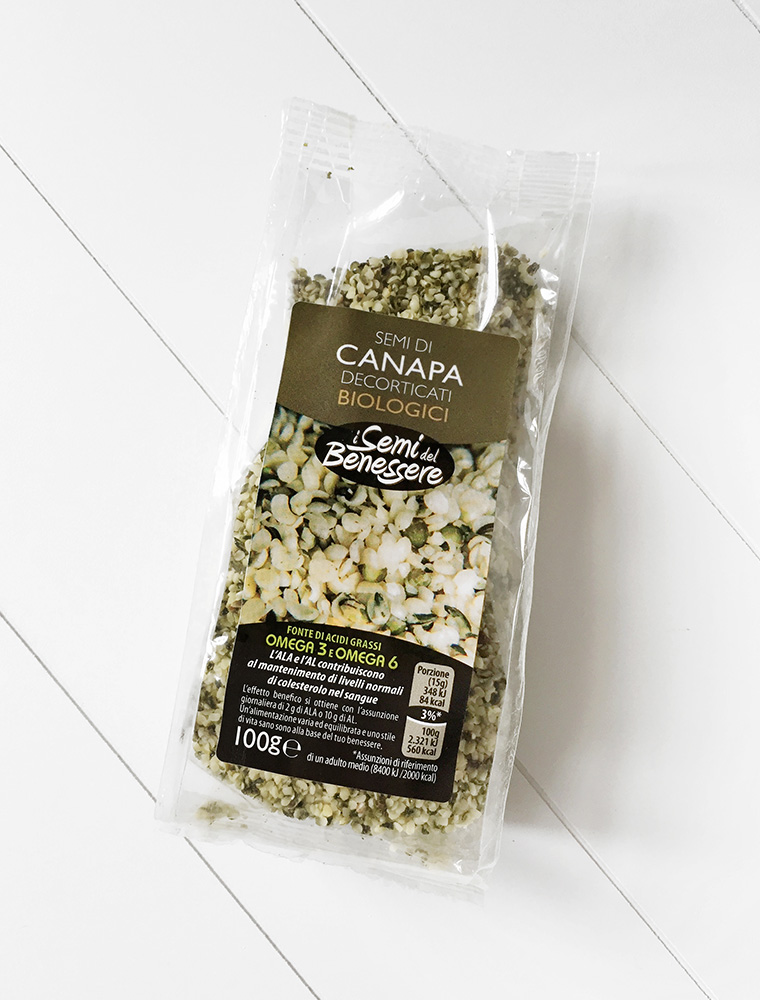 Organic Hemp milk

Though its name might be a bit misleading, organic hemp milk is a legal, incredibly nutritious and tasty non-dairy milk. Hemp seeds are extremely rich in vitamins, minerals, antioxidants; they're an amazing source of omega-3 and omega-6 fatty acids, protein, all 10 essential amino acids, calcium, potassium, phosphorous and magnesium.
Ingredients
100 g organic shelled hemp seeds
500 ml water
Soak the seeds for about 1 hour,  don't discard the water. Combine all ingredients into a blender and blend until smooth. Add a pinch of salt and sweeten to taste, if desired. Strain the mixture into a wide bowl through a milk bag (don't waste the pulp, save it to make cookies, veggie ball, bread… ). Keep in a sealed container in the fridge for 3-4 days.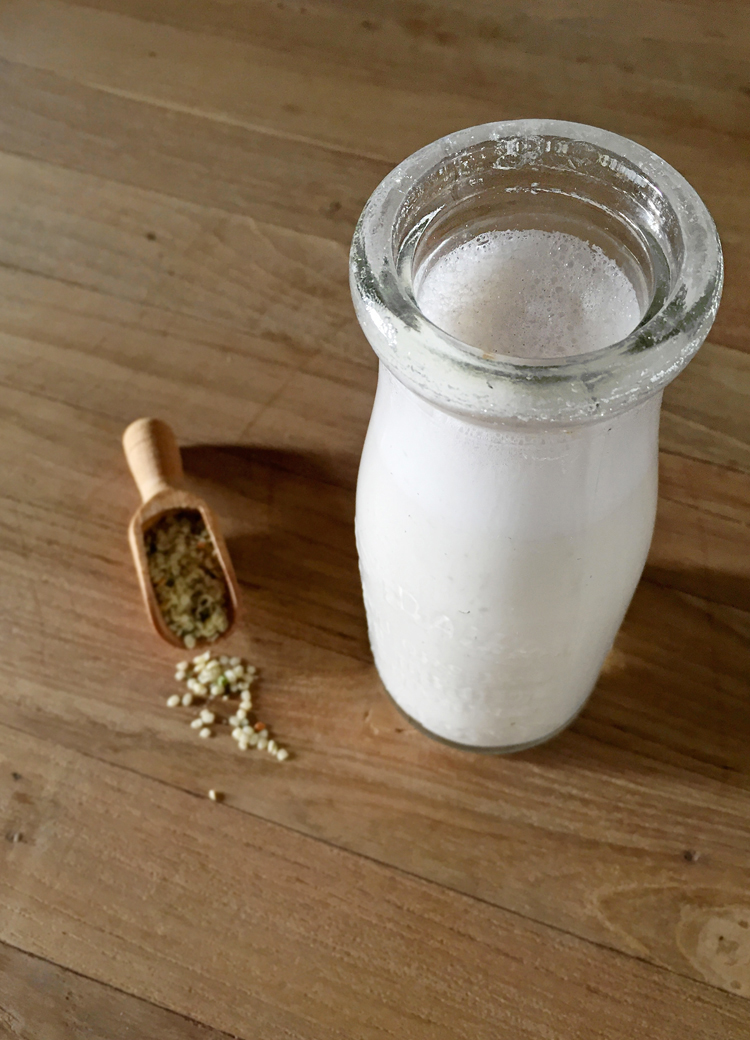 Latte di canapa
ultima modifica:
2015-12-03T09:31:46+01:00
da