Questi cestini di patate sono ideali per una festa, un aperitivo o una cena numerosa. Una soluzione carina e divertente per un finger food che puoi preparare in anticipo. Assemblare i cestini è veramente semplice, l'importante è ungere bene gli stampini e avere un po' di accortezza nell'estrarli per evitare di romperli.
Io li ho preparati nel pomeriggio e farciti all'ultimo minuto con una crema leggermente tiepida. Se non ti piace il tofu puoi sostituirlo con una crema di patate o, per una versione vegetariana, utilizzare una ricotta cremosa.
Ingredienti (per 6 cestini)
1 patata media
125 gr di tofu al naturale **
180 gr di funghi (mix porcini e finferli)
olio extra vergine di oliva
sale, pepe
vino bianco
latte di soia o avena q.b.
uno spicchio d'aglio
prezzemolo
timo
** in alternativa al tofu puoi utilizzare della ricotta o preparare una crema di patate (lessa 3-4 patate, pelale e versale nel mixer al posto del tofu)

Pela e taglia la patata con una mandolina a fette finissime. Fodera degli stampini da muffin precedentemente oliati formando una sorta di fiore e sovrapponendo leggermente ciascuna fetta in modo da formare un cestino. Crea un paio di strati alla base in modo da renderlo più resistente. Spennella ciascun cestino con un po' d'olio, aggiungi un pizzico di sale e cuoci in forno già caldo a 160° per circa 10-15 minuti. Lascia raffreddare su una gratella.
Insaporisci i funghi in padella con uno spicchio d'aglio e un filo d'olio. Sfuma con del vino bianco, quindi aggiungi il timo, un po' di prezzemolo e regola di sale e pepe. Versa il tofu nel mixer, aggiungi 2-3 cucchiai di latte di soia (o avena) e frulla per qualche istante. Unisci i funghi (conservane qualcuno per la decorazione), un filo d'olio e continua a frullare fino ad ottenere un composto cremoso ed omogeneo. Riempi un sac à poche con il composto e farcisci i cestini guarnendo con qualche fungo intero.
Un consiglio: puoi servire la crema a temperatura ambiente o scaldarla leggermente.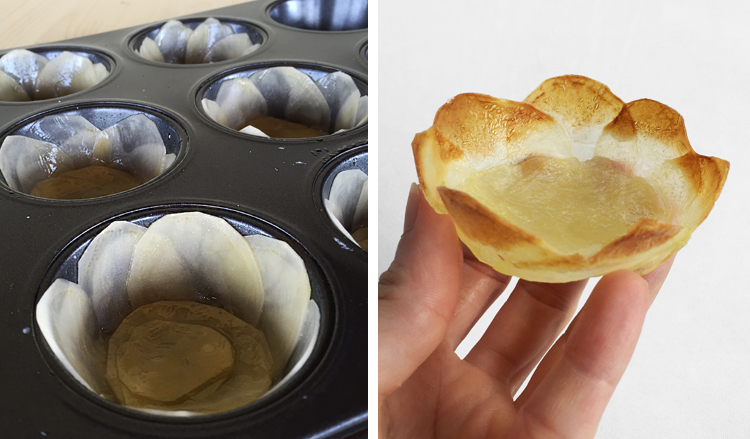 Mini potato baskets with mushrooms
Try this original way to serve your fingerfood, with a potato-flower basket!
Ingredients (for 6 baskets)
1 medium potato
125 gr tofu **

180 g mushrooms (porcini and finferli mushrooms)
extra virgin olive oil
salt, pepper
white wine
soy milk qs
1 clove of garlic
parsley
thyme
** Alternatively, you can use a potato cream.

Peel and slice a potato with a mandolin on the thinnest setting possible. Stack the potato slices against the wall of a greased muffin molds, forming rose petals.  Brush the potatoes with some olive oil and add a pinch of salt. Place in a warm oven at 160° C for about 10-15 minutes. When they are crispy remove and cool on a wire rack.
Sauté the mushrooms in a little oil and garlic. Simmer with white wine until reduced, then add thyme, parsley, salt and pepper, and continue cooking until tender.In a blender, combine tof and 2-3 tablespoons of soy milk, and blend for one minute. Add mushrooms (set aside some mushrooms for decoration), a little olive oil and continue blending until smooth and creamy. Fill a pastry bag with the mixture and stuff each potato basket. Garnish with some whole mushrooms.

A tip: serve at room temperature or heat slightly in the microwave.