Adoro la lasagna preparata con il pane carasau; l'avevo già sperimentata tempo fa con un ripieno di funghi e carciofi ed era piaciuta a tutti, genitori compresi! Oggi ho voluto provare con il topinambur, il cui sapore ricorda molto quello del carciofo. Lo si cucina come le patate e può essere mangiato anche crudo nelle insalate; a differenza delle patate però, non contiene amido ma inulina che non produce glucosio ed è quindi indicato per persone che soffrono di diabete. Per questa ricetta ho saltato il topinambur con pochissimo olio utilizzando le pentole Crafond (per una cottura più leggera e con meno grassi) e frullato velocemente per avere una cremina – non troppo fluida, volevo si sentissero i pezzettini – da usare insieme alla besciamella. Una ricetta veloce che si può preparare anche con largo anticipo e riscaldare al momento… magari un'idea da portare in tavola a Natale!
Ingredienti
200 gr di pane Carasau
500 g di topinambur già cotto (circa 610 g topinambur crudo)
250 g di funghi champignon
1 spicchio d'aglio
prezzemolo, peperoncino
vino bianco
600 ml di latte di soia
2 cucchiai di farina semi-integrale
1 cucchiaio di olio d'oliva
noce moscata q.b.
sale, pepe
formaggio (vegan, lievito alimentare o parmigiano per una versione vegetariana)
Lavare accuratamente il topinambur sotto l'acqua corrente utilizzando uno spazzolino per eliminare tutte le impurità. Tagliarlo a fettine sottili e cuocerlo in padella con un filo d'olio per circa 20 minuti. Regolare di sale e pepe. Frullarlo in un robot da cucina, versare il composto in una ciotola e tenere da parte. Pulire i funghi champignon eliminando i residui di terra. Tagliarli a fettine e saltarli in padella con un po' d'olio e uno spicchio d'aglio. Sfumare con del vino bianco, quindi aggiungere sale, pepe (del peperoncino, a piacere) e infine una manciata di prezzemolo.
Versare la farina in una casseruola, aggiungere un po' di latte di soia freddo mescolando bene con una frusta per evitare la formazione di grumi. Versare il latte restante, un po' di sale, noce moscata e un cucchiaio d'olio. Cuocere lentamente sul fuoco, continuando a mescolare, fino ad ottenere una consistenza cremosa e vellutata.
Preriscaldare il forno a 180°. Versare un cucchiaio di besciamella sul fondo di una pirofila. Bagnare velocemente il pane Carasau nell'acqua bollente e disporre via via i fogli nella pirofila, ricoprendo ogni strato con besciamella, crema di topinambur e una manciata di funghi. Continuare fino ad esaurimento degli ingredienti. Terminare la lasagna con un abbondante strato di besciamella e del formaggio (vegan, lievito alimentare o parmigiano per una versione vegetariana) e infornare con la funzione grill fino a quando non saranno belle dorate in superficie.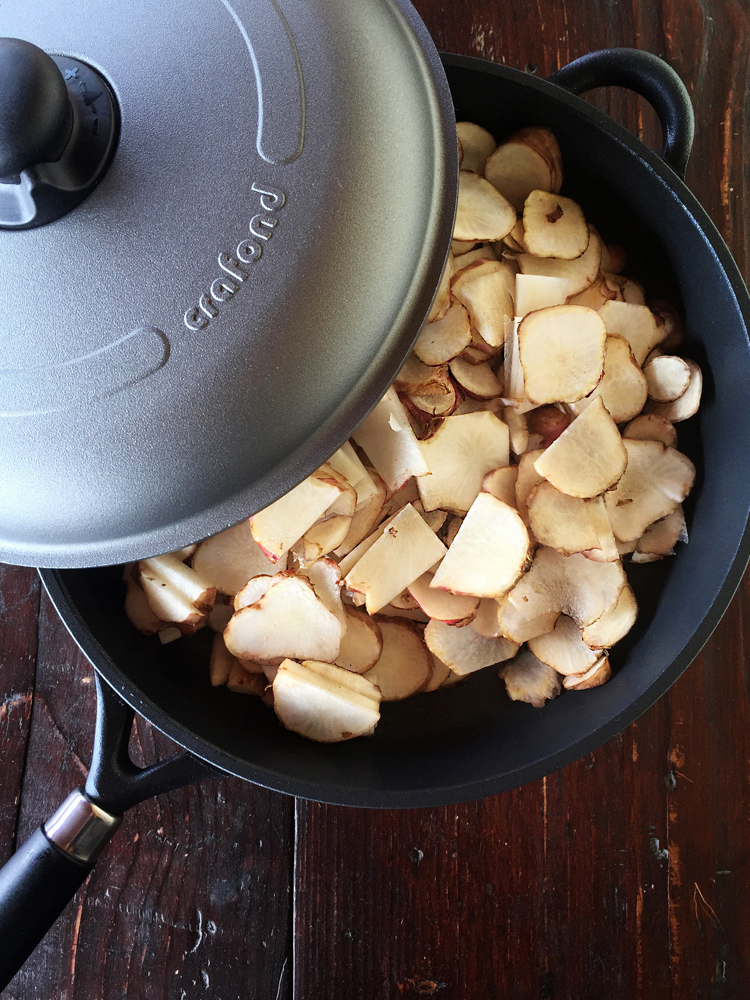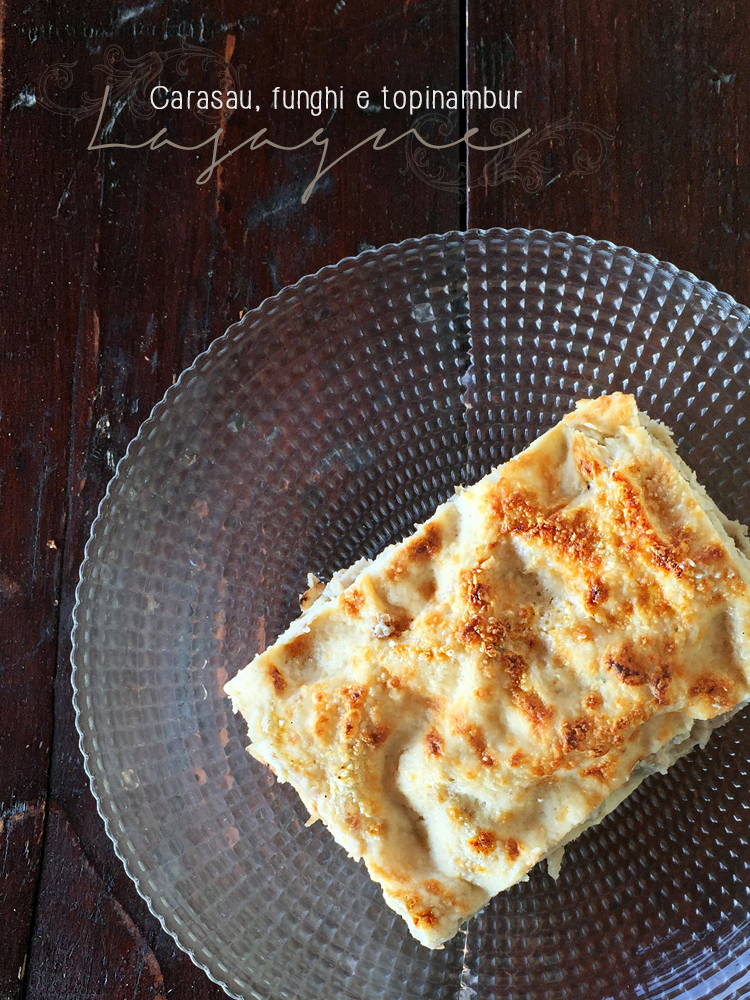 Jerusalem artichoke lasagna
Jerusalem artichoke is not truly an artichoke but a variety of sunflower. It can be cooked as potatoes, roasted, sautéed, fried, or puréed. I made a delicious cream to fill my flat-bread lasagna: it's an excellent alternative to the traditional recipe!
Ingredients
200 g Carasau bread (

Sardinian flat-bread)

500 g Jerusalem artichoke
250 g champignon mushrooms
1

clove of garlic

parsley

white wine
600 ml soy milk
2 tablespoons flour type 2
1 tablespoon olive oil
nutmeg qs
salt, pepper
vegan cheese (or

nutritional yeast

or Parmesan cheese for a vegetarian version)
Scrub the Jerusalem artichokes with a brush under running water to remove dirt from skin. Cut into slices and cook in a pan with a little olive oil for about 20 minutes. Season with salt and pepper. Blend in a food processor, then pour the mixture into a bowl and set aside to cool completely. Clean the mushrooms and gently brush away any excess soil. Cut into slices and sauté with a crushed clove of garlic in the olive oil. Deglaze with white wine, then add salt, pepper (hot pepper, to taste), and a handful of parsley.
For the bechamel sauce: in a saucepan, pour the cold soy milk, add flour and whisk well. Add the remaining cold milk, a pinch of salt, nutmeg and a tablespoon of olive oil. Mix well. Cook over very low heat until the sauce reaches a creamy texture.

Preheat oven to 180° C. First put a thin layer of bechamel sauce on the bottom of the pan. Soak quickly the Carasau bread in boiling water. Lay the carasau sheet bread in the pan and cover with bechamel cream. Add some sliced mushrooms and 2-3 tablespoons of topinambur cream. Continue layering until all ingredients are used. Top the lasagna with cheese or nutritional yeast and bake for 15-20 minutes or until golden-brown on top.