Vi basterà avere un macinacaffè o un robot da cucina e in pochi minuti avrete a disposizione una soffice e deliziosa farina con cui preparare questi gnocchi di piselli un po' diversi dal solito.
Una ricetta leggera e gustosa a cui potrete dare una "spinta in più" aggiungendo una salsa di peperoni arrostiti!
Gnocchi di piselli – Ingredienti per 4 persone
Sciacquare i piselli accuratamente e lasciarli asciugare per almeno una notte; tostarli leggermente in una padella antiaderente, in questo modo sarà più facile tritarli. Versarli gradualmente in un robot da cucina o in un macinacaffè; azionare ad intermittenza fino ad ottenere una farina soffice e impalpabile.
Lessare le patate in abbondante acqua. Quando risulteranno morbide alla prova forchetta, scolarle ed eliminarne la buccia. Passarle con uno schiacciapatate e lasciarle raffreddare leggermente. Versare la purea su una spianatoia leggermente infarinata. Ricavare al centro una piccola fossetta e rompervi un uovo. Aggiungere un pizzico di sale e con una forchetta amalgamare bene gli ingredienti. Aggiungere gradualmente la farina di piselli e quella semi-integrale.
Non aggiungete troppa farina! L'impasto non deve risultare eccessivamente compatto o gli gnocchi, dopo la cottura, risulteranno duri.
Lavorare l'impasto fino ad ottenere un panetto liscio e omogeneo. Lasciar riposare in frigo per una decina di minuti.
Prelevare una parte di impasto e disporla su una superficie infarinata. Ricavare dei filoncini e tagliarli in gnocchi di circa 2-3 cm.
Cuocere gli gnocchi di piselli in abbondante acqua salata, scolandoli quando vengono a galla. Condire a piacere!
Crema di peperoni arrostiti
Ingredienti
4-5 peperoni cornetto (gialli e rossi)
5-6 cucchiai di passata di pomodoro
olio extra vergine di oliva
uno spicchio d'aglio
sale, peperoncino
timo limone
Lavare i peperoni. Accendere il forno – funzione grill, quindi disporre i peperoni su una teglia rivestita con carta forno.
"Bruciacchiare" la pelle dei peperoni avendo cura di girarli ogni 4-5 minuti. A fine cottura disporli in una ciotola ricoprendola con un piatto o un coperchio. Lasciar riposare per 10-15 minuti. Togliere la pelle, tagliarli quindi a listarelle eliminando i filamenti interni ed eventuali semi.
Versarli in un robot da cucina e ridurli a purea.
In una padella antiaderente scaldare un filo d'olio e soffriggere leggermente uno spicchio d'aglio. Versare la crema di peperoni, aggiungere il pomodoro e un pizzico di peperoncino, quindi regolare di sale.
Versare la crema su un piatto, adagiarvi sopra gli gnocchi di piselli e guarnire con qualche foglia di timo limone.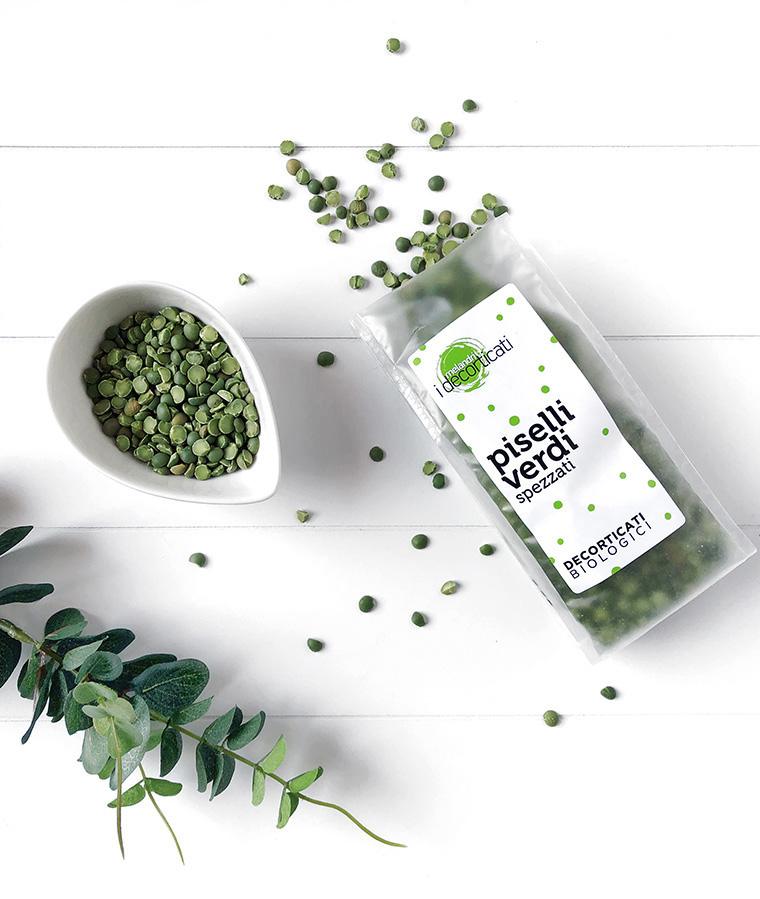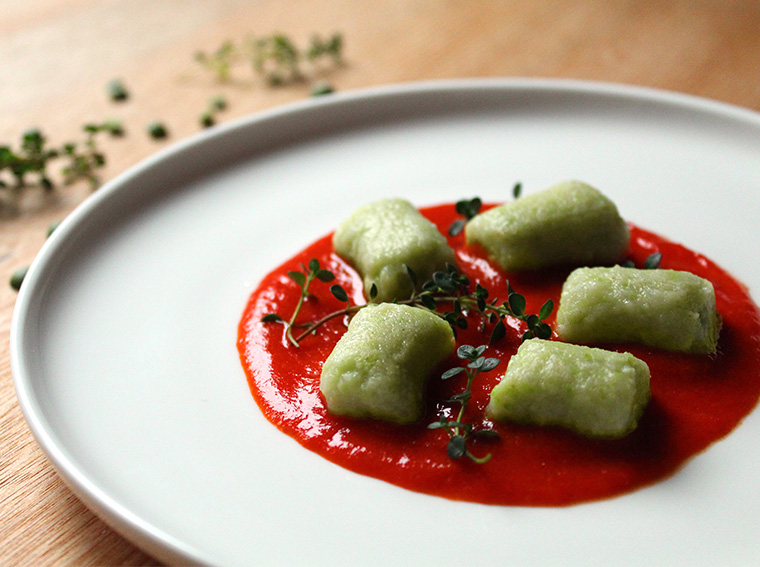 Green pea flour gnocchi
Ingredients for 4 persons
100 g green pea flour home-made
4 medium potatoes (around 640 g)
30 g wheat flour type 2
1 egg
a pinch of salt
Rinse the green split peas and let them dry for at least one night; lightly toast them in a non-stick pan. Pour them gradually into a food processor or coffee grinder and blend until you obtain a soft and impalpable flour.
Place the potatoes in a saucepan and cover with cold water. Bring to the boil over high heat and cook for 30 minutes or until tender. Peel by hand and discard skins. Mash the potatoes with a potato ricer and let them cool slightly.
Pour the puree on a lightly floured work surface. Form a small fountain with a hole in the middle, break the egg then add a pinch of salt and mix the ingredients with a fork. Combine the pea flour and wheat flour.
If mixture is too sticky, add a little more flour. But be careful! Too much flour will make the cooked gnocchi tough.
Knead until dough is smooth and homogeneous. Let it rest in the fridge for about ten minutes. Divide dough into 4 pieces. Using your hands, gently roll each piece out on a floured surface and form a log. Cut each log into 2-3 cm long pieces.
Cook them in abundant salted water and drain the gnocchi as soon as they come to the surface.
Roasted pepper sauce
Ingredients
4-5 cornetto peppers (yellow & red)
5-6 tablespoons tomato purée
extra virgin olive oil
1 clove of garlic
salt, chili pepper
lemon thyme
Wash the peppers and preheat the oven to 240° C. Line a baking sheet with parchment paper and roast the peppers for 15-20 minutes, turning them 1–2 times part way through. The skin should be charred and soft, and the peppers should look slightly collapsed.
Place them in a bowl and cover with a plate or lid. Steam them for about 10-15 minutes then remove their skin and cut them into strips discarding the seed and filaments.
Pour them into a food processor and reduce to a purée.
Heat the extra virgin olive oil and the garlic clove in a non-stick frying pan. Pour the peppers cream, add the tomato and a pinch of chilli pepper, then season with salt.
Place the cream on a plate, add the pea gnocchi on top and garnish with some lemon thyme leaves.