Finisce tutto in "oso": cremoso, corposo e goloso, ovvero il gelato alla stracciatella fatto in casa senza l'utilizzo della gelateria. Non è la prima volta che preparo questo tipo di gelato, sul blog infatti puoi provare la versione anacardi e mandorle o il più famoso banana ice cream rivisitato al matcha.
In questa preparazione ho utilizzato il latte di cocco per ottenere una consistenza più vellutata. Nonostante l'origine vegetale e l'assenza di colesterolo, questo latte è molto calorico e va dunque consumato con moderazione.
Non tutti i latti di cocco sono uguali e per preparare il gelato è consigliabile sceglierne uno con una percentuale di grasso pari al 20% circa (lo trovi scritto sulla tabellina degli valori nutrizionali). Io utilizzo il latte di cocco in lattina e lo ripongo in frigorifero per un paio d'ore prima di adoperarlo (o in alternativa circa 30 minuti in freezer). Ultimo ma non meno importante, mai agitare la lattina prima di aprirla in modo che la parte solida e quella liquida restino ben separate!
Ingredienti
100 g anacardi
200 ml latte di cocco
20 g cioccolato fondente
25 g sciroppo d'acero
Vaniglia in polvere
Lasciare in ammollo gli anacardi in acqua calda per circa 30 minuti, o in acqua fredda per almeno 4 ore. Scolare e versarli in un frullatore con il latte di cocco (privilegiando la parte più solida e cremosa), lo sciroppo d'acero e la vaniglia in polvere. Azionare fino ad ottenere un composto liscio e cremoso.
Versare la crema in una vaschetta e aggiungere il cioccolato tagliato grossolanamente. Riporre in freezer per circa 3 ore, mescolando con una forchetta ogni 30 minuti.
Togliere il gelato dal freezer qualche minuto prima di servirlo per ottenere una consistenza più cremosa.
Nota: per ultimo ho aggiunto anche qualche fava di cacao tostata in superficie, per dare un po' di contrasto e croccantezza!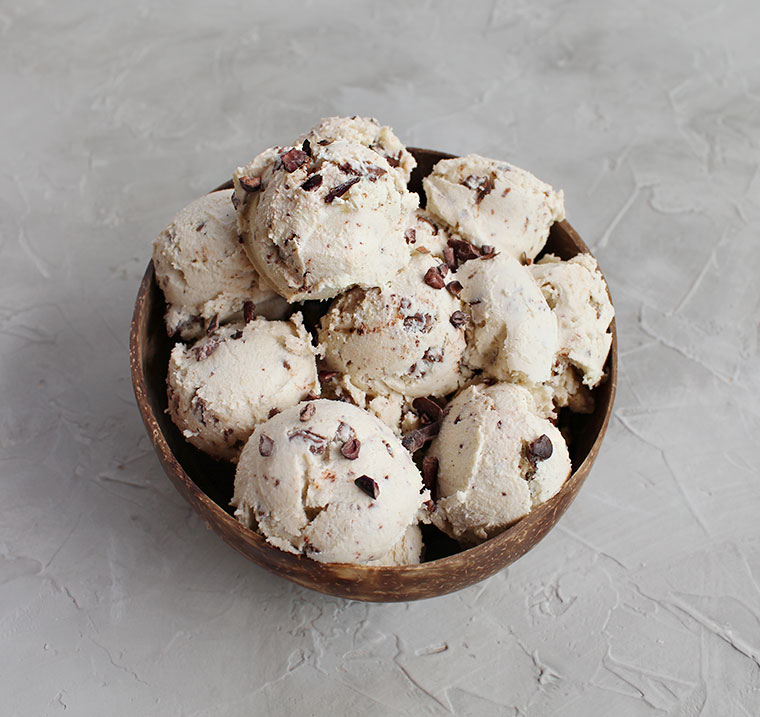 Stracciatella Ice Cream without an ice cream maker
Ingredients
100 g cashews, soaked
200 ml coconut milk
20 g dark chocolate
25 g maple syrup
Vanilla powder
Drain and rinse the cashews. Put them in a blender together with coconut milk, maple syrup and vanilla powder. Blend until smooth and creamy.
Pour the mixture into a freezer bowl and add the chocolate, roughly chopped. Freeze for about 3 hours. Check the mixture every 30 minutes, stirring with a fork.
Simply remove from the freezer 10 minutes before serving to obtain a creamy consistency.