Adoro i waffles in qualunque momento della giornata!
Mi piacciono perchè si preparano velocemente e bastano pochi ingredienti: stanno bene praticamente con tutto e sono buonissimi anche in estate con una pallina di gelato!
La ricetta che trovi qui sotto, come sempre, contiene pochi zuccheri, ma non preoccuparti perchè il sapore finale sarà bilanciato dal topping. Per questa ricetta ho scelto la confettura Fiordifrutta alle ciliegie dolcificata solo con succo di mela biologico.
Ho aggiunto qualche fiocco di cocco essiccato, bacche di ribes rosso per dare quel tocco leggermente acidula, noci del brasile per un po' di croccantezza e, per finire, il mio amato sciroppo d'acero.
Ingredienti x 2 waffles

80 g di farina tipo 2
20 g di fecola di patate
1/2 cucchiaino di lievito
1 cucchiaio di olio di vinaccioli
150 ml di latte di mandorla
un cucchiaio di semi di chia tritati + 3 cucchiai d'acqua
1 cucchiaio di sciroppo d'acero
1 pizzico di vaniglia Bourbon
Per la guarnizione

FiordiFrutta Ciliegie, Rigoni di Asiago
1 cucchiaio di sciroppo d'acero
2 noci del brasile, tagliate a lamelle
fiocchi di cocco essiccati
qualche bacca di ribes rosso
Trita finemente i semi di chia, versali in una ciotolina, aggiungi 3 cucchiai d'acqua e lascia riposare per qualche minuto, fino a quando si sarà formato un composto gelatinoso.
In un'ampia ciotola, setaccia le farine, aggiungi il lievito e un pizzico di vaniglia. Versa gradualmente gli ingredienti liquidi (olio, latte e il "finto uovo" di semi di chia), amalgamando bene con una frusta per non formare dei grumi. Lascia riposare per circa 10 minuti. Ungi leggermente la piastra per i waffle, scaldala e versa l'impasto. Cuoci fino a doratura.
Servi i waffle ancora caldi guarnendoli a piacere.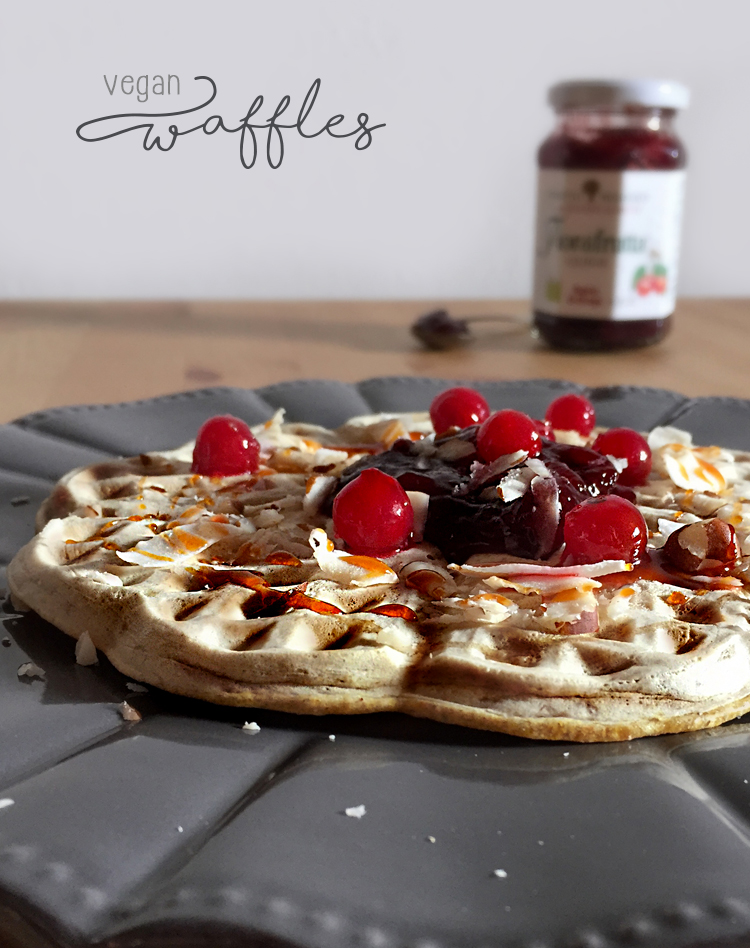 Vegan Waffles
These waffles are a delight for breakfast but also as a dessert. Top with your favorite fruits, jam and syrup!

Ingredients for 2 waffles

80 g flour type 2
20 g potato starch
1/2 teaspoon baking powder
1 tablespoon grapeseed oil
150 ml almond milk
1 tablespoon ground chia seeds + 3 tablespoons water
1 tablespoon maple syrup
a pinch of Bourbon vanilla
For topping

Mix the chia seeds with water and let sit until a thick gel is formed. In a large bowl, sift flour, potato starch, baking powder and vanilla. Gradually add liquid ingredients (oil, milk and "chia seeds egg") and whisk well – to avoid lumps. Let rest for 10 minutes. Brush the waffle iron lightly with oil and heat it. Scoop the batter into the waffle iron and close the lid. Bake until golden brown. Serve waffles, still warm, with cherry jam, a few red currant berries, brazil nuts thinly sliced, coconut flakes and maple syrup.