Sofficissimi e profumatissimi: questi muffin alle carote sprigionano tutto l'aroma intenso della Sicilia! Per prepararli ho infatti utilizzato due ingredienti che adoro: le arance navel e le carote di Ispica.
Le carote novelle di Ispica sono dolci e croccanti, per nulla acquose il che le rende perfette nella preparazione di dolci. Io le trovo solitamente al Lidl, anche se spariscono in fretta!
In questa ricetta le ho utilizzate in due varianti: grattugiate e come estratto, insieme al succo di un'arancia. Se sei un sostenitore delle famose "camille", adorerai anche questi muffin, preparati con ingredienti sani e farine non raffinate!
Ingredienti
100 g farina di farro integrale
50 g farina di riso integrale
50 g fecola di patate
30 g cocco rapè
80 g zucchero di canna
150 g di carote
1 cucchiaino di bicarbonato
½ bustina di lievito
50 ml di bevanda vegetale a piacere
50 ml olio di semi di vinaccioli
160 ml di succo (1 arancia + 3 carote)
zeste d'arancia
Pelare le carote e grattugiarle finemente. In un'ampia terrina setacciare le farine con il lievito e il bicarbonato. Aggiungere il cocco in scaglie, lo zucchero e le zeste di un'arancia. Versare le carote grattugiate e mescolare bene.
Preparare quindi il succo.
Pulite le carote raschiandole con un coltellino, tagliare l'arancia in spicchi e versare tutto nell'estrattore. Unire il succo ottenuto, il latte e l'olio agli ingredienti secchi, amalgamando bene il composto. Versare l'impasto nei pirottini riempiendoli per 2/3 e cuocere in forno preriscaldato a 180° per circa 25-30 minuti. Verificare la cottura con uno stecchino.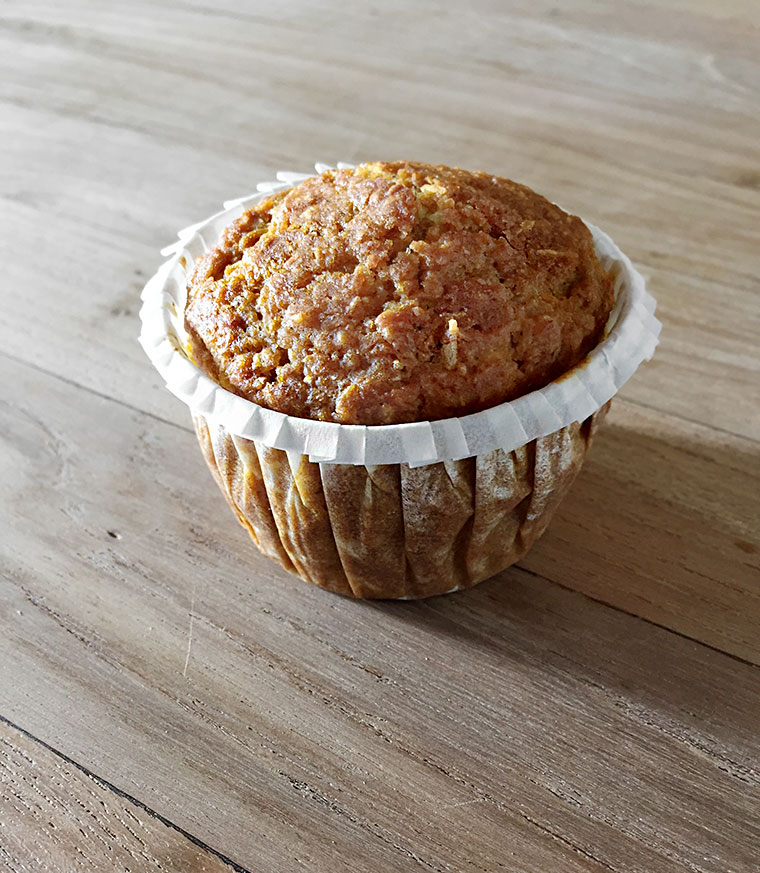 Carrot muffin
Ingredients
100 g wholemeal spelt flour
50 g brown rice flour
50 g potato starch
30 g shredded coconut
80 g raw cane sugar
150 g carrots
1 teaspoon baking soda
8 g baking powder
50 ml non-dairy milk (I used oat milk)
50 ml grapeseed oil
160 ml fresh juice (1 orange + 3 carrots)
orange zest
Peel the carrots and grate them by hand or with a food processor. In a large bowl sift flour with baking powder and baking soda. Add shredded coconut, sugar and orange zest. Pour the grated carrots and mix well.
Make the carrots and orange juice. Wash the carrots and scrape them, cut the orange into slices and pour into the juice extractor. Combine juice, milk and oil into dry ingredients and mix well. Fill each muffin cup 2/3 full with the batter. Bake in a pre-heated oven at 180° C for 25-30 minutes. Check the doneness with a toothpick.