Se penso a un dolce estremamente goloso non posso escludere il cioccolato dagli ingredienti principali. Questa torta all'acqua, con ciliegie e cioccolato, è una vera delizia ed è stata particolarmente apprezzata dai miei suoceri che, pur non mangiando dolci vegani, ne sono rimasti entusiasti. Doppia sorpresa per loro, perché, oltre ad essere un dolce "alternativo" per l'assenza di uova e latticini, non è stato cotto nel forno ma in padella, con la mia inseparabile casseruola Crafond!
La cottura in padella consente di avere all'interno della torta quel giusto grado di umidità che la rende soffice ma non bagnata. È l'ideale soprattutto in estate quando accendere il forno comincia a diventare un problema, e non serve nemmeno ungerla perchè non attacca minimamente.
Nelle foto a seguire troverete due versioni: con copertura al cacao amaro o cioccolato fondente. Luca dice "cioccolato fondente tutta la vita!"… a voi però la scelta, sono entrambe da provare.
Ingredienti
200 g farina semi-integrale (tipo 2)

60 g zucchero integrale muscovado

20 g cacao amaro in polvere

10 g polvere lievitante (biovegan)

2 cucchiaini caffè solubile

220 ml acqua

70 ml olio di semi di vinacciolo

160 g ciliegie

100 g cioccolato fondente 70% (in alternativa, cacao amaro) per la copertura
Pulire accuratamente le ciliegie eliminando il nocciolo e tagliandole a metà. In un'ampia terrina, setacciare la farina, unire lo zucchero, il cacao e il lievito. Sciogliere il caffè solubile in acqua; unire gli ingredienti liquidi a quelli solidi, amalgamando bene il tutto con una spatola. Per ultimo, incorporare le ciliegie nell'impasto. Versare il composto nella casseruola e cuocere con coperchio, a fuoco corona, per circa 40-45 minuti, togliendo il coperto negli ultimi 5 minuti. Verificare la cottura con uno stecchino. Lasciar raffreddare la torta su una gratella. Quando la torta si sarà raffreddata, sciogliere il cioccolato fondente a bagnomaria e ricoprirla.
Lasciar riposare in frigorifero almeno un paio d'ore prima di servire, guarnendo a piacere con dei riccioli di cioccolato fondente e qualche ciliegia fresca.
In alternativa, potete cuocere la torta in forno statico a 180° per circa 35 minuti.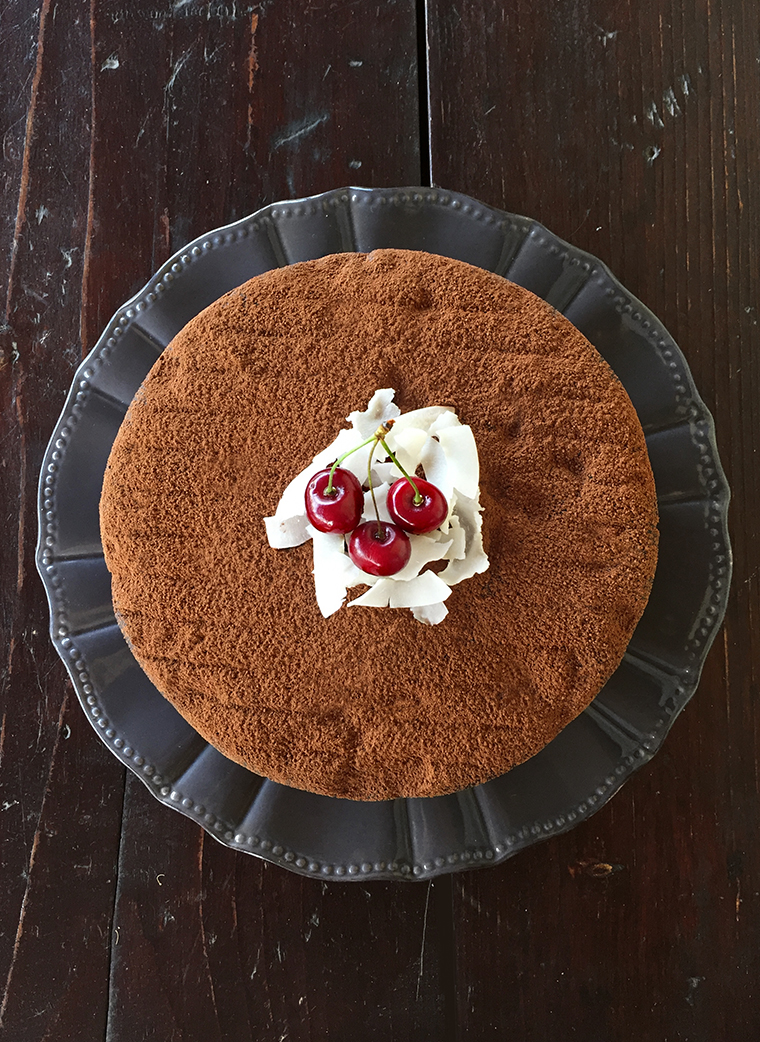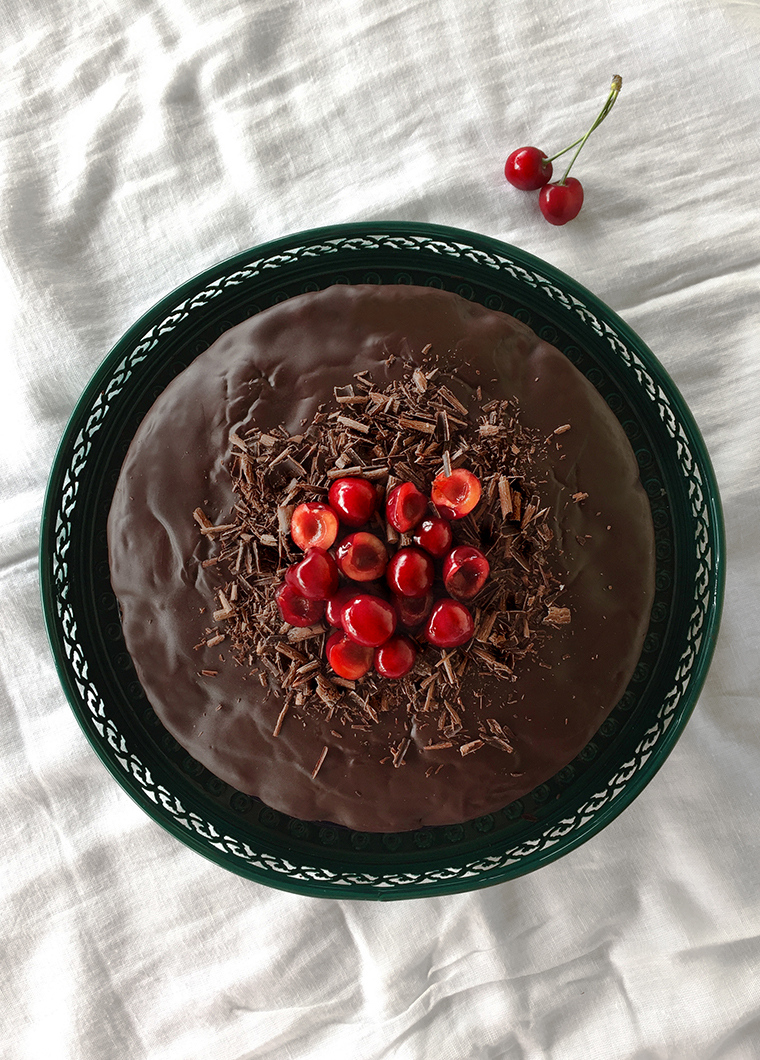 Vegan chocolate cherry cake
Ingredients
200 g semi-wholemeal flour (type 2)

60 g dark brown muscovado sugar

20 g unsweetened cocoa powder

10 g baking powder

2 teaspoons instant coffee

220 ml water

70 ml grapeseed oil

160 g cherries

100 g dark chocolate 70% to cover the cake (or cocoa powder)
Clean the cherries, remove the kernel and cut them in half. In a large bowl, sift flour, combine sugar, cocoa and baking powder. Add 2 teaspoons of instant coffee to water. Pour wet ingredients into dry and mix until just combined. Stir in the cherries. Pour the batter into the pan and cover with the lid. Cook over a very low heat for 40-45 minutes removing the lid for the last 5 minutes. Use the toothpick test to check for doneness. Cool on wire rack. 
Melt chocolate in a double boiler and spread over the cake. Chill in the fridge for a few hours before serving. Garnish with dark chocolate curls and fresh cherry.
You can also bake the cake in the oven at 180° C for 35 minutes.