Vivrei di pane, pizza e focacce! Quello che mi frena però sono sempre i lunghi tempi di attesa, per questo il più delle volte ripiego su impasti che non devono riposare. Tuttavia, dopo aver seguito un corso di panificazione, ho deciso di dedicarmi almeno ogni tanto a qualche lievitato. La pizza è diventata il mio appuntamento fisso settimanale tanto da meritarmi il soprannome di "Ciro 'o pizzaiolo": solitamente la preparo con farine semi integrali o di grani antichi e lunghe lievitazioni che la rendono molto digeribile.
Volevo cimentarmi però con qualcosa di dolce, e la scelta è ricaduta sul pan brioche, che adoro. In questa ricetta ho optato per la versione base, ma vi consiglio di provarlo anche con una farcitura di cioccolata! Ho utilizzato un lievito madre attivo secco. Lo trovo molto pratico, soprattutto per chi come me non si trova spesso a fare pane e focacce. Lascia l'impasto molto leggero e con un buon sapore, senza quel retrogusto (che trovo un po' invadente) tipico del lievito di birra.
Ingredienti
200 g farina tipo1
200 g farina W350 (Garofalo W350)
100 g zucchero di canna tritato finemente
1 pizzico di sale marino integrale
16 g lievito madre attivo secco (Ruggeri)
200 ml latte di soia, tiepido
50 ml olio di semi di vinacciolo
In un'ampia terrina setacciare le farine, aggiungere lo zucchero di canna a velo e il lievito. Unire i liquidi (latte di soia leggermente tiepido e olio) e iniziare ad impastare fino a farli assorbire. Per ultimo, un pizzico di sale. Trasferire l'impasto su una spianatoia leggermente infarinata e lavorarlo per qualche minuto fino ad ottenere una palla omogenea e liscia (facendo pieghe e pirlatura per dare maggiore struttura). Preparare una ciotola pulita e leggermente infarinata, riporvi l'impasto, coprire con della pellicola trasparente e lasciar lievitare per circa 4-5 ore nel forno chiuso con luce accesa (fino al raddoppio del volume). Quando sarà pronto, riprendere l'impasto, farlo sgonfiare facendo le classiche pieghe e dargli la forma desiderata. Lasciare lievitare nuovamente, sempre coperto con un panno, per circa 1 ora. Spennellare la superficie con un po' di latte e cuocere in forno preriscaldato a 170° per circa 35 minuti. Se la superficie dovesse scurirsi troppo rapidamente, coprire con un foglio di carta stagnola che andrete a rimuovere durante gli ultimi 5 minuti di cottura per consentire al dolce di asciugarsi. Raffreddare il panbrioche su una gratella.
Nota: potete aggiungere all'impasto dell'uvetta, fichi secchi, datteri oppure, prima della seconda lievitazione, appiattirlo con un mattarello (circa 1 cm) e farcire con marmellata o cioccolata.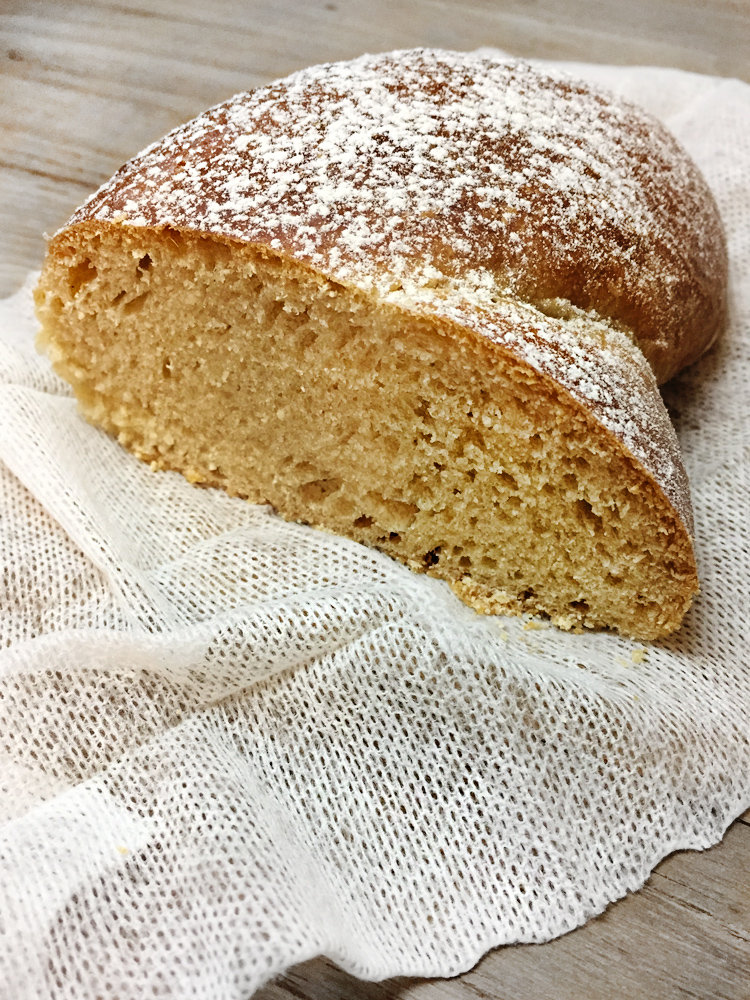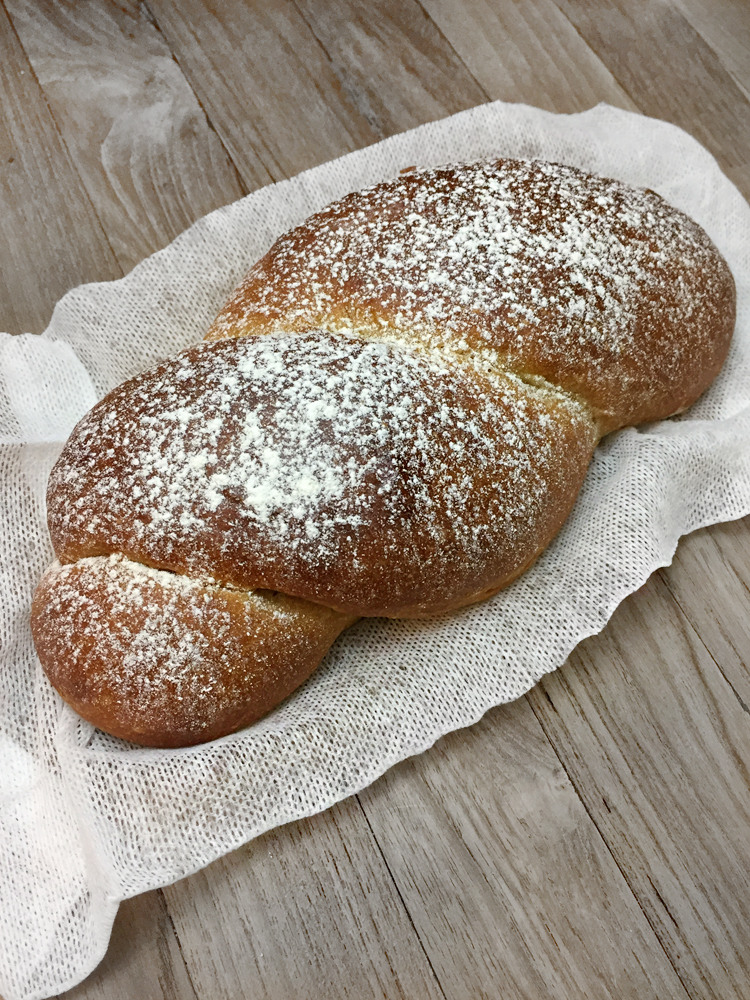 Vegan panbrioche
Ingredients
200 g flour type 1

200 g flour W350 

100 g raw cane sugar, finely chopped

1 pinch of salt

16 g active dry yeast 

200 ml of soy milk, lukewarm

50 ml of grapeseed oil
In a large bowl sift flour, add sugar and active dry yeast. Combine the liquids (lukewarm soy milk and oil) and start kneading until they'll be absorbed. Add a pinch of salt. Transfer the dough to a lightly floured surface and knead for a few minutes until smooth (make folds to give the dough shape and structure). Transfer dough to a clean bowl lightly floured and cover with plastic wrap. Let rise for 4-5 hours in a warm place or into the oven (light on) until double in size. After the first rise, punch down the dough and knead 2-3 times before forming the desired shape. Cover with a cloth and let rise again, for about 1 hour. Brush the surface with milk and bake in preheated oven at 170° C for about 35 minutes. If the crust is darkening too quickly, cover it with aluminum foil until the last 5 to 10 minutes of baking. Cool on a wire rack.
Pan brioche vegan
ultima modifica:
2017-03-07T12:11:41+01:00
da