Preparare i crackers in casa è semplice e veloce, ma soprattutto ci consente di scegliere gli ingredienti da utilizzare regolandoci sul quantitativo di sale, evitando grassi idrogenati e oli vegetali, come ad esempio quello di palma. Potete aggiungere i semi che più vi piacciono, come quelli di sesamo bianco o nero, di papavero oppure aromatizzarli con della paprika o della curcuma. Quelli che vi propongo non contengono spezie particolari, sono per così dire una versione neutra ma ugualmente ricca di gusto.
Ingredienti
40 gr di semi di chia
30 gr di semi di girasole
30 gr di semi di zucca
30 gr di farina integrale di avena
30 gr di farina di farro integrale
2 cucchiai di semi di lino (Melandri Gaudenzio – I semi del benessere)
1 pizzico di sale
2 cucchiai di olio extra vergine di oliva
200 ml di acqua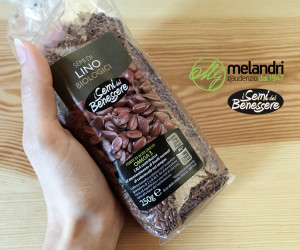 Preriscaldare il forno a 170°. Mescolare tutti gli ingredienti in una terrina e lasciar riposare per circa 30 minuti in modo che i semi di chia e di lino possano formare un composto appiccicoso. Stendere l'impasto – circa 3 mm di spessore – su una teglia foderata con carta forno. Con un coltello o una rotella tagliapizza ricavare dei piccoli quadrati o rettangoli (questa operazione agevolerà la rottura dei crackers dopo la cottura). Cuocere nel forno già caldo per circa 40 minuti, fino a quando la superficie risulterà dorata e la consistenza sarà croccante. Lasciar raffreddare, tagliare e servire.
Un consiglio: lasciateli asciugare bene (potete anche utilizzare un essiccatore) o perderanno la loro croccantezza!
Crispy seed crackers

These crispy crackers are made with a very simple mix of different seeds. It's a a perfect snack high in fiber and healthy omega fats!
Ingredients
40 g chia seeds
30 g sunflower seeds
30 g pumpkin seeds
30 g wholegrain oat flour
30 g wholegrain spelt flour
2 tablespoons falx seeds
1 pinch of salt
2 tablespoons extra virgin olive oil
200 ml water
Preheat oven to 170° C. In a large bowl combine all ingredients and let sit for 30 minutes – this allows the chia and flax seeds to make a sticky dough. Spread the dough – 3 mm thick – on a baking sheet with parchment paper. Cut the dough into squares with a knife or pizza cutter (it will help breaking them up after cooking). Bake for 40 minutes, until golden brown and crisp. Let them cool, cut and serve.