Non sono un sommelier, ma mi piace bere bene e nel dubbio chiedo consiglio ai miei amici che lo sono di professione. Di recente mi è capitato di assaggiare dei vini biologici che ho apprezzato molto, in particolare il Bianco senza solfiti dell'Azienda Le Carline. Il prodotto finale è frutto della sola fermentazione del succo d'uva senza aggiunta di alcun additivo, ha un profumo molto intenso con note fruttate e floreali.
Ho conosciuto questa Azienda al Sana di Bologna (Salone Internazionale del biologico e del naturale) e quando ho visto che non era molto lontano da casa mia, ho voluto subito saperne di più. Ci tengo a precisare che, al momento, non ho in essere alcuna collaborazione con Le Carline. Si tratta semplicemente di una mia "scoperta" personale che ho piacere di condividere con tutti voi che mi seguite, che sapete quanto sia attenta alla materia prima e alla ricerca di prodotti il più possibile naturali, senza additivi e conservanti, un po' alla vecchia maniera!
Sebbene sia un vino buonissimo da gustare senza tanti artifizi, ho voluto provare ad abbinarlo ad una granita artigianale a base di pompelmo, per esaltare ulteriormente il suo sentore fruttato. Pochissima acqua però nella granita, solo il minimo necessario per sciogliere lo zucchero, perchè come si dice in Veneto "l'acqua la fa marzir i pai" (l'acqua fa marcire i pali)!
Un cocktail dai colori glam, per ricordare l'estate ma da gustare tutto l'anno.
Ingredienti per 2 cocktail
1 pompelmo rosa
zucchero di cocco
Iniziamo preparando la granita al pompelmo. Sciogliere 2 cucchiaini di zucchero di cocco in 3 cucchiai d'acqua calda. Versare quindi in una pirofila il succo di un pompelmo, aggiungere lo zucchero e mescolare bene. Mettere la pirofila in freezer per circa 3 ore. Dopo circa 1 ora, non appena inizia a congelare, raschiare la base con una forchetta per ottenere l'effetto granatina. Ripetere quindi l'operazione ogni 30 minuti.
Bagnare l'orlo del bicchiere con del succo di lime, passarlo quindi nello zucchero di cocco avendo cura di formare uno strato uniforme. Riempire il bicchiere con un paio di cucchiai di granita al pompelmo e coprire con il vino bianco.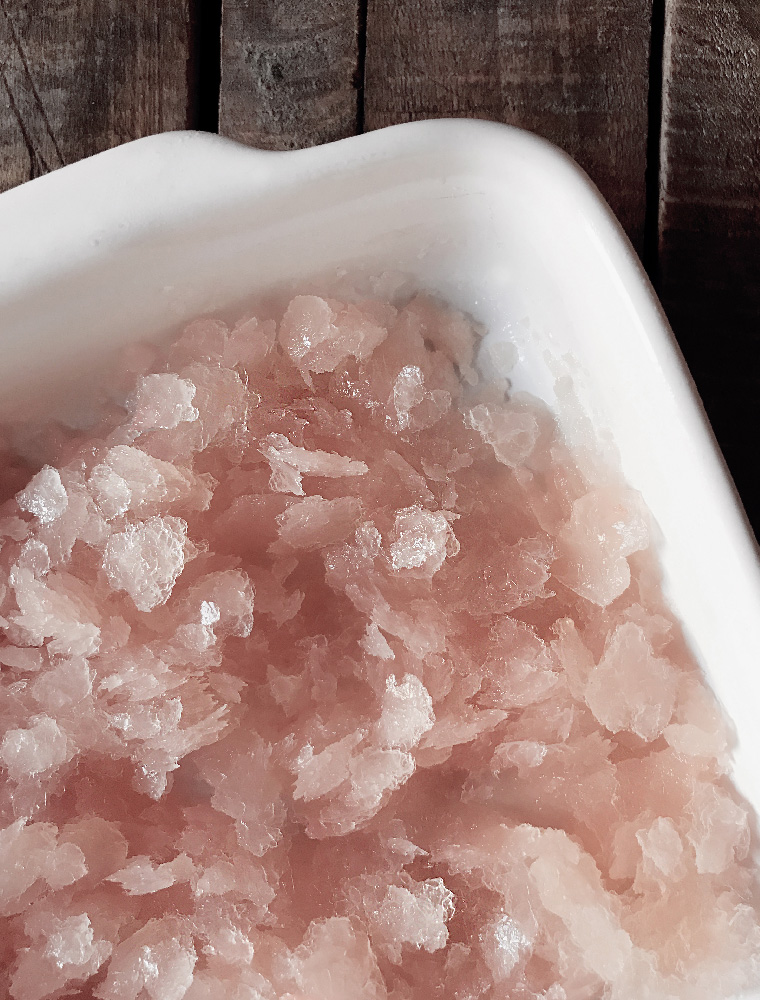 Pink cocktail with grapefruit granité
Ingredients for 2 cocktail
1 pink grapefruit
coconut palm sugar
For the grapefruit granité. Dissolve 2 teaspoons of coconut sugar in 3 tablespoons of hot water. Combine grapefruit juice and sugar and pour it into a pan. Place in freezer for 3 hours. After 1 hour, once ice crystals start to form, take a fork and stir well to break them. Return to the freezer and repeat every half hour.
Wet rim of glass with lime juice then dip each glass into the coconut sugar. Fill with a few tablespoons of grapefruit granité then pour over the white wine.