Di zucca, patate, spinaci: gli gnocchi si possono preparare con tutte le verdure, anche con i broccoli. Una ricetta furba per provare a farli mangiare anche ai più piccoli che molto spesso non amano questo ortaggio. L'aggiunta della panna (o della besciamella) e la gratinatura al forno rendono il piatto ancora più ricco e goloso… e se non vi piacciono le noci potete ometterle o sostituirle con delle nocciole.
Gli gnocchi di broccoli sono ottimi anche riscaldati anzi, secondo me sono ancora più buoni!
Ingredienti
1 broccolo (circa 200 g di broccoli già lessati)
4 patate medie
6-7 cucchiai di farina semi-integrale
250 ml di panna vegetale Provamel Soya Cuisine
noci
veg Parmigiano* (50 g di mandorle, 1 cucchiaio di semi di sesamo leggermente tostati, 1 pizzico di sale rosa, il tutto tritato nel macinacaffè) o Parmigiano Reggiano per una versione vegetariana
sale, pepe
Pulire i broccoli, dividerli in cimette e cuocere a vapore (conservare il gambo per altre preparazioni). Frullare tutto con un mixer e, se necessario, aggiungere un po' d'acqua di cottura. Lessare le patate, pelarle e passarle nello schiacciapatate. In una terrina capiente mescolare le patate con i broccoli. Aggiungere quindi sale, pepe e versare piano piano la farina setacciata, mescolando bene con una forchetta per amalgamare tutti gli ingredienti. Se necessario, aggiungere ulteriore farina.
Trasferire l'impasto su una spianatoia leggermente infarinata e lavorarlo fino ad ottenere un composto piuttosto morbido. Prelevarne una porzione e ricavare dei filoncini spessi circa 2 centimetri. Tagliarli quindi in piccoli cilindri e riporli su una superficie o un vassoio leggermente infarinati. Cuocere gli gnocchi in abbondante acqua bollente salata fino a quando non vengono a galla. Scolarli accuratamente con un mestolo forato e disporli su una pirofila. Ricoprire con la panna vegetale, o in alternativa della besciamella, aggiungere le noci tritate finemente (lasciate anche qualche pezzo un po' più grosso per dare maggiore croccantezza al piatto) e completare con una spolverata di formaggio*. Passare in forno per qualche minuto con la funzione grill. Servire con un'abbondante macinata di pepe nero.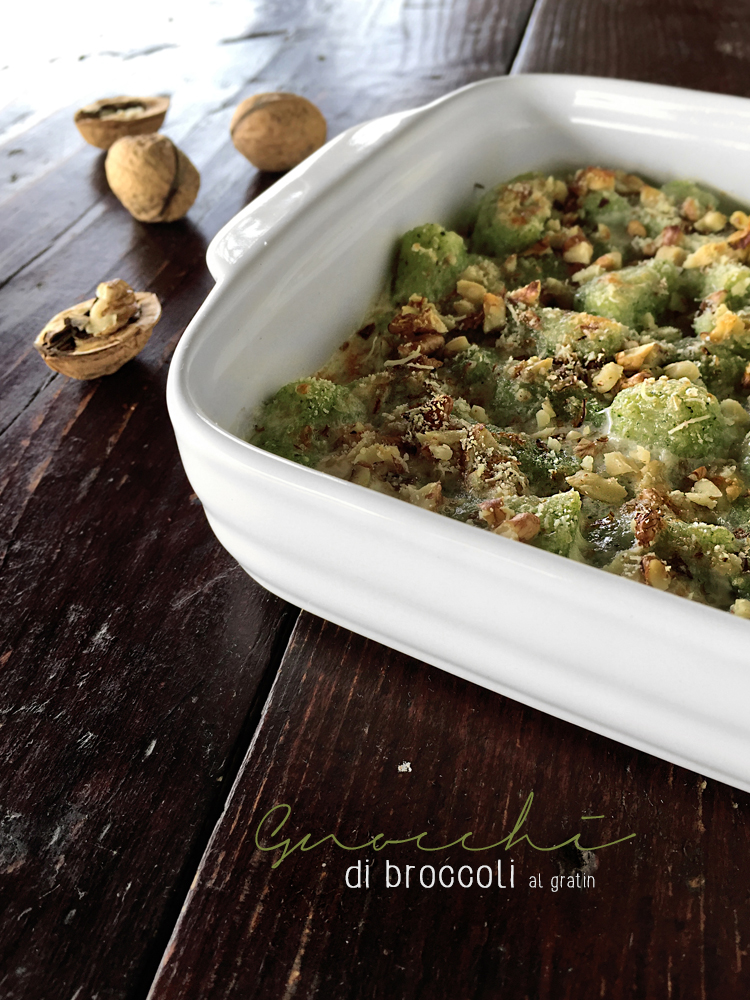 Broccoli gnocchi gratin

Ingredients
1 broccoli (about 200 g of broccoli already cooked)

4 medium potatoes

6-7 tablespoons flour type 2

250 ml Soya Cuisine Provamel


walnut

veg Parmesan* (grind all ingredients: 50 g almonds, 1 tablespoon lightly toasted sesame seeds, 1 pinch of pink salt) or Parmesan cheese

for a vegetarian version

salt and pepper
Clean and cut the broccoli into smaller florets. Lightly steam then blend in a food processor, adding water as needed. Boil the potatoes in their skins until tender. Peel and pass them through a potato masher. In a large bowl mix potatoes with broccoli, add salt, pepper and slowly pour the flour, mixing well with a fork to combine all ingredients. Add more flour if necessary.
Transfer the dough to floured work surface and lightly knead. Cut off a portion of dough and, using your hands, roll out into a long 1-inch rope. Cut again into small gnocchi. Cook in boiling salted water until they float, drain them carefully with a slotted spoon and place on a oven pan. Cover with the soya cream, or besciamella sauce, add chopped walnutsand a sprinkling of grated cheese*. Put it in the oven for a few minutes to finish (grill option). Serve with a generous grinding of black pepper.