Adoro le bruschette, sia d'estate che d'inverno, non ci rinuncio mai! Le ho sempre preparate con i pomodorini crudi, ma per una volta ho voluto cambiare e devo dire che sono piuttosto in crisi perchè, dopo aver assaggiato questa versione grigliata, non so più quale sia la mia preferita. Il procedimento è semplicissimo, niente di particolarmente innovativo, ma si sà, spesso le cose più buone sono anche le più semplici, e io sono per le cose semplici ma gustose! Come sempre, la materia prima è fondamentale, adesso è stagione di pomodorini e quelli del mio orto sono dolcissimi, quindi diciamo che parto avvantaggiata. Con questo tipo di cottura e la marinatura, vi sembrerà di mangiare una caramella da quanto sono dolci. Questi spiedini di pomodorini creano dipendenza, provateli… vi assicuro che non ve ne pentirete!
Ingredienti
pomodori ciliegini
2 cucchiai di olio extra vergine di oliva
1 cucchiaino di salsa di soia
pepe nero
1 spicchio d'aglio (opzionale, schiacciatelo con l'apposito strumento o con il lato piatto di un coltello)
Mettere in ammollo i bastoncini di legno per circa 10 minuti (in questo modo si bruceranno di meno). Versare i vari ingredienti in una ciotolina e mescolare bene. Lavare accuratamente i pomodorini e asciugarli. Infilzarli negli stecchini, posizionarli su una teglia ricoperta con carta forno e spennellarli con la marinatura. Cuocerli in forno, funzione grill, per circa 7-8 minuti, girandoli a metà cottura (i tempi sono indicativi, regolatevi a seconda del vostro forno).
Preparate le bruschette con gli ingredienti che più vi piacciono: io ad esempio ho utilizzato un patè di olive taggiasche, i pomodorini grigliati e delle foglie di basilico fresco.
Se siete vegetariani potete aggiungere della mozzarella di bufala o della ricotta fresca.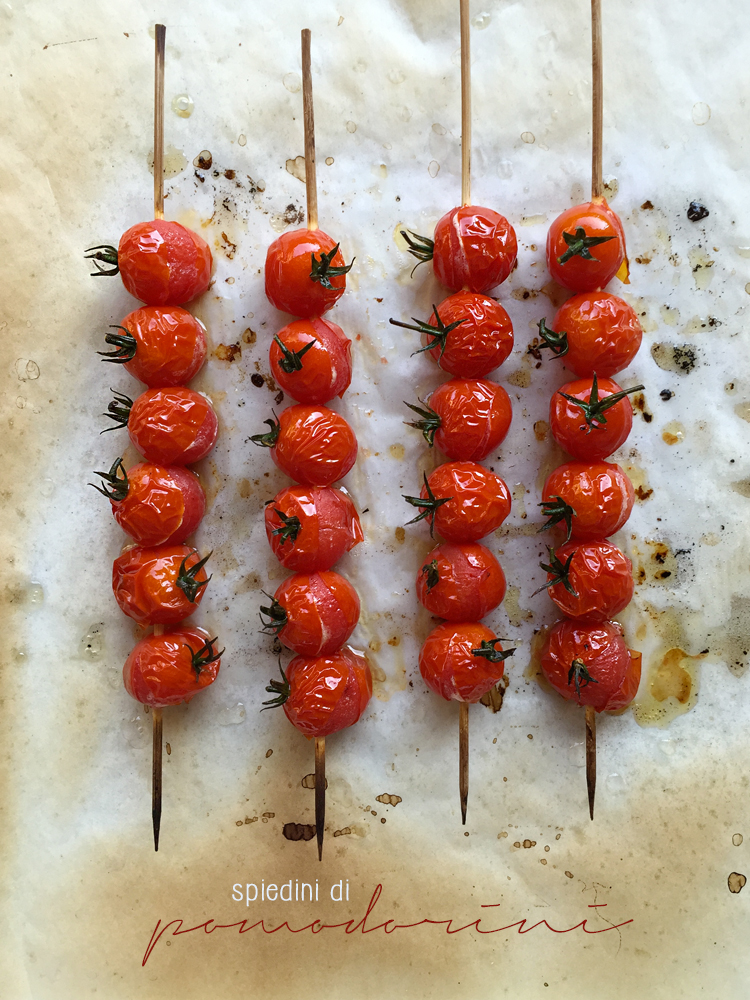 Grilled tomato skewers
The best way to enjoy these grilled tomato skewers is on bruschette, a typical italian dish. These tomatoes are so amazing and sweet like candy, you'll love them!
Ingredients
cherry tomatoes
2 tablespoons extra virgin olive oil
1 teaspoon soy sauce
black pepper
1 cloves of garlic, crushed (optional)
Soak the skewers in water for about 10 minutes, to avoid burning. In a small bowl combine oil, soy sauce and black pepper. Wash and dry the tomatoes. Skewer 5-6 tomatoes together and brush them with the marinade. Grill the tomato skewers in the oven for approximately 7-8 minutes – or until they are cooked, turning once. Spread olive paste (or whatever you like) on toasted bread and top with grilled tomatoes and fresh basil leaves. If you're vegetarian add some ricotta cheese or mozzarella.