Gli amanti della classica pizza forse storceranno un po' il naso, ma vi assicuro che questa ricetta è veramente una delizia. La conferma arriva direttamente dal mio compagno, profondo estimatore di questo piatto, quasi sempre insoddisfatto quando usciamo a mangiarla; devo ammettere che anch'io sono molto esigente e ad oggi, sono solo due le pizzerie dove ho trovato un prodotto che fosse digeribile, ben cotto e con ingredienti di qualità!
Partiamo con una premessa: la pizza di quinoa non ha nulla a che vedere con la classica pizza, con la quale ha in comune soltanto l'aspetto. Il sapore però è buonissimo e per chi avesse già sperimentato la versione a base di cavolfiore, posso dire che questa è decisamente più buona. Mantiene un'ottima consistenza, non si sbriciola nè si appiccica, tiene bene gli ingriedienti e soprattutto si cuoce in padella in poco tempo (io ho utilizzato le mie ormai insostituibili pentole Crafond). Si può quindi preparare anche d'estate senza bisogno di accendere il forno! Per dovere di cronaca, ho fatto anche la prova forno, ma il risultato non mi è piaciuto. Se quindi andate di fretta, non avete tempo nè voglia di impastare, questa ricetta potrebbe essere la vostra soluzione: vi basterà ammollare la quinoa prima di andare al lavoro, e quando rientrerete la sera, una passata veloce nel mixer e via in padella! Facile, digeribile e soprattutto senza glutine!
Ingredienti per una pizza ∅ 28 cm
140 g di quinoa
50 ml di acqua
½ cucchiaino di lievito secco (sciolto in un cucchiaio d'acqua tiepida)
1 cucchiaino raso di sale
2 cucchiai di olio extra vergine d'oliva
Lasciare in ammollo la quinoa per 6-8 ore (o tutta la notte). Sciacquarla abbondantemente quindi versarla in un frullatore insieme agli altri ingredienti. Frullare fino ad ottenere un composto denso e cremoso. Lasciar riposare per circa 10 minuti. Versare l'impasto in una padella calda leggermente oliata e distribuirlo uniformemente. Coprire con il coperchio e continuare la cottura per circa 8-10 minuti a fuoco basso. Togliere il coperchio e cuocere per altri 5 minuti sull'altro lato. Aggiungere la passata di pomodoro, la mozzarella (veg o classica, a seconda dei vostri gusti), delle melanzane grigliate e un pizzico di sale. Continuare la cottura per altri 5 minuti. Servire guarnendo con un po' di origano e della rucola fresca.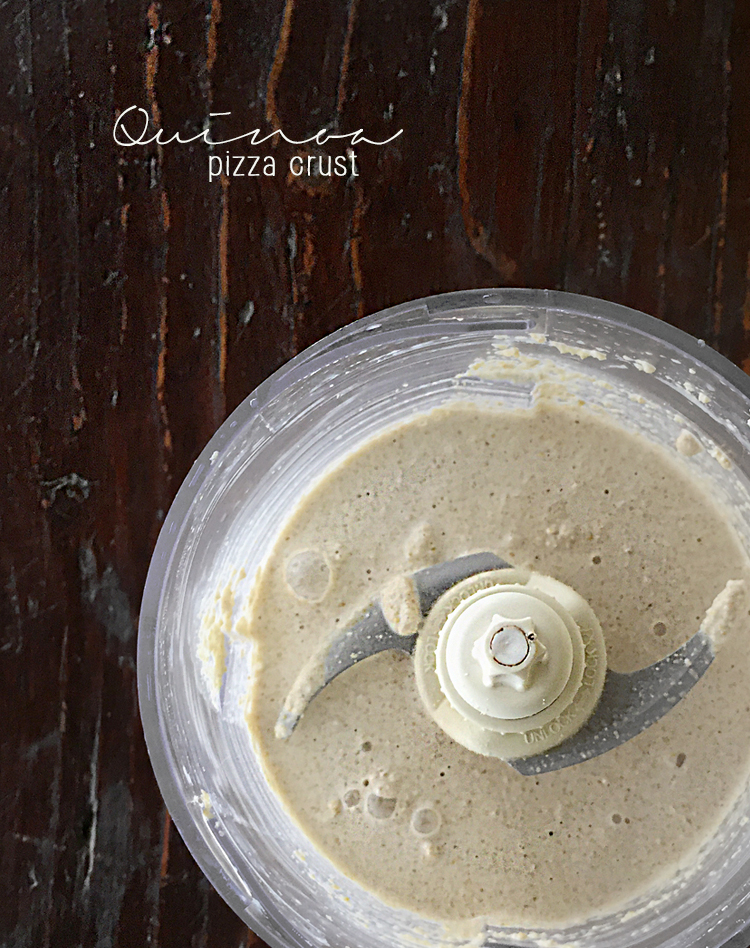 Quinoa pizza crust

Only five ingredients for this delicious, gluten free quinoa pizza crust. It's easy to make and extremely healthy… and you don't need oven cause you can simply make it in pan on your regular stove!
Ingredients for one pizza ∅ 28 cm
140 g quinoa
50 ml water
½ teaspoon dry yeast (

dissolved in lukewarm water

)
1 teaspoon salt
2 tablespoons extra virgin olive oil
Soak the quinoa for 6 – 8 hours (or overnight). Rinse well under running water then pour into a blender with the other ingredients. Blend on high speed until smooth and creamy. Let it rest for at least 10 minutes. Pour batter into a hot lightly greased pan, distribute evenly. Cover with the lid and cook on a very low heat for 8-10 minutes. Remove the lid and cook for another 5 minutes on the other side. Top with tomato sauce, mozzarella cheese, grilled aubergines and a pinch of salt. Continue cooking for other 5 minutes. Transfer your pizza to a serving dish and garnish with oregano and and fresh arugula.