Cremosa, corposa e saporita: se vi piacciono gli anacardi adorerete questa salsa! Perfetta per condire una pasta o come ripieno per delle crespelle o lasagne. Io l'ho abbinata a dei noodle di grano duro e mi ha letteralmente conquistata! Vi consiglio di provarla aggiungendo degli spinacini freschi che contrastano la dolcezza della frutta secca e dei funghi. Un'alternativa alla classica panna, facile e veloce da preparare… e perchè no, potrebbe essere un'idea da portare in tavola durante le feste: anche i palati più difficili saranno accontentati!
Ingredienti
100 g di anacardi
200 ml di acqua
6 funghi champignon di medie dimensioni (circa 150-160 g)
250 g di udon, noodles di grano duro
1 manciata di spinacini freschi
1 spicchio d'aglio
vino bianco
olio extra vergine di oliva
prezzemolo q.b.
sale, pepe
Lasciare in ammollo gli anacardi per una notte in acqua fredda (o un paio d'ore in acqua tiepida). Scolarli e risciacquarli, versarli in un frullatore insieme a 200 ml d'acqua e frullare fino ad ottenere un composto cremoso. Pulire accuratamente i funghi eliminando la parte terrosa, affettarli finemente tenendo da parte 2 funghi interi. Soffriggere leggermente uno spicchio d'aglio con un filo d'olio, aggiungere i funghi affettati e cuocere con il coperchio per qualche minuto. Togliere il coperchio, lasciar evaporare l'acqua quindi sfumare con del vino bianco, regolare di sale e pepe. Versare i funghi nel frullatore insieme alla crema di anacardi e azionare. Tagliare i due funghi rimasti a tocchetti e saltarli in padella per qualche minuto insieme agli spinaci precedentemente lavati. Aggiungere la crema di anacardi e funghi e amalgamare bene, versando qualche cucchiaino d'acqua di cottura qualora la crema risultasse troppo densa.
Cuocere gli udon in abbondante acqua salata, scolarli e passarli velocemente sotto l'acqua fredda. Versarli nella padella insieme alla crema, aggiungere una manciata di prezzemolo e servire immediatamente.
Opzionale: a piacere aggiungere 1 cucchiaino di lievito alimentare in scaglie, o del Parmigiano Reggiano per una versione vegetariana.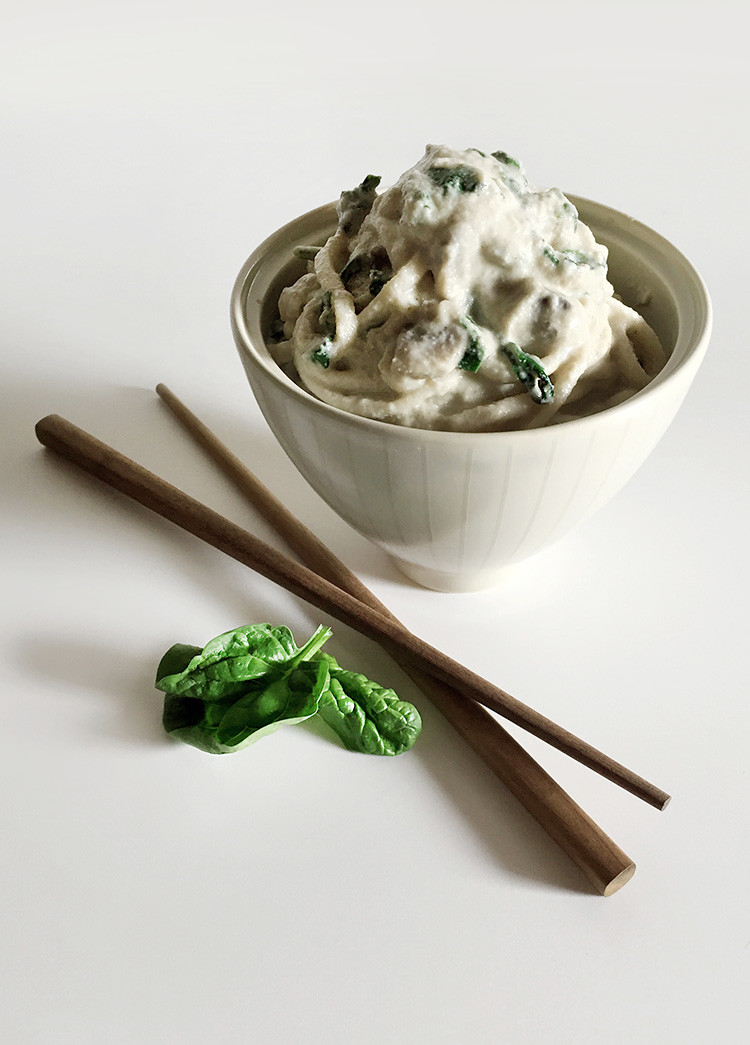 Udon with cashew cream, mushrooms and baby spinach
Today we prepare a special udon noodles recipe with a creamy and delicious sauce, vegan and dairy free!
Ingredients
100 g cashews
200 ml water
6 portobello mushrooms (about 150-160 g)
250 g noodles
1 handful fresh baby spinach, washed
1 clove of garlic
white wine
extra virgin olive oil
parsley q.s.
salt, pepper
Soak cashews overnight (or a few hours in warm water). Rinse and drain, pour in a food processor with 200 ml of water and blend until smooth. Wash the mushrooms carefully and cut them into thin slices. Set aside two whole mushrooms. Sauté a clove of garlic with a little olive oil, add mushrooms and cook with a lid for a few minutes. Remove the lid and once they released all the water, add in white wine. Season with salt and pepper. Pour mushrooms in the food processor together with cashew cream and blend again. Cut the remaining mushrooms into large pieces and sauté in the pan for a few minutes adding the baby spinach. Stir in the cashew cream adding more water if needed to adjust the consistency.
Bring a large pot of salted water to a boil and cook noodles. Drain and rinse them under cold running water to keep the firm texture. Add noodles to the pan with one handful of fresh parsley, toss to combine well. Serve immediately.
Optional: add 1 teaspoon of nutritional yeast or pamesan cheese for a vegetarian version.