Questi burger di ceci sono la ricetta perfetta se avete poco tempo e dovete organizzare la cena per diverse persone.
Ma sono anche la schiscetta ideale da portare al lavoro con un'insalata o delle verdure grigliate! Io, ad esempio, li ho preparati domenica mattina per i pranzi di lunedì e martedì.
Sbizzarritevi con gli ingredienti!
Il bello di questi burger è che non dovete necessariamente soffermarvi sulla lista degli ingredienti. Potete sostituire la curcuma con il curry o la paprika, l'olio di sesamo con quello d'oliva, aggiungere dei cubetti di formaggio per un ripieno filante o utilizzare l'origano al posto del prezzemolo per una versione "alla pizzaiola".
Attenzione però a non abbondare con la farina o diventeranno troppo duri una volta cotti!
Ingredienti per 8 burger
400 g di ceci in lattina
6 pomodori semi-secchi
2 cucchiai fecola di patate
40 g acqua
40 g farina di ceci
1 spicchio d'aglio
un pizzico di curcuma
1 cucchiaino semi di chia macinati + 3 cucchiaini d'acqua (o 1 uovo)
olio evo
2 cucchiai olio di sesamo
sale, pepe
½ peperoncino
prezzemolo
pangrattato q.b. per la panatura
Sciacquare bene i ceci sotto l'acqua corrente. Scaldare nel wok un filo d'olio evo, aggiungere l'aglio, i ceci e la punta di un cucchiaino di curcuma. Saltarli a fuoco vivo per qualche minuto aggiungendo una presa di sale e una macinata di pepe.
Versare i ceci in un robot da cucina insieme a tutti gli altri ingredienti, ad esclusione del pangrattato, e azionare fino ad ottenere un impasto omogeneo. Trasferirlo in una terrina e lasciarlo riposare in frigorifero per almeno 30 minuti per compattarlo.
Con le mani leggermente umide, prelevare una cucchiaiata di composto e formare dei burger. Passarli nel pangrattato.
In una padella antiaderente riscaldare un filo d'olio e cuocere i burger per qualche minuto da ambo i lati. Adagiarli su della carta assorbente e cospargere con un pizzico di fleur de sel.
In alternativa, cuocerli in forno già caldo a 180° C per circa 10 minuti, girandoli a metà cottura.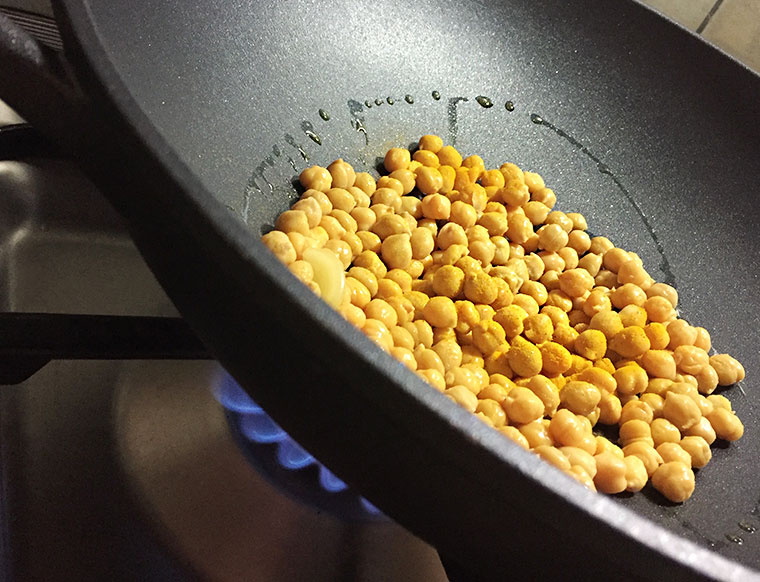 Chickpea burgers
Ingredients for 8 burgers
400 g canned chickpea
6 sun-dried tomatoes
2 tablespoons potato starch
40 g water
40 g chickpea flour
1 clove of garlic
a pinch of turmeric powder
1 teaspoons ground chia seeds + 3 teaspoons of water (or 1 egg)
extra virgin olive oil
2 tablespoons sesam oil
salt, black pepper
½ hot pepper
parsley
breadcrumbs
Rinse the chickpeas under running water. Heat a wok, add a dash of olive oil and a clove of garlic. Add the chickpeas and a pinch of turmeric and sauté over high heat for a few minutes seasoning with a pinch of salt and pepper.
Pour all ingredients in a food processor, except the breadcrumbs, and mix until a homogeneous mixture is obtained. Transfer to a bowl and let it rest in the fridge for at least 30 minutes.
Using wet hands, form the mixture into patties and pass them in breadcrumbs.
Heat a little olive oil in a large non-stick frying pan and cook the burgers for a few minutes per sides. Drain them on absorbent paper and sprinkle with a pinch of fleur de sel.
Alternatively, cook them in a preheated oven at 180 ° C for about 10 minutes, turning them halfway through cooking, until golden.