I funghi portobello, con la loro consistenza soda e carnosa, sono particolarmente versatili in cucina e ottimi da grigliare.
Spesso utilizzati come sostituto della carne per la preparazione di burger, sono ricchi di vitamine e potassio e poco calorici, perfetti quindi per un'alimentazione povera di grassi – l'ideale dopo le feste!
Grazie alla forma ampia del cappello sono ottimi anche da cucinare in forno farcendoli a piacere o più semplicemente con del pangrattato.
Ingredienti
300 g circa di funghi portobello
10 g funghi porcini secchi ammollati
1 spicchio d'aglio
bevanda di soia q.b.
olio evo
vino bianco
sale, peperoncino
1 rametto di timo
Passa velocemente i funghi portobello sotto l'acqua fredda e asciugali con carta assorbente. Rimuovi il gambo e tagliali in fette dello spessore di circa 1-1,5 cm. Scalda bene la griglia, versa un filo di olio e griglia i funghi da ambo i lati per qualche minuto. Adagiali su un piatto aggiungendo un pizzico di sale e tienili da parte.
In una padella antiaderente scalda un filo d'olio evo, aggiungi l'aglio e il peperoncino lasciandoli soffriggere leggermente per circa 1 minuto, senza bruciarli. Unisci i funghi porcini secchi precedentemente ammollati. Sala leggermente. Sfuma con un goccio di vino bianco quindi aggiungi 2-3 cucchiai di bevanda di soia (o di avena) lasciando cuocere a fuoco lento fino a quando i liquidi si saranno leggermente addensati.
Aggiungi i funghi portobello tenuti da parte insieme ad un rametto di timo. Lascia insaporire tutto per qualche minuto e servi ben caldo.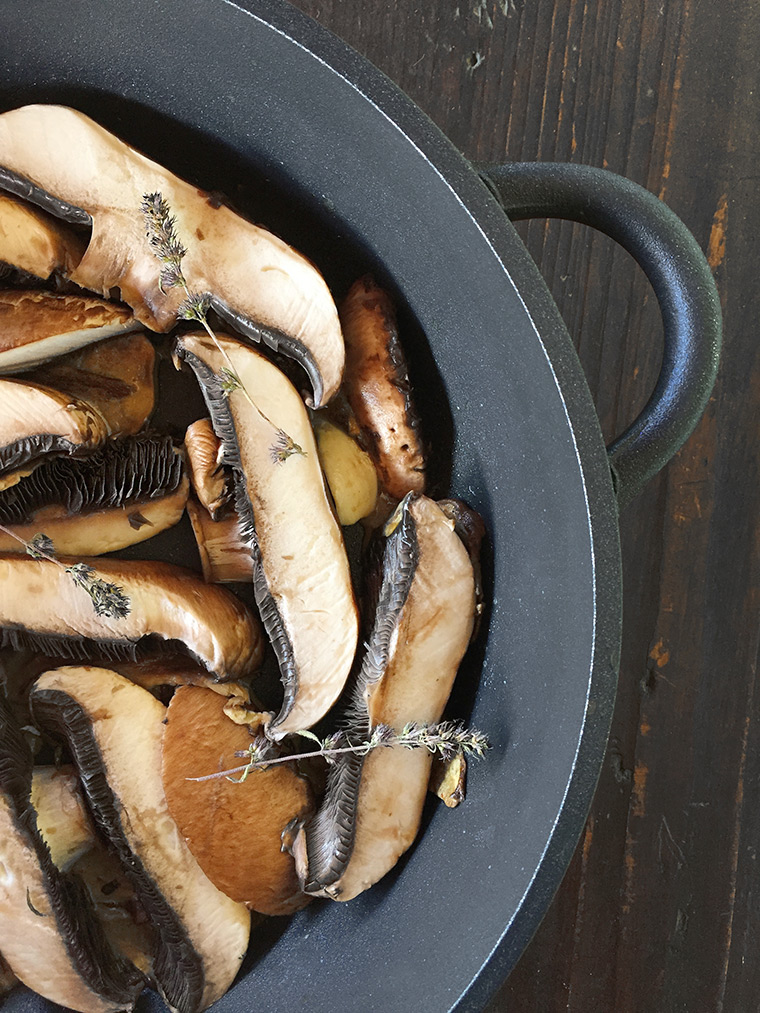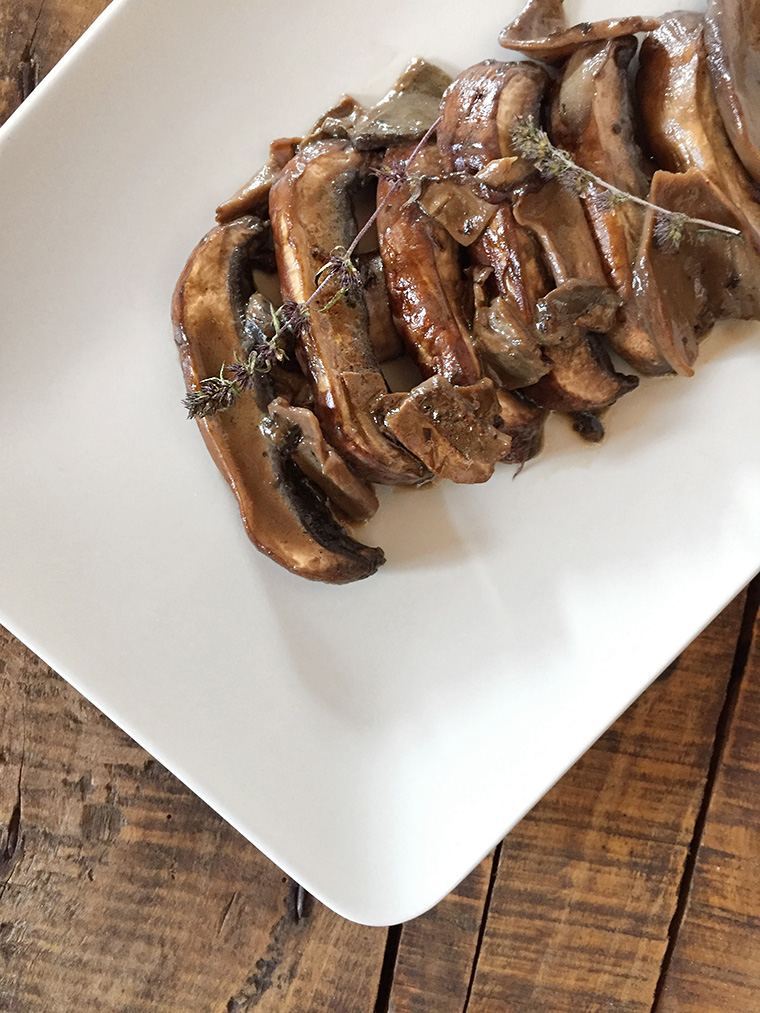 Portobello mushrooms in a Porcini cream sauce
Ingredients
300 g portobello mushrooms
10 g dried porcini mushrooms soaked
1 clove of garlic
soy milk q.s.
extra virgin olive oil
white wine
salt, hot pepper
a spring of fresh thyme
Clean the portobello mushrooms under cold water and dry them with absorbent paper towels. Remove the stem and cut into slices about 1-1.5 cm thick. Grill the mushrooms over hot grill for a few minutes per side. Place them on a plate and add a pinch of salt.
Heat the olive oil in a frying pan, put the garlic and chilli, fry gently for a few minutes. Combine the dried Porcini mushrooms, previously soaked, and season with salt. Add some white wine and let it reduce then pour 2-3 tablespoons of soy drink. Cook for 5 minutes until the liquid has thickened a little.
Then add the portobello mushrooms with a sprig of fresh thyme. Leave to cook for a few minutes before serving.