I datteri, in particolare quelli secchi, sono molto energetici e ricchi di sali minerali tuttavia, dato il loro elevato apporto calorico, è preferibile non abusarne.
Quella di oggi è una ricetta "furba", pronta in pochi minuti e perfetta per riciclare eventuali datteri avanzati. Bastano solo 3 ingredienti e un piccolo tritatutto per preparare in pochi minuti un caramello salato da leccarsi i baffi! Una cremina squisita ideale per farcire dolci, cioccolatini o semplicemente da mangiare a cucchiaiate. É ottima anche, in alternativa al miele, per addolcire uno yogurt al naturale.
Troppo dolce, mi direte. Beh, è innegabile, i datteri sono naturalmente dolci. Per questo è importante aggiungere un pizzico di sale per bilanciare meglio il gusto e renderlo così meno stucchevole. Inoltre, se la utilizzate come ripieno per delle crostate, vi consiglio di diminuire la quantità di zucchero della frolla e abbinarla a ingredienti più amari, come del cioccolato fondente (80-90%, anche un 100% se lo trovate) e del cacao amaro. Sembrerà quasi di mangiare una crema al cioccolato!
Ingredienti
8 datteri Medjoul
un pizzico di sale integrale o fleur de sel
acqua q.b. (circa una tazzina da caffè)
Denocciolare i datteri e versarli nel robot da cucina (io utilizzo un piccolo tritatutto a 4 lame, molto pratico soprattutto per preparare creme, salse, pesti, etc). Aggiungere un pizzico di sale e un po' d'acqua ed iniziare a frullare. Raschiare con una spatola le pareti della ciotola e azionare di nuovo. Versare gradualmente l'acqua fino ad ottenere un composto cremoso ed omogeneo.
Conservare in frigorifero in un contenitore ermetico, per 1-2 settimane.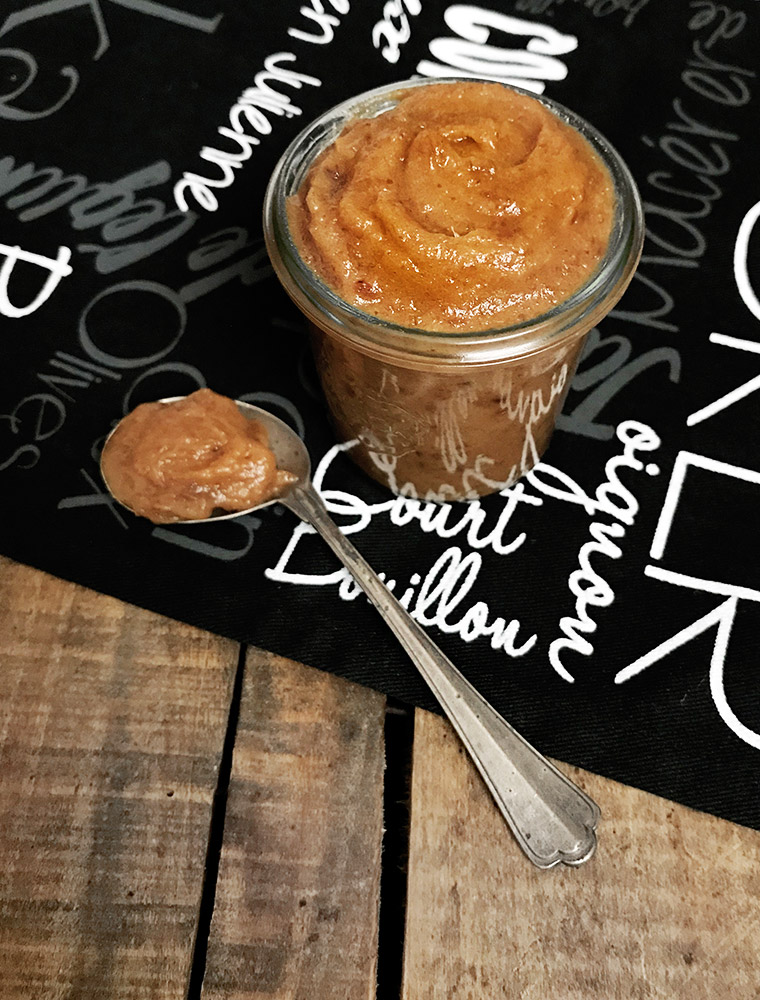 Salted date caramel
Ingredients
8 Medjoul dates
a pinch of whole salt or fleur de sel
water qs (a few tablespoons)
Pour pitted dates to a food processor or blender. Add a pinch of salt and water and pulse. Use a spatula to scrape down the sides of the bowl and pulse again until you get a very smooth and creamy paste. Store in an airtight container in the fridge for up to 1-2 weeks.