Le chips di cavolo sono uno snack sano e veloce da preparare. Sono perfette per un apertivo al posto delle classiche patatine, ma si possono anche servire con una zuppa fumante, o sbriciolare su un primo piatto per dare un tocco croccante e saporito in più!
Il cavolo riccio ha poche calorie, è ricco di fibre e sostanze nutritive, perfetto quindi per le diete ipocaloriche o semplicemente per chi vuole mantenersi in forma. In alternativa è possibile utilizzare anche il cavolo nero: l'importante è che le foglie siano fresche e croccanti, per non compromettere la riuscita della ricetta.
Potete gustare le chips solo con un pizzico di sale o, in alternativa, aromatizzarle con della paprika (dolce o affumicata), dei semi di sesamo o di canapa decorticata.
Ingredienti (per due teglie)

200 g foglie di cavolo riccio (circa 6-7 foglie)
2-3 cucchiai olio extra vergine di oliva
fleur de sel
Preriscaldare il forno a 180°.
Lavare accuratamente il cavolo riccio, asciugandolo bene con della carta o un canovaccio. Eliminare la costa centrale e tagliare le foglie in pezzi di circa 4-5 cm. Massaggiarle delicatamente con dell'olio extra vergine di oliva quindi disporle, senza sovrapporle, su una griglia ricoperta con carta forno. Cospargerle con un po' di fleur de sel.
Infornare per circa 8-10 minuti (forno ventilato), rigirando le chips a metà cottura, fino a quando saranno croccanti. Servire immediatamente.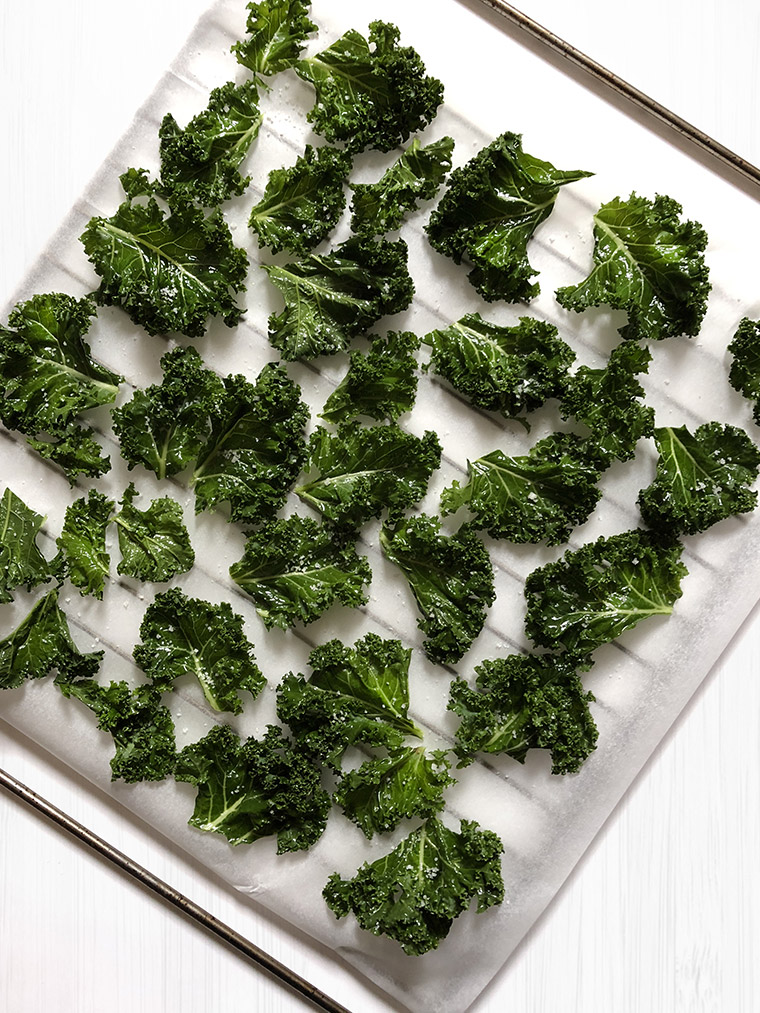 Baked Kale Chips
Ingredients (for 2 grids)

1/2 bunch kale leaves
2-3 tablespoons extra virgin olive oil
fleur de sel
Preheat oven to 180° C.
Wash the leaves thoroughly, and dry them well with a paper towel or a clean cloth. Remove the center rib and cut kale leaves into pieces. Place kale into a large bowl and gently massage with olive oil. Spread them out on a grid covered with parchment paper, minimizing overlapping pieces. Sprinkle with fleur de sel.
Bake until crisp (fan-assisted oven), turning the leaves halfway through, about 8 to 10 minutes. Serve immediately.