Kos, Naxos, Creta, Santorini, Skiathos, Karpathos: non so dire quale sia la mia preferita perchè ogni isola della Grecia è simile e completamente diversa dalle altre. Ognuna ha la sua ricetta speciale, spiagge di finissima sabbia bianca o nere come la lava, tesori archeologici da scoprire: di sicuro ciò che le accomuna è il mare dalle intense gradazioni di blu e il contrasto quasi accecante con le caratteristiche case bianche. Vale la pena visitarle tutte, anzi il mio consiglio è di scegliere quelle meno turistiche perchè meno caotiche e più vere.
Una cosa è sicura, in Grecia mangerete divinamente, che siate onnivori o vegetariani. È una cucina semplice e ricca di sapori, per questo mi piace. Pochi ingredienti, ben dosati. Come per le caratteristiche frittelle di pomodori dell'isola di Santorini.
Per questa ricetta ho utilizzato dei pomodori ciliegini che avevo in casa, belli maturi. Sono venute ugualmente molto buone! Se vi piace, potete aggiungere all'impasto anche un pizzico di origano.
Ingredienti (per circa 12-14 frittelle)
500 g di pomodori maturi

90 g farina semi integrale circa

8 foglie di menta fresca

½ cipolla gialla

sale e pepe

olio di semi per friggere q.b.
Lavare accuratamente i pomodori e tagliarli a cubetti piccoli. Sbucciare la cipolla e tritarla finemente. Versare tutto in una ciotola aggiungendo la menta fresca tritata, sale e pepe. Aggiungere un cucchiaio di farina alla volta fino ad ottenere una pastella densa. La quantità di farina varia molto in base all'acqua che i pomodori rilasceranno.
In un pentolino antiaderente scaldare l'olio di semi quindi versare una cucchiaiata di impasto alla volta. Friggere le frittelle da ambo i lati per qualche minuto e lasciarle asciugare su un foglio di carta assorbente.
Aggiungere a piacere un pizzico di sale e servire ancora calde magari accompagnandole ad una salsa allo yogurt.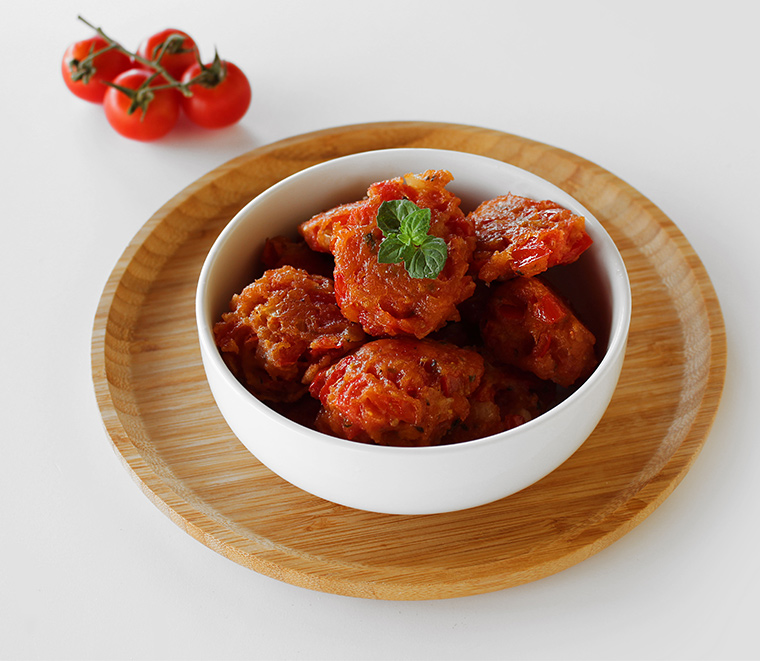 Tomato Keftedes (tomato fritters)
Ingredients (about 12-14 fritters)
500 g of ripe tomatoes

90 g semi-wholemeal flour (type 2)

8 fresh mint leaves, chopped

½ yellow onion

salt and pepper

seed oil for frying
Wash the tomatoes carefully and cut them into small pieces. Peel and finely chop the onion. Pour the vegetables into a bowl, then add mint, salt and pepper. Add flour and mix well, until the mixture becomes a thick dough. The amount of flour can vary, it depends on how much water the tomatoes will release.
Drop a spoonful of batter at a time into boiling oil and deep-fry until golden brown. Drain them well on absorbent paper and salt to taste.
Serve hot with yogurt sauce for dipping or drizzling.