Vi basteranno circa 30 minuti per preparare questo stufato di melanzane e ceci che potrete gustare sia caldo che a temperatura ambiente. Si conserva perfettamente per più giorni ed è quindi ideale da portare al lavoro accompagnandolo ad un riso basmati o integrale, della quinoa o del cous cous.
Un wok, dei legumi e tante verdure.
Pochi semplici ingredienti per un piatto completo e ricco di sapori che potete variare utilizzando le verdure di stagione che più vi piacciono, sostituendo ad esempio le melanzane con le zucchine, o le biete con gli spinaci, la cicoria o della rucola fresca da aggiungere alla fine.
Ingredienti
400 g ceci lessati
2 melanzane tonde
un mazzetto di biete
200 g passata di pomodoro
1/2 cipolla
sale e pepe
olio extra vergine di oliva
1 peperoncino fresco (in alternativa potete aggiungere un po' di harissa o, per una versione non vegetariana un cucchiaino di 'nduja)
timo limone fresco
Lavare accuratamente le biete per rimuovere ogni residuo di terra. Eliminare la parte finale del gambo e tagliare le foglie a listarelle. Versarle nel wok con un filo d'olio e un goccio d'acqua e stufarle per qualche minuto, aggiungendo un pizzico di sale e pepe. Toglierle dal wok e lasciarle riposare in un piatto.
Pulire le melanzane eliminando le estremità, tagliarle quindi in pezzi abbastanza grossi. Tritare la cipolla finemente e rosolarla nel wok con un po' d'olio, aggiungendo un cucchiaino d'acqua per evitare che bruci.
Aggiungere le melanzane, salare e cuocere con coperchio per una decina di minuti.
Unire la salsa di pomodoro e l'harissa (o in alternativa del peperoncino o un cucchiaino di 'nduja).
Aggiungere i ceci, mezzo bicchiere d'acqua e qualche foglia di timo limone. Cuocere a fuoco lento senza coperchio per 10 minuti. Unire quindi le foglie di bieta e continuare la cottura per altri 10 minuti, fino a quando i liquidi saranno evaporati.
Regolare eventualmente di sale.
Potete accompagnare questo stufato di melanzane e ceci con della quinoa, del cous cous, del riso o dell'orzo.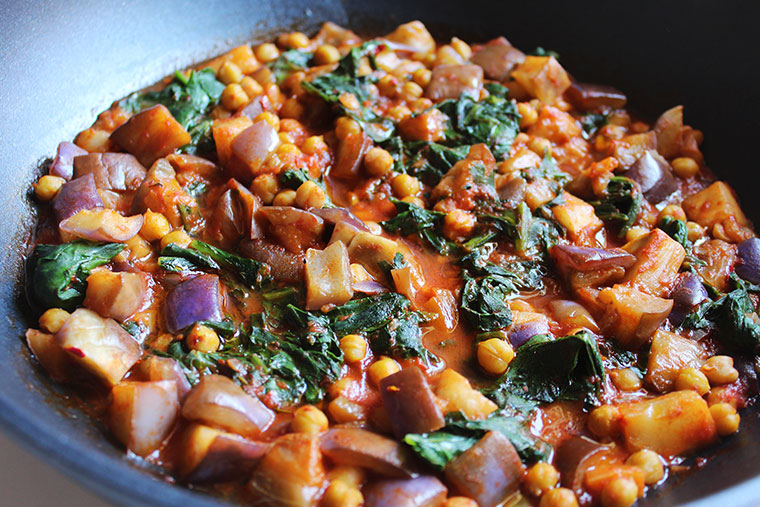 Aubergine and chickpea stew
Ingredients
400 g can chickpeas
2 aubergines
a bunch of chard
200 g tomato sauce
1/2 onion
salt and black pepper
extra virgin olive oil
1 fresh chilli pepper (or a teaspoon of harissa paste)
fresh lemon thyme
Carefully wash off chard leaves, removing all dirt and grit. Remove stems and cut into strips. Pour into the wok with a drizzle of oil and a little water and simmer for a few minutes, add a pinch of salt and black pepper. Let them rest on a plate.
Wash the aubergines and cut into big pieces. Finely chop the onion and sauté with a little oil adding a teaspoon of water, to prevent it from burning.
Add the aubergines and roast them for a few minutes then cook with a lid for about ten minutes.
Combine the tomato sauce and the harissa (or fresh chilli peppers).
Add the chickpeas, half a glass of water and a few leaves of lemon thyme. Cook over low heat without cover for 10 minutes. Then add the chard leaves and continue cooking for another 10 minutes, stir-fry until any liquid has evaporated.
Adjust salt if necessary.
Serve hot or at room temperature with quinoa, couscous, rice or barley.