Perchè limitarsi a consumare le lenticchie durante le festività o a capodanno? Questo legume – come del resto tutti i fagioli – è da sempre considerato la "carne dei poveri". Le lenticchie infatti sono ricche di proteine, fibre, ferro, magnesio e potassio oltre a vitamine del gruppo B. Hanno proprietà antiossidanti e agiscono sugli inquinanti a cui siamo soggetti "ripulendo" l'organismo. Io le adoro nelle zuppe o come ingrediente base per le polpette, e saranno proprio le polpette di lenticchie ad essere protagoniste di questa ricetta. Per velocizzare i tempi in cucina, ho optato per una varietà che non necessita di ammollo preventivo e ho aggiunto qualche pomodorino secco per dare maggiore sapidità! Per quanto riguarda la cottura niente forno ma una leggera doratura in padella  con pochissimo olio che le rende sicuramente più leggere della classica frittura, ma senza sacrificarne il gusto: utilizzo sempre la mia inseparabile padella Crafond da 28 cm perchè le polpette non si attaccano anche usando pochissimo olio e, mantenendo a lungo il calore, posso anche spegnere il fuoco e continuare a cuocere!
Ingredienti per circa 30 polpette
150 g lenticchie piccole – Cibón, Melandri Gaudenzio

3 patate medie

5-6 pomodorini secchi o semisecchi

mix erbe aromatiche (salvia, rosmarino, maggiorana)

2 cucchiai di lievito alimentare

2 cucchiai di pane grattugiato integrale

1 cucchiaio semi di canapa sativa decorticati – I semi del benessere, Melandri Gaudenzio (opzionale)

sale, pepe q.b.
* a piacere potete aggiungere uno spicchio d'aglio o dell'erba cipollina
Lavare accuratamente le lenticchie, scolarle e cuocerle in acqua fredda. Portare ad ebollizione e proseguire la cottura a fuoco basso per circa 20 minuti (seguite in ogni caso le indicazioni riportate sulla confezione). Quando le lenticchie avranno assorbito l'acqua, tritarle grossolanamente con un minipimer. Tenere da parte.
Lessare le patate e schiacciarle con una forchetta.
In una ciotola versare la purea di lenticchie, le patate e gli ingredienti rimanenti. Mescolare bene l'impasto (se dovesse risultare troppo secco, aggiungere 1-2 cucchiai di acqua). Lasciarlo riposare in frigorifero per circa un'ora. Prelevare con un cucchiaio un po' di impasto, inumidire leggermente le mani e formare delle polpettine. Passarle quindi nel pangrattato. Versare nella padella un filo d'olio e rosolare le polpette fino a quando risulteranno dorate in superficie. Adagiarle su un piatto ricoperto di carta assorbente per eliminare l'eventuale eccesso d'olio.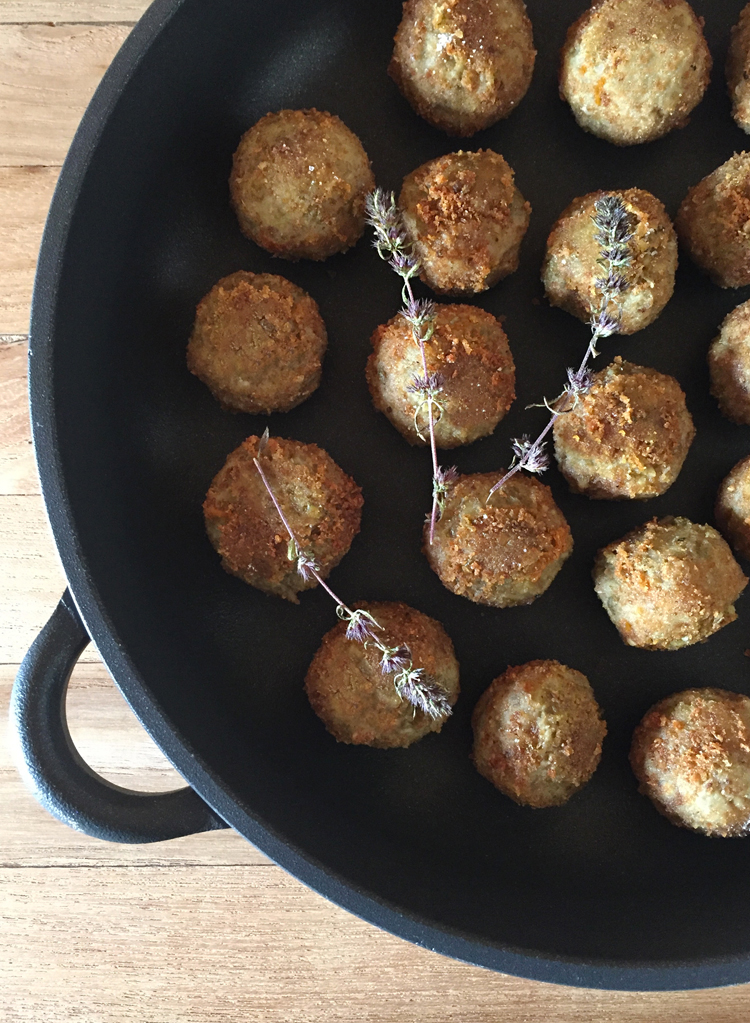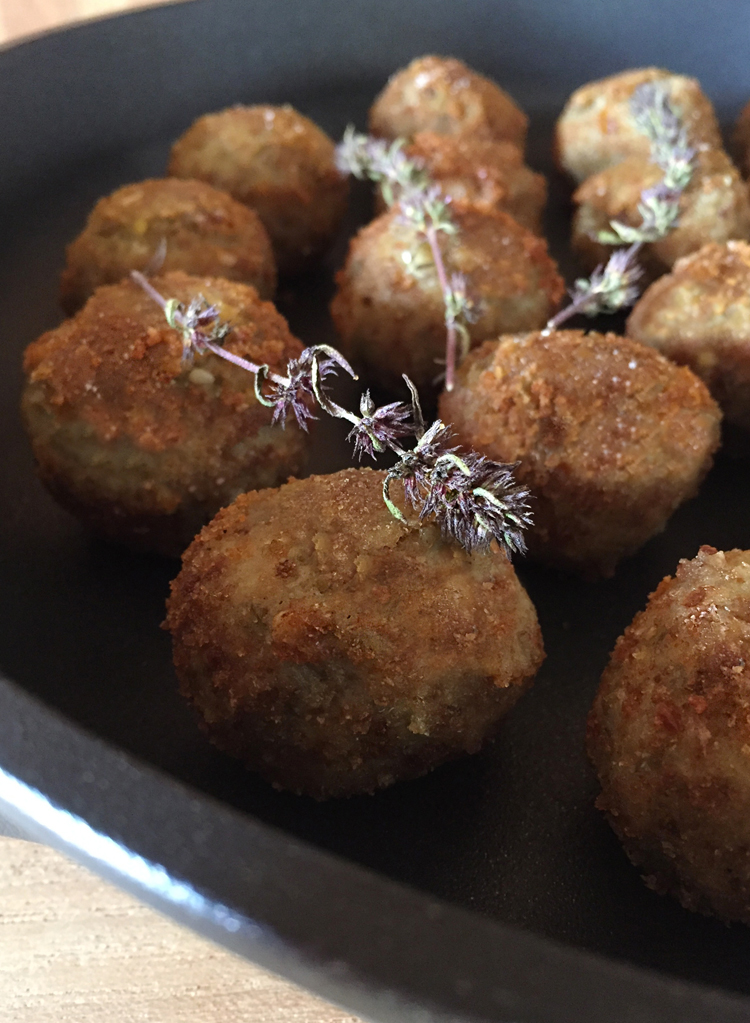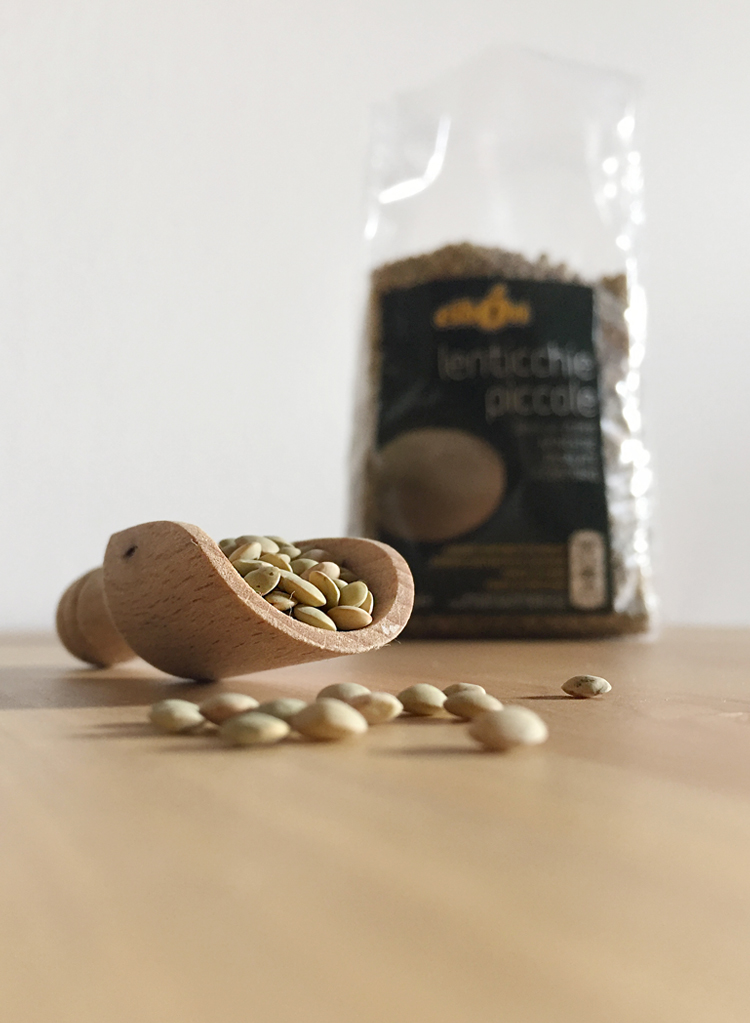 Vegan sun-dried tomato lentil "meat" ball
This easy vegan meatballs recipe uses lentils, potatoes, sun-dried tomatoes and hemp seeds. Simple to make, the recipe is packed with protein and fiber: it's perfect if you're vegetarian or simply want to cut down on your meat consumption!
Ingredients for 30 meatball
150 g lentils

3 medium potatoes

5-6 sun-dried tomatoes

mixed herbs (sage, rosemary, marjoram)

2 tablespoons nutritional yeast flakes

2 tablespoons wholemeal breadcrumbs

1 tablespoon of shelled hemp seed (optional)

salt, pepper qs
* add a clove of garlic or chives to taste
Wash lentils, drain and cook in cold water. Bring to a boil and continue cooking over low heat for about 20 minutes until all the water is absorbed. (follow the package instructions). Partially purée them with an immersion blender. Set aside.
Boil the potatoes until tender (about 25-30 minutes) and mash them with a fork.
In a bowl pour lentils, potatoes and all remaining ingredients. Stir well the mixture (if too dry, add 1-2 tablespoons of water). Let it rest in the refrigerator for at least one hour. Use a scoop to grab a meatball sized portion. With your hands (moisten with water), form small sized balls and pass them in breadcrumbs. In a pan, heat a little oil and lightly fry the meatballs for a few minutes until they are golden on both side. Place them on a plate with absorbent paper towels to remove any excess oil.