Una ricetta classica che non ha bisogno di grandi presentazioni: i muffin mirtilli e cioccolato sono uno di quei piccoli piaceri con cui iniziare la giornata o per accompagnare la pausa caffè.
Una ricetta, come dicevo classica, ma con qualcosa in più, o meglio in meno! Meno zuccheri, ingredienti non raffinati, niente burro e uova. In poche parole una versione light che non sacrifica il gusto, anzi lo esalta!
Ps: vi dico solo che hanno superato la "prova colleghi"! :)
Ingredienti
150 g farina tipo 2 (semi-integrale)
50 g fecola di patate
10 g lievito Biovegan (a base di amido di mais, cremor tartaro da vino, bicarbonato di sodio)
60 g zucchero di canna
40 g cioccolato fondente
80 g mirtilli freschi
un pizzico di sale
160 ml bevanda di soia (o altra bevanda vegetale) + 1 cucchiaino di aceto di mele o di limone
50 ml olio di vinaccioli
Preriscaldare il forno a 180° C.
Versare in una ciotola il latte di soia e un cucchiaino di limone e lasciar riposare per 10 minuti. Separatamente setacciare le farine, il lievito, lo zucchero e il sale. Aggiungere il cioccolato fondente tagliato grossolanamente. Unire gli ingredienti liquidi (olio e latte) a quelli secchi, quindi i mirtilli freschi e mescolare delicatamente.
Suddividere l'impasto negli stampini da muffin e cuocere in forno statico per circa 20-25 minuti, verificando la cottura con uno stuzzicadenti. Lasciar raffreddare completamente su una gratella.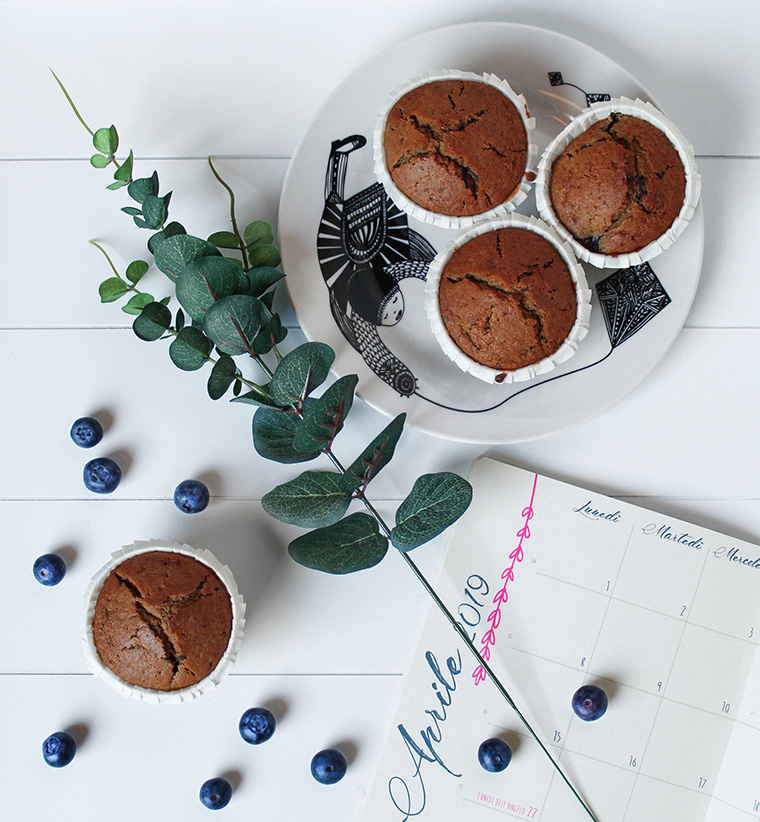 Dark chocolate blueberry muffins
Ingredients
150 g flour type 2
50 g potato starch
10 g baking powder
60 g raw cane sugar
40 g dark chocolate
80 g fresh blueberries
1 pinch of salt
160 ml soy milk (or other non-dairy milk) + 1 teaspoon of lemon juice
50 ml grapeseed oil
Preheat oven to 180° C.
Pour the soy milk and a teaspoon of lemon into a bowl and let stand for 10 minutes. In another bowl sift flour, baking powder, raw cane sugar and salt. Add the chopped chocolate. Pour the wet ingredients into the dry ingredients, add fresh blueberries and mix gently.
Divide the dough evenly among the muffin cups and bake for 20-25 minutes or until a toothpick inserted in the muffins comes out clean. Allow to cool completely on a wire rack.