Ancora una volta le mele sono protagoniste di una ricetta… e, a volerla dire tutta, la mela-mania non finisce qui! Del resto diciamocelo…. che siano morbide, crostate, strudel, tartellette, le torte di mele sono sempre una goduria, e calde, ancora di più! Volevo preparare uno strudel veloce veloce, senza bisogno di far riposare troppo la pasta, una di quelle ricette furbe da infornare all'ultimo momento… ho pensato allora di ricorrere alla pasta brisé che si mantiene bella croccante anche nei giorni successivi, per un dolce non dolce, o meglio naturalmente dolce. Per non eccedere infatti in zuccheri raffinati, ho preferito sfruttare la naturale dolcezza della frutta secca, come i fichi e i mirtilli rossi, nel caso potete aggiungere un po' di marmellata! Risultato: uno strudel rustico, profumatissimo, che mi ricorda tanto casa e le mie montagne, che avvolta dalla nebbia della pianura padana posso solo immaginare!!!
Ingredienti
Pasta brisé
200 g di farina semi-integrale, tipo 2
90 ml acqua
20 ml olio d'oliva
30 ml olio di semi di girasole
2-3 cucchiai di zucchero di canna
un pizzico di sale
Per il ripieno
2 mele
succo di limone (+ un cucchiaio di rum a piacere)
una manciata di pinoli
mandorle q.b.
2 fichi secchi
10 g di mirtilli rossi disidratati
cannella in polvere
un paio di biscotti
Versare la farina in un'ampia ciotola. Aggiungere lo zucchero e un pizzico di sale. Versare l'olio incorporandolo con una forchetta. Aggiungere gradualmente l'acqua e amalgamare bene gli ingredienti fino ad ottenere un impasto morbido e non appiccicoso. Avvolgerlo nella pellicola e lasciarlo riposare in frigo per circa 30 minuti.
Tagliare le mele in pezzettini molto piccoli, versarle in una ciotola e aggiungere 3 cucchiai di limone (per una versione alternativa, utilizzate 2 cucchiai di limoni e 1 di rum). Mescolare bene, unendo il resto degli ingredienti.
Togliere la pasta dal frigo e stenderla su un foglio di carta forno leggermente infarinato, dando la forma di un rettangolo. Versare il ripieno al centro avendo cura di disporre sulla base uno strato di biscotti sbriciolati finemente per assorbire l'eventuale liquido in eccesso (in alternativa si possono usare dei fiocchi d'avena tritati o del pane grattugiato). Arrotolare la pasta e chiudete con cura i bordi, spennellare la superficie con un po' di latte, praticando delle incisioni in superficie per facilitare la cottura all'interno. Versare un po' di zucchero di canna in superficie e cuocere in forno preriscaldato a 180° per circa 40-45 minuti, o fino a doratura. A piacere, completare con un tocco di cannella in superficie.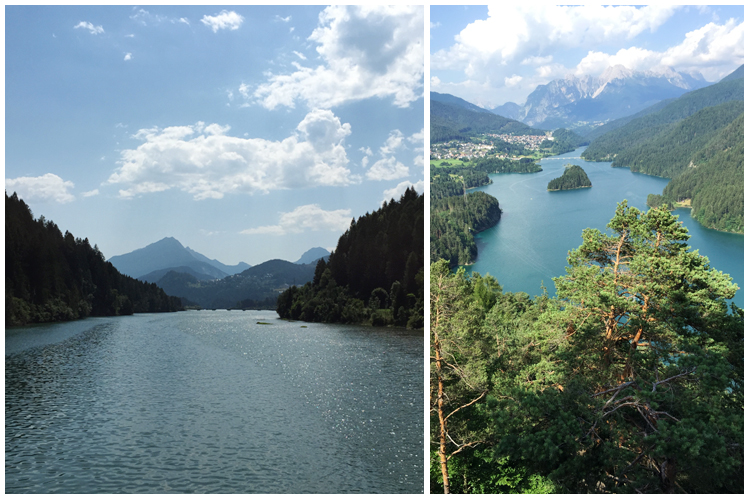 Apple Strudel
Is there a smell that reminds you of your own home town? When I bake this cake I always feel like home. I love the smell of apples and cinnamon… it takes me right back to my childhood! This recipe is without butter, eggs and naturally sweet thanks to dried figs and cranberries.

Ingredients
Pasta brisé
200 g flour type 2 (

semi-whole wheat

flour)
90 ml water
20 ml olive oil
30 ml sunflower oil
2-3 tablespoons raw cane sugar
a pinch of salt
For the filling

2 apples
lemon juice (+ 1 tablespoon of rum to taste)

a handful of

pine nuts

almonds qs
2 dried figs
10 g dried cranberries

ground cinnamon

2-3 vegan cookies
Pour the flour, sugar and salt into a large bowl. Add oil and water gradually, whisking with a fork to incorporate. knead dough until it is smooth and not sticky. Wrap in plastic wrap and place in the refrigerator for 30 minutes.
Cut apples into small pieces, pour them into a bowl and add 3 tablespoons of lemon juice (alternatively, you can use 2 tablespoons of lemon juice and 1 tablespoon of rum di limoni e 1 di rum). Add the other ingredients (except cookies) and mix well.
Remove dough from the fridge, and roll out on a lightly floured surface into a rectangle. Place the filling down the middle of the pastry lengthwise, but first make a layer with crushed biscuits to absorb any liquid. Fold sides of dough over the filling, then roll the dough carefully and seal the edges. Brush the top with a little milk, and make surface cuts to facilitate cooking. Sprinkle with demerara sugar. Preheat oven to 180° C and cook for 40-45 minutes, or until golden brown. Dust with cinnamon, to taste.