Con l'arrivo della stagione autunnale e dei primi freddi la zuppa è sicuramente il comfort food per eccellenza. Il mio consiglio è di seguire la stagionalità dei prodotti, perchè meno cari ma soprattutto più gustosi.
In questa ricetta ho voluto accostare il sapore intenso e leggermente amarognolo del cavolo nero a quello dolce della carota e della patata americana. Ho aggiunto dell'orzo per dare maggiore consistenza e una manciata di lenticchie nere Beluga dal gusto leggermente simile alla nocciola.
Queste lenticchie, di origine asiatica, si chiamano così perché il loro colore ricorda il caviale beluga. Sono ricche di antocianine che appartengono alla famiglia dei flavonoidi responsabili della colorazione scura. Gli antociani hanno un potente effetto antiossidante che contribuirebbe alla prevenzione dell'invecchiamento cellulare, delle patologie cardiovascolari e neoplastiche.

Questa zuppa d'orzo e lenticchie non è solo healthy ma anche buonissima, specie se riscaldata. Ottima anche da portare al lavoro come schiscetta, per un pasto leggero ma ricco di nutrienti. Servitela con un filo di olio extra vergine a crudo e magari qualche crostino appena sfornato!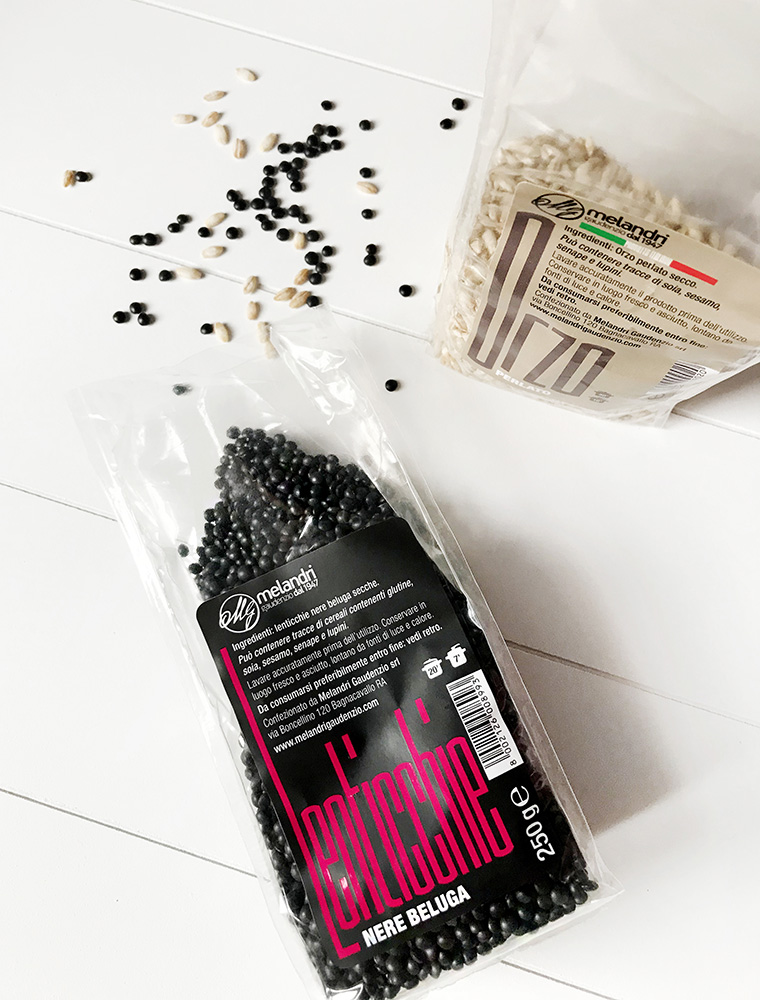 Ingredienti per 4 porzioni
100 g cavolo nero
2 patate americane
1 carota
1 spicchio d'aglio
4-5 cucchiai passata di pomodoro
olio extra vergine d'oliva
trito di salvia e rosmarino
sale e pepe
Lavare accuratamente le lenticchie e l'orzo. Pelare la carota e le patate tagliandole a cubetti molto piccoli. Quindi, versare in un'ampia pentola un filo d'olio, lo spicchio d'aglio, la carota e le patate. Soffriggere leggermente insaporendo con un pizzico di sale e un trito di salva e rosmarino. Aggiungere di seguito le lenticchie nere e coprire il tutto con circa 1 litro di acqua fredda. Portare ad ebollizione con il coperchio leggermente sollevato.
Quando l'acqua bolle salarla leggermente. Unire l'orzo e il cavolo nero precedentemente lavato e tagliato a listarelle. Versare quindi qualche cucchiaio di passata di pomodoro e mescolare bene. Continuare la cottura per circa 30 minuti, aggiungendo se necessario 2-3 mestoli di acqua calda. Infine, assaggiare e regolare eventualmente di sale e pepe.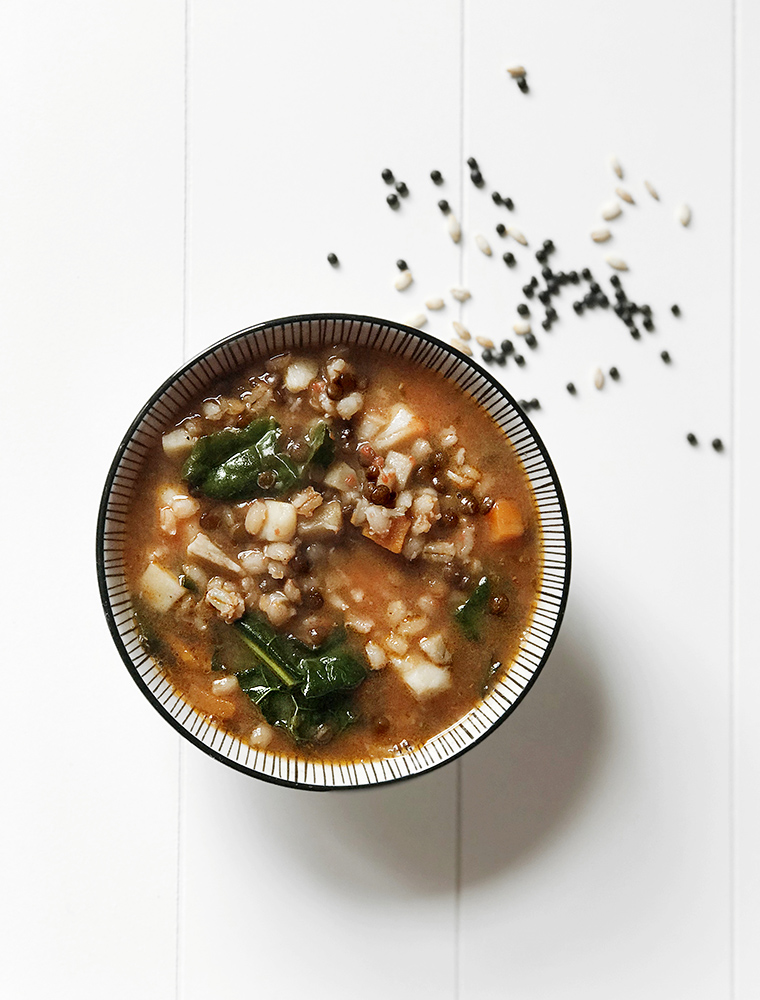 Barley and black lentil soup
Ingredients for 4 persons
60 g black Beluga lentils
100 g of pearl barley
100 g black cabbage
2 sweet potatoes
1 carrot
1 clove of garlic
4-5 tablespoons of tomato purée
extra virgin olive oil
ground sage and rosemary mix
salt and pepper
Carefully rinse the lentils and the barley in a colander. Peel and cut into small cubes both carrot and potatoes. In a large pot, heat olive oil and gently sauté garlic, carrot and potatoes for a few minutes. Season with ground sage and rosemary mix and a pinch of salt. Then add black lentils and cover with 1 liter of cold water. Bring to a boilleaving the lid slightly ajar.
When the water boils add salt (just a little!), then combine barley and black cabbage previously washed and cut into strips. Add a few tablespoons of tomato purée and stir well. Continue cooking for about 30 minutes, adding 2-3 ladles of hot water if necessary. Taste and adjust the seasoning if needed.