Non c'è niente di più buono di una marmellata di fragole fatta in casa!
Io le prendo direttamente in campagna a km 0: sono buonissime e dolcissime, così posso diminuire la dose di zucchero, gustandomi tutto il sapore di questo frutto anche durante l'inverno!
Qui trovi la versione "classica", da cuocere e consumare anche dopo parecchi mesi. Se tuttavia non puoi aspettare, o semplicemente vuoi provare qualcosa di diverso, c'è anche una versione raw senza cottura che mantiene inalterate tutte le proprietà di questo frutto!
Ingredienti
1 kg di fragole
300 g di zucchero di canna
1 limone
Lavare le fragole sotto l'acqua corrente, senza immergerle nell'acqua. Eliminare il picciolo e asciugare bene. Tagliarle grossolanamente e metterle in una pentola d'acciaio inossidabile. Aggiungere lo zucchero e il succo di un limone e mescolare bene.
Coprire e lasciar macerare in un luogo fresco per almeno 8 ore, massimo 12 ore. Trascorso il tempo indicato, mettere sul fuoco e portare a ebollizione, schiumando all'occorrenza.
Lasciar cuocere a fuoco medio per circa 40 minuti. Controllare quindi la consistenza del composto e, se necessario, proseguire la cottura. Versare il composto ancora bollente nei vasetti sterilizzati e asciutti. Chiudere il tappo, quindi capovolgerli su un ripiano in legno per creare il vuoto.
Prima di raddrizzarli, lasciarli raffreddare completamente. Si consiglia di consumare la marmellata dopo circa 30 giorni.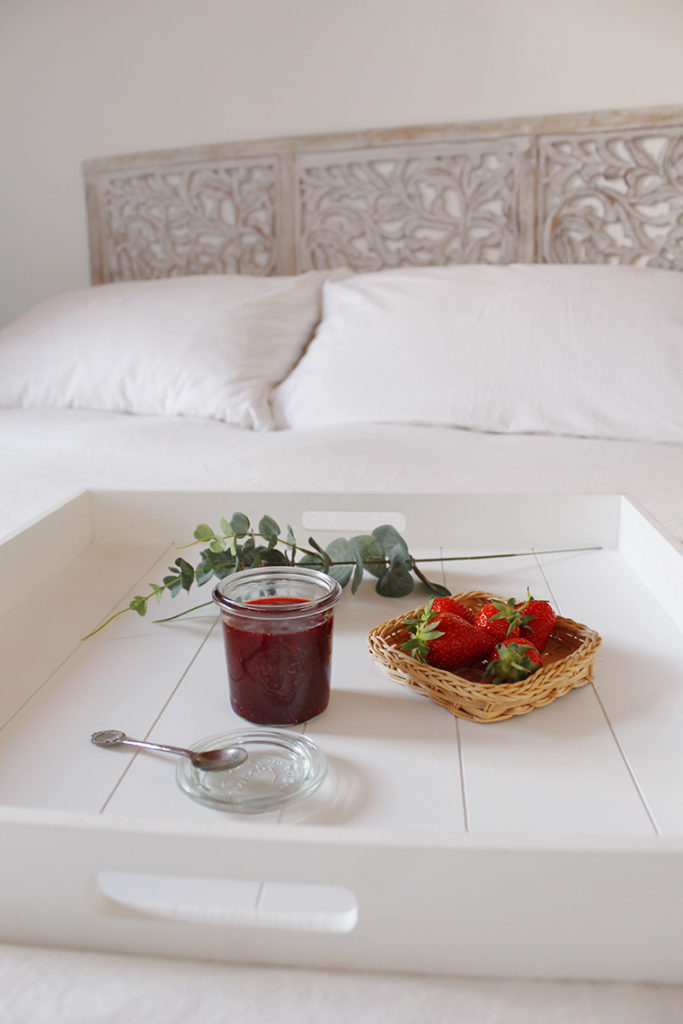 Strawberry Jam
Ingredients
1 kg fresh strawberries
300 g raw cane sugar
the juice of one lemon
Wash the strawberries under cold running water. Remove the stalk and dry well. Cut into quarters and put them in a stainless steel saucepan.
Add sugar and lemon juice and mix well. Cover with a lid and leave to macerate in a cool place for at least 8 hours, maximum 12 hours.
Then bring mixture to a boil over medium heat. Skim any foam from the surface with a foam skimmer, if necessary.
Cook for 40 minutes, stirring every now and then, until the mixture thickens. Pour hot strawberry mixture into sterilized jars. Seal and turn upside down to create a vacuum. Before straightening up, allow them to cool completely.