Gli asparagi hanno poche calorie, ma molte fibre, vitamine e sali minerali tra cui calcio, fosforo e potassio. Questi ortaggi svolgono un'azione depurativa e diuretica (da non abusare se si soffre di disturbi renali, cistiti e calcoli renali, in quanto contengono acido urico che può incrementare l'infezione già in atto) e secondo alcuni studiosi avrebbero anche una funzione antidepressiva, probabilmente legata alla loro azione disintossicante. Qui vi propongo una ricetta facile, con pochi ingredienti, ideale per un aperitivo, una festa, o come antipasto: sono dei cestini croccanti di pasta fillo, piccoli e gustosi. Non servono posate, si mangiano così come dei finger food; mi raccomando però, usate almeno 4 fogli di pasta se volete evitare che il ripieno vi cada addosso!
Ingredienti
125 gr di tofu al naturale
200 gr di asparagi
7-8 pomodorini secchi medi
1 spicchio d'aglio
4 fogli di pasta fillo
olio extra vergine d'oliva
sale, pepe
Con un coltello o un pelapatate raschiare dolcemente il gambo degli asparagi, privandoli della prima pellicina. Eliminare la parte finale biancastra, più dura e legnosa (circa 1-2 cm). Lavarli accuratamente. Lessarli in abbondante acqua bollente per circa 3-4 minuti, scolarli e asciugarli con un panno o della carta assorbente (un consiglio: a questo punto, una volta raffreddati, potete suddividerli in sacchetti – lasciandoli interni o a tocchetti – e congerlare gli asparagi che non utilizzate, per le prossime volte). Tagliare gli asparagi a tocchetti e passarli in padella per alcuni minuti con uno spicchio d'aglio e un filo d'olio, regolando di sale e pepe. Tenere da parte le punte per guarnire i cestini. In un robot da cucina, unire gli asparagi, il tofu e frullare fino ad ottenere un composto cremoso. Versare in una ciotola, aggiungere i pomodorini secchi tagliati a pezzetti e lasciar raffreddare. Prendere la pasta fillo – questa operazione richiede una certa velocità per evitare che i fogli si secchino troppo, spezzandosi – e tagliarla in quadrati. Ogni cestino sarà composto da 4 fogli, non è necessario spennellarli tutti con l'olio, risulterebbero infatti troppo unti; il mio consiglio è quello di accoppiarli, e ungerli leggermente a due a due (quindi, base con foglio asciutto + foglio unto da un solo lato + foglio asciutto + foglio unto da un solo lato). Con un pennellino, ungere leggermente uno stampo da muffin e foderare con i fogli di pasta fillo ripiegando i bordi. Riempire con il composto e completare utilizzando le punte di asparagi come guarnizione. Cuocere in forno già caldo a 180° per circa 15 minuti, controllando di frequente poichè la pasta fillo si scurisce velocemente. Servire i cestini di asparagi subito o a temperatura ambiente.
Un'idea in più: potete sostituire gli asparagi con altre verdure di stagione, come bietole o cicoria, oppure provarli anche dopo l'estate con i broccoli.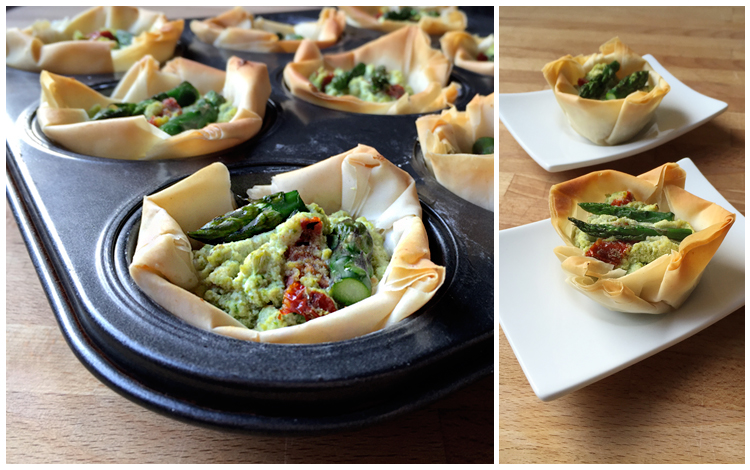 Asparagus phyllo baskets
These phyllo baskets are simply scrumptious, easy to do and you can make them ahead of time. They are perfect as an appetizer or for serving at a brunch or a party.

Ingredients
125 g tofu
200 g asparagus
7-8 sun-dried tomatoes, medium size
1 clove of garlic
4 phyllo sheets
extra virgin olive oil
salt, pepper
Using a vegetable peeler, peel the asparagus and cut about 1″ off the ends of the stalks. Rinse them well. Cook in boiling water for 3-4 minutes, drain well and dry with a cloth or paper towel. Sauté the garlic in a pan with a little olive oil. Add chopped asparagus, season with salt and pepper and cook for a few minutes. Set aside tips for garnish. In a food processor, combine the asparagus, tofu and blend until creamy. Pour in a bowl, add chopped sun-dried tomatoes and allow to cool. Take phyllo dough and cut into squares – remember that phyllo dough dries out quickly so cover it with plastic wrap or a damp kitchen towel to prevent drying. On a clean dry surface, lay 1 sheet of phyllo dough, add another one and brush lightly with olive oil, then repeat: each basket will consist of 4 sheets. Press phyllo dough into a greased muffin tray and fill with the mixture. Garnish with the asparagus tips. Bake in a preheated oven at 180° C for about 15 minutes, checking frequently as the phyllo dough darkens quickly. Check frequently to avoid burning.
Cestini di asparagi
ultima modifica:
2015-05-06T15:36:31+02:00
da