Mac&Cheese, ovvero maccheroni e formaggio, è un tipico piatto americano non adatto però a chi è intollerante al lattosio o segue un'alimentazione vegana. Come fare quindi? Anzitutto, onde evitare fraintendimenti, iniziamo chimandolo Mac&Creamy, visto che il formaggio non rientra tra gli ingredienti di questa ricetta che è a base di verdure… ma fila! Il segreto sta nell'utilizzare gli anacardi per creare una salsa super cremosa, aggiungendo 2 cucchiaini di lievito alimentare per dare maggiore sapidità. Alcune varianti utilizzano anche semi di senape tritati e uno spicchio d'aglio, io però ho preferito usare il minimo indispensabile, riservando quel tocco in più alla fine, che per me è fondamentale, ovvero una generosa spolverata di paprika. A voi la scelta se dolce o affumicata.
Ingredienti
2 patate piccole
1 carota
¼ di cipolla
70 g di anacardi
220 ml di acqua di cottura
2 cucchiaini di lievito alimentare in scaglie
sale e pepe q.b.
una spolverata di paprika (dolce o affumicata)
Mettere in ammollo gli anacardi in acqua fredda per una notte (o in acqua tiepida per qualche ora). Pelare le patate e la carota, tagliarle a pezzetti e cuocerle in acqua bollente per circa 8-10 minuti. Aggiungere la cipolla e continuare a cuocere fino a quando le verdure saranno tenere. Scolare le verdure, conservando l'acqua di cottura. Versarle in un frullatore insieme agli anacardi; aggiungere il lievito alimentare, una presa di sale e circa 220 ml d'acqua. Frullare fino ad ottenere una crema densa, se necessario aggiungere qualche ulteriore cucchiaio d'acqua. Utilizzare la salsa per condire la pasta, aggiungendo alla fine una macinata di pepe nero e della paprika.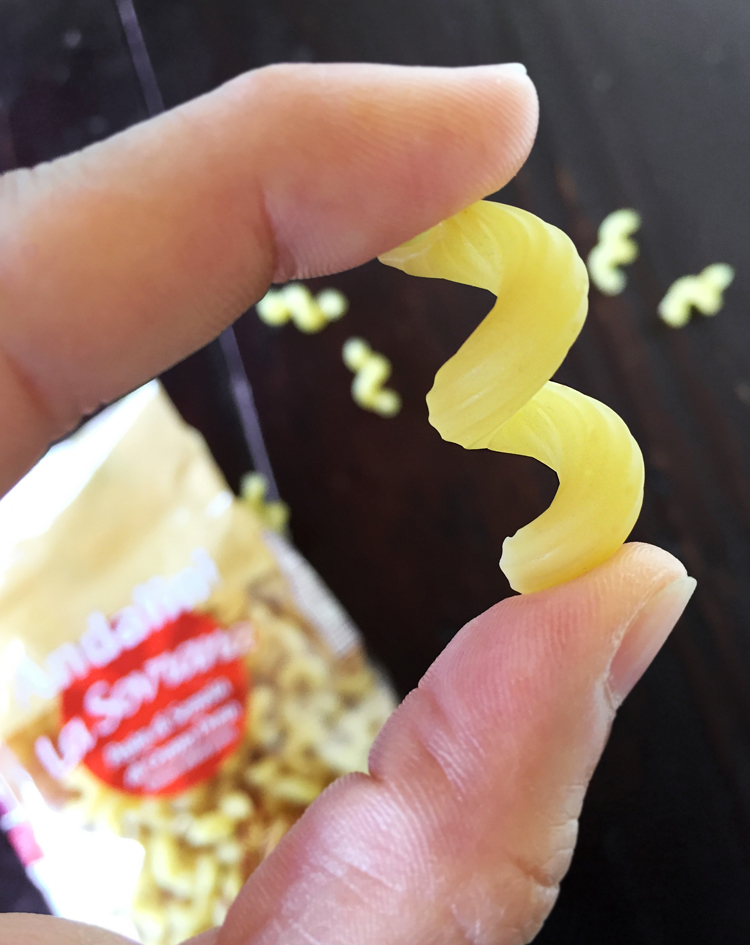 Vegan Mac&Cheese

This vegan Mac&Cheese is a great comfort food recipe for vegans or if you have an intolerance to dairy. It's incredible how vegetables, cashews and seasonings could make such a creamy combination!
Ingredients
2 small potatoes
1 large carrot
¼ onion
70 g cashews
2 teaspoons nutritional yeast flakes
salt, black pepper q.s.
paprika (sweet or smoked)
180 g pasta, Andalini
Soak cashews overnight (or a few hours in warm water). Peel and chop potatoes and carrot, and cook them in boiling water for about 8-10 minutes. Add Onion. Continue cooking until everything is soft. Drain vegetables, but save the cooking water. Pour all ingredients in a blender (vegetables, cashews, nutritional yeast, salt and water) and blend until smooth. Pour over prepared pasta and mix well. Add freshly ground black pepper and paprika to taste.