Più che un formaggio ricorda una ricotta, ma solo nella forma. Si potrebbe definire una sorta di spalmabile agli anacardi, anche se ha una consistenza decisamente più solida; chiamatelo un po' come vi pare, l'importante per me è che sia buono e quindi… mangiarlo! Adoro gli anacardi, li uso spesso in molte ricette crudiste e come base per dei condimenti cremosi. Non sono subito economici lo so, tuttavia ho provato molte marche e mi sento di consigliarvi per il rapporto qualità-prezzo quelli del Lidl, che non sono tostati nè salati. Questo formaggio di anacardi è ottimo su dei crostoni, oppure sbriciolato in un'insalatona: un'idea fresca e facile da preparare, perfetta da gustare anche in estate quando non si ha voglia di accendere troppo i fornelli!
Ingredienti
200 g di anacardi non salati
10 g di lievito alimentare in scaglie*
sale e pepe
6-7 noci tritate
1 rametto di rosmarino
* in alternativa, tritate in un macinacaffè, due parti di mandorle e una di semi di sesamo.
Ammollare gli anacardi per 6-8 ore. Risciacquare e scolarli e versarli in un mixer con il lievito, una presa di sale e una macinata di pepe nero. Frullare ad intermittenza fino a quando il composto inizierà a compattarsi (non serve aggiungere acqua, nel caso 2 cucchiai sono più che sufficienti). Versare il composto in una fuscella, pressando accuratamente per compattarlo. Lasciarlo riposare in frigorifero per una notte (o almeno 6 ore). Rovesciarlo su un piatto e rotolare il veg-formaggio su un trito di noci e rosmarino, facendolo aderire bene su tutta la superficie. Conservare in frigorifero for 3-4 giorni.
In alternativa, potete aromatizzare il vostro formaggio aggiungendo all'impasto della paprika affumicata, o del pepe nero in grani.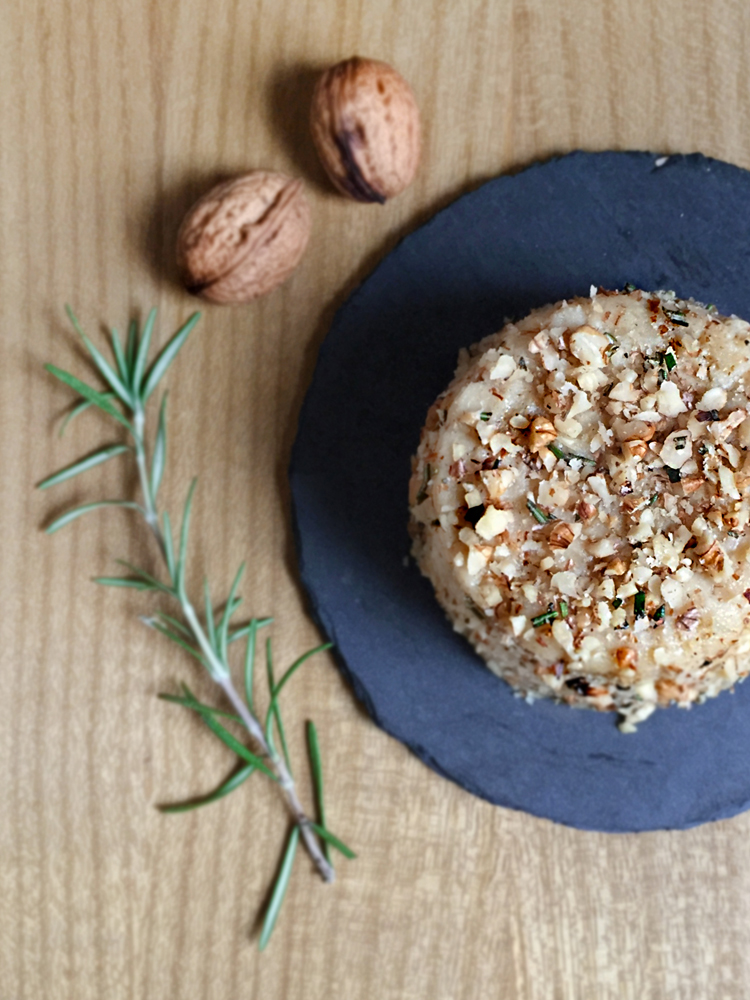 Cashew cheese

This raw vegan cashew cheese is so delicious: just throw all your ingredients in the food processor and enjoy it!
Ingredients
200 g raw cashews
10 g nutritional yeast*
salt and pepper
6-7 walnuts, chopped
1 sprig fresh rosemary
* as an alternative to nutritional yeast, grind in a coffee grinder, 2 parts almonds and 1 part sesame seeds.

Soak cashews for 6-8 hours. Rinse and drain well. Blend them in a food processor with nutritional yeast, a pinch of salt and freshly ground black pepper. whisk intermittently for 4-5 minutes until the mixture begins to stick together. Place the mixture into a cheese mould pressing down with a spoon to compact it. Rest in the fridge overnight (or up to 6 hours). Turn upside down to remove from the mould and roll the cashew cheese in walnuts and rosemary, finely chopped. Keep in the fridge for 3-4 days.
You can also spice up your veg cheese adding one teaspoon of smoked paprika or whole black pepper.