Quando la cucina giapponese incontra la tradizione ferrarese, nascono gli udon con crema di zucca. Un primo piatto dalla texture cremosa e corposa, senza bisogno di aggiungere panna semplicemente frullando una manciata di anacardi.
Ah gli anacardi, questi sconosciuti! Li mangiamo solitamente come snack ma in realtà sono molto versatili in cucina. Sono perfetti per preparare dolci vegani, gelati senza latticini, "formaggi" alternativi e bevande vegetali: sul blog troverai diverse ricette con questo ingrediente, ti basterà inserire nel campo cerca la parola "anacardi"!
Questi udon mi sono particolarmente piaciuti, certo molto dipende dalla zucca ma, cuocendola in forno, si ottiene un sapore più intenso e leggermente caramellato.
Un piatto autunnale e avvolgente che saprà conquistare anche te!
Ingredienti (per due persone)
100 g anacardi
60 g zucca già cotta
1 filo d'olio extra vergine d'oliva
udon
Ricopri gli anacardi con dell'acqua bollente e lasciali in ammollo per circa 20-30 minuti.
Nel frattempo, pulisci la zucca e tagliala a fette dello spessore di 2 cm, eliminando i semi e i filamenti interni. Disponile su una teglia foderata con carta forno, aggiungi un filo d'olio e insaporiscile con un po' di sale e un trito di salvia e rosmarino. Cuoci in forno a 180° C per circa 30-40 minuti (o fino a quando la zucca non risulta morbida alla forchetta), girando le fette a metà cottura.
Elimina la buccia e tieni da parte 60 g di polpa.
Scola quindi gli anacardi e versali in un robot da cucina. Frulla tutto alla massima velocità. Ripeti l'operazione più volte aggiungendo 1 filo d'olio e 2 cucchiai di acqua. Unisci la zucca e continua a frullare fino ad ottenere una crema morbida, se necessario aggiungi gradualmente 2-3 cucchiai di acqua per amalgamare bene gli ingredienti. Regola di sale.
Cuoci gli Udon in abbondante acqua bollente leggermente salata (verifica il tempo di cottura sulla confezione!). Versa la crema in una padella antiaderente e cuocila a fuoco basso per 5 minuti, aggiungendo un po' di acqua di cottura. Scola gli udon e passali velocemente sotto un getto d'acqua fredda. Saltali in padella e servili aggiungendo qualche fogliolina fresca di salvia.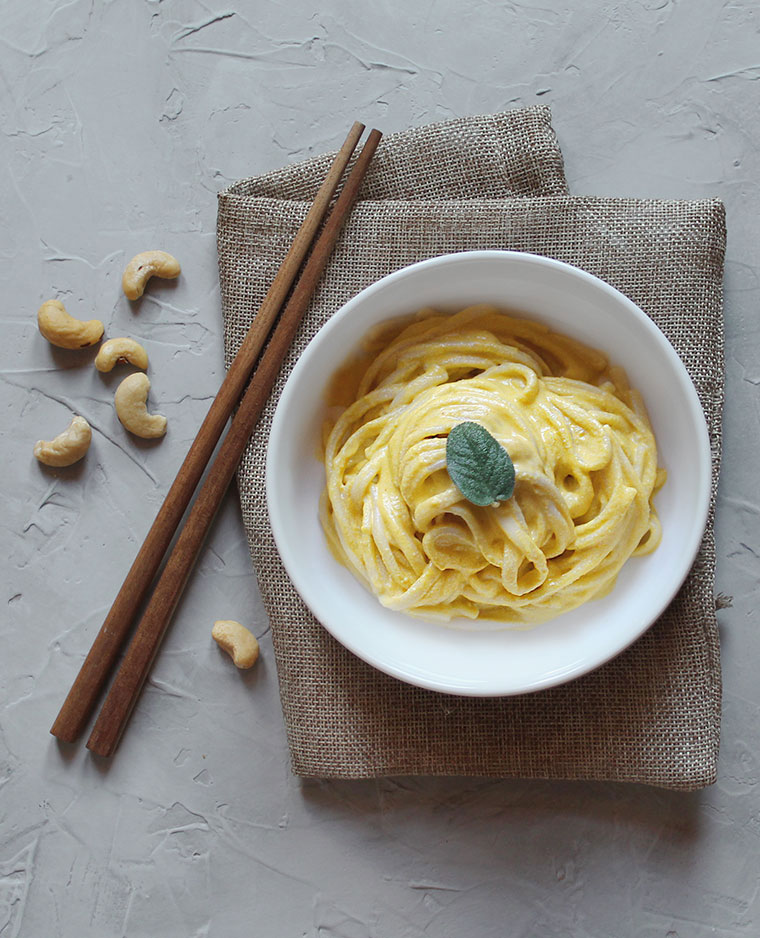 Udon with pumpkin cream
Ingredients (for 2 persons)
100 g cashews
60 g roasted pumpkin
extra virgin olive oil
udon
Soak the cashews in hot water for 30 minutes.
Clean and cut the pumpkin into slices about 2 cm thick, remove the seeds and internal filaments. Preheat the oven to 180° C and line a baking sheet with parchment paper. On a large baking sheet, drizzle pumpkin slices with olive oil and season with salt, chopped sage and rosemary. Bake for about 30-40 minutes, or until the slices are soft, turning them halfway through the cooking time.
Peel the pumpkin and weigh 60 g of pulp.
Pour the drained cashews into a blender with 2 tablespoons of water and a trickle of olive oil. Blend everything. Then add the pumpkin and blend until the mixture is smooth. If too thick, add 2-3 tablespoons of water. Season to taste with salt.
Bring a large pot of lightly salted water to a boil. Cook udon (check the package for the minimum cooking time suggested!) stirring occasionally, until noodles are tender yet firm to the bite. Heat the cream in a non-stick pan for 5 minutes, adding a few tablespoons of cooking water. Drain noodles and pass them under cold water.
Sauté them quickly and serve with some fresh sage leaves.